Christmas gift vouchers and last-minute presents
Christmas is only a few days away, and if you're a last-minute shopper you may be experiencing a bit of stress trying to find the perfect gift for everyone on your list. While we may have passed the point of being able to place orders for pre-Christmas delivery, there are still plenty of ways you can gift your loved ones furniture and home decor this holiday season. 
Christmas gift vouchers used to get a bad rap as an impersonal option, but we think they're actually a great way to give someone what they really want this Christmas: the gift of choice! Read on to learn more about Christmas gift vouchers, why we love them, and our best ideas for last-minute presents that offer festive cheer and reliable appeal.
Take the guesswork out of Christmas
Buying furniture as a gift can be a tricky task. If you know exactly what someone is looking for, you can purchase a new sofa or dining table, but everyone has personal preferences and requirements for their home that can be extremely specific. It's not just about choosing the right style or colour palette, but also about considering things like measurements, what other furniture they might be planning to purchase for a room, and so on. 
With all of these factors to keep in mind, purchasing furniture as a gift can be daunting. But with Christmas gift vouchers, you can show your giftee that you know they're in the market for new furniture or home decor, but allow them to pick out the perfect piece that suits their stylistic and logistical needs. 
Choose a gift to suit your budget
Another thing that can make buying furniture as a gift difficult is the cost. While you may know that one of your intended recipients is looking for a new sofa, it might not be in your budget to purchase such a large-value gift. With Christmas gift vouchers, you can contribute to your loved one's future furniture purchase in any amount that suits your gifting budget. 
Our gift cards are available in any denomination (minimum €10). They can also be used in all our stores or online, across all departments. So whatever your recipient is looking for to furnish or decorate their home — flooring, furniture, accessories, and more — a Corcoran's voucher will help them with their purchase. 
Buy digitally or online anywhere, anytime
One more benefit of Christmas gift vouchers is their convenience. Maybe there's a loved one you won't see this Christmas. Maybe the gift you intended to give is out of stock or simply won't be delivered in time. Maybe you need something you can easily pop in an envelope and put in the post, rather than trying to organise delivery. 
In all these situations, Christmas gift vouchers are a quick and easy way to get your gift to its recipient, anywhere in Ireland. You can call into any of our stores to purchase gift cards from our team, or shop safely and securely online with digital gift vouchers. When you buy online, your voucher will be delivered instantly via email — send it straight to your giftee or forward it on yourself whenever you choose.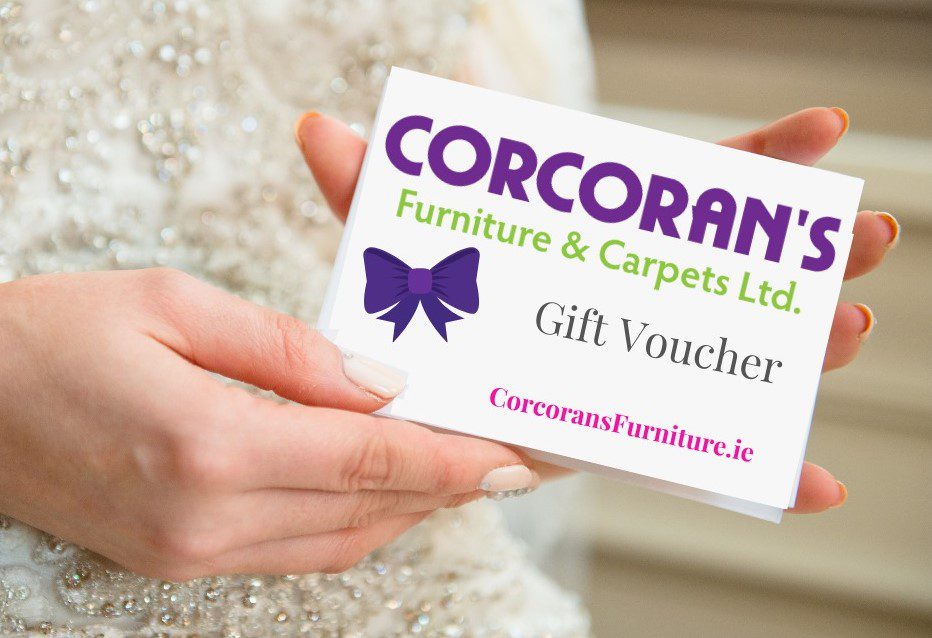 Christmas gift vouchers and more 
Visit our digital gift voucher page now to purchase the perfect last-minute gift online from the comfort of your home, and let them choose exactly what they want this Christmas.
Or, call in to your nearest Corcoran's showroom in Kerry or Limerick to shop our selection of in-stock items and home accessories that you can take home today. Our furniture and decor specialists will be delighted to help you choose the best gifts for everyone on your list.
Merry Christmas and Happy Holidays from all of us at Corcoran's!