Get Pin-spired! Find your dream decor in the latest social media trends
When you're planning a big home renovation or interior decor project, you may have plenty of ideas for your dream decor and designs. But if you're looking for some inspiration to style up your home, you may find yourself turning to your favourite social media site. Whether it's scrolling through Instagram or paging through Pinterest, you can find plenty of fabulous photos from folks who have made your dream decor a reality. 
Today we look at a few of our favourite recent posts from Pinterest and show you how you can get the look with some gorgeous pieces from the Corcoran's range.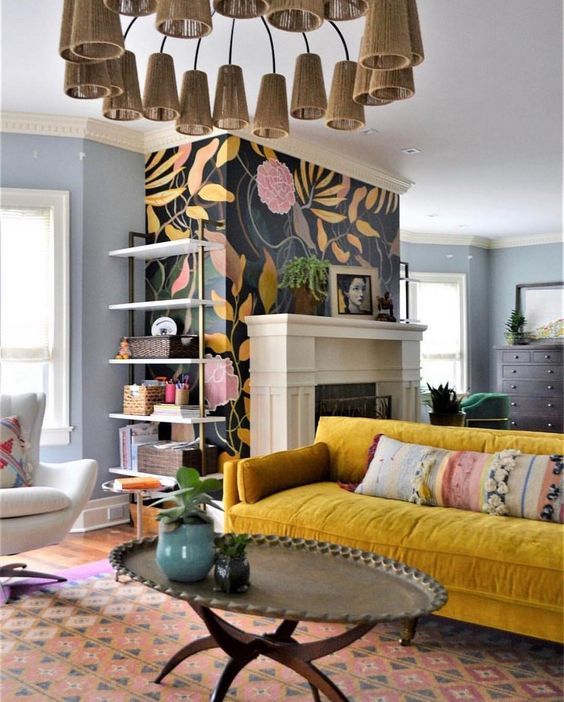 Why we love it: 
This bohemian beauty is a perfect example of maximalist decor done right — we're obsessed with the statement wallpaper and the playful mix of patterns across the wall, floor, and throw pillows. The sofa is as cosy as it is sophisticated, and the rich mustard hue of its upholstery is a trend that won't go out of style. 
Get the look:
Mariella 3 Seater Hygge Sofa: If you love bohemian style then the Mariella is sure to figure into your dream decor setup thanks to its simple shape but free-spirited details. Tapered legs hold this straight-back sofa that features ample cushioning for plush comfort, and you can choose mustard upholstery or another colour that suits your dream decor style. 
Zendaya I Wingback Armchair: Just one sofa isn't enough seating for most living rooms. Instead of choosing a smaller version of the main seating option, we love how this room incorporates a different style with a swivel wingback armchair. Our Zendaya offers the same look and pairs perfectly with the Mariella. 
Verena Weathered Oak Coffee Table: When you're choosing your dream decor, you may look for exact replicas of the pieces you pin to your inspo board, but you may also want to go in a slightly different direction to suit your personal style. We're inspired by the antiqued finish of the oval coffee table pictured above, but we love the idea of giving the room a slightly more modern twist with a sleek coffee table like the Verena.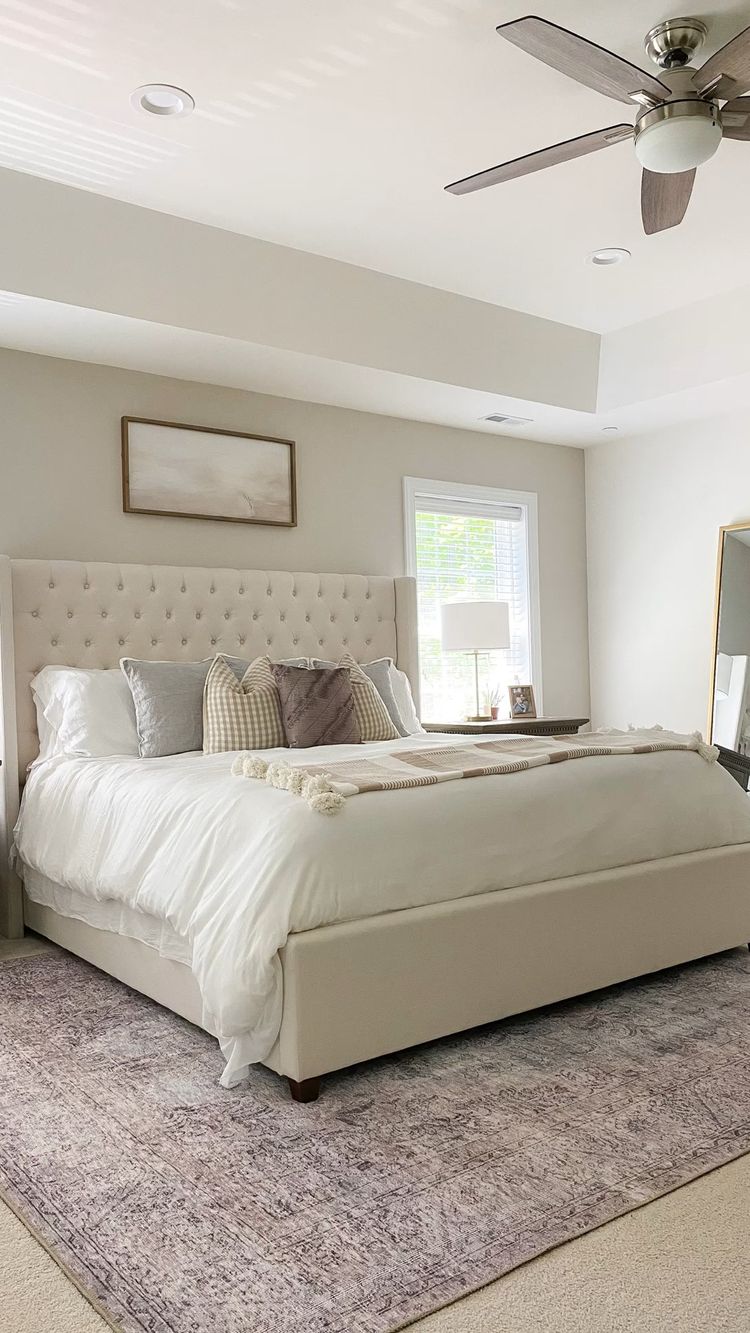 Why we love it: 
Light, airy, and modern — one of our favourite aesthetics for a contemporary bedroom! If your dream decor is full of pastel hues and smooth, soft textiles, we're sure you'll love this look as well. We love this bed's elegant tufted headboard, and the way the rug adds a touch of artistic flair to the space. 
Get the look:
Charles Tufted Linen Bed: The Charles bed features a tall, tufted headboard that brings stately style to your dream decor. Perfect for emulating the sophisticated look of our Pinspiration image, the Charles features linen upholstery that evokes an elegant look while also maintaining a light and airy feel. Opt for the white fabric to brighten up your space, or the grey alternative to add a touch of drama. 
16th Avenue Oriental Rug: One of the standout elements of this bedroom is the colour and artistic style that the use of a large area rug adds to the floor. Give a simple, neutral bedroom a bit of flair with a rug like the 16th Avenue Oriental Rug, featuring an ornate traditional design rendered in an array of pinks and blues. 
Hollywood Floor Mirror Glass Frame with USB: A floor mirror is a great addition to any bedroom; naturally a full-length mirror gives you the opportunity to check out your ensemble for the day, and in a compact space it can make the room appear larger. While our inspo image uses a simple yet glamorous gold-framed mirror, we're going for a different sort of glam with a Hollywood mirror. Featuring LED lights and even a USB port for charging devices, it's a modern piece to suit a contemporary bedroom.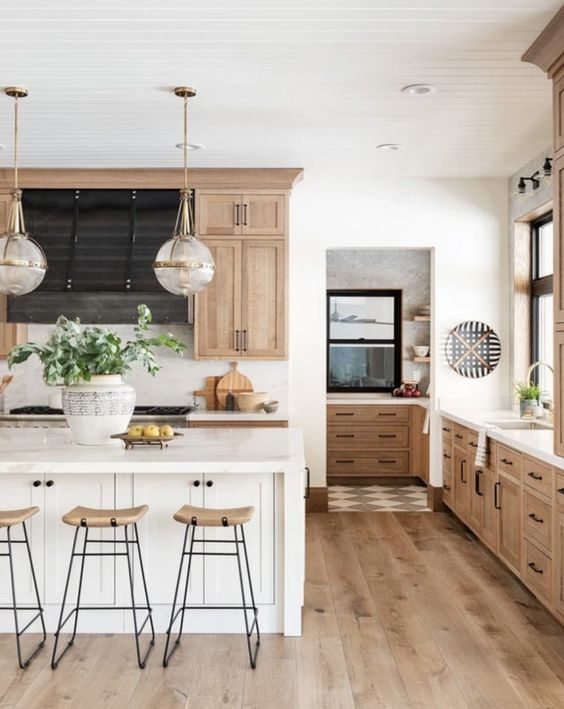 Why we love it:
Getting Pinspiration for your dream decor isn't just about choosing the right furniture. It's about all the floor-to-ceiling details that transform your space, like the right flooring, paints, and fixtures. The natural wood grain look of this kitchen gives it a traditional farmhouse feel with an elegant twist, and the crisp white paint is a lovely way to complete the look. 
Get the look:
Karndean Art Select Wood LVT Flooring: For a high-traffic space like the kitchen, Luxury Vinyl Tile is an ideal flooring option thanks to its low-maintenance, stain-resistant, waterproof design. Karndean's Art Select range offers high-quality, realistic options that emulate the look of genuine timber with its natural grain and colours. Pair it with accent tiles from the Heritage collection to emulate the inspo photo above. 
Little Greene paint in shade Loft White: Did you know we are an official stockist of the fabulous luxury paint brand Little Greene? One of the things that makes our Pinspiration photo so lovely is the sleek white finish of the walls and ceiling. A fresh coat of paint can really perk up a room, and the high-pigment quality of Little Greene makes it perfect for the job. 
Francis Pegler tapware: Just because your kitchen dream decor is traditional and rustic doesn't mean you can't incorporate the latest technology or the most up-to-date fixtures into your setup. Stylish, innovative tapware like the Francis Pegler range comes in a variety of colours and finishes to suit your chosen aesthetic, but offers the contemporary quality and construction you want for a modern home. 
Dream decor and more to turn inspiration into reality
Every home decor or renovation project starts with a vision. Once you've gathered up your inspiration pics, shop Corcoran's furniture, accessories, and more online or in-store to see your dream decor realised in your space. Or, call into our stores and let our range inspire you! 
Want to provide some Pinspiration of your own? Make sure you tag your interior design projects with #mycorcorans to show off your work and share your dream decor with us.