Multi-purpose Furniture: An In-depth Guide to Sofa Beds, Day Beds, Divan Beds, and More
With living spaces getting smaller and houses catering to more tenants and general footfall, multi-purpose furniture has never been more popular.
Modern multi-purpose furniture options such as sofa beds, day beds, and divan beds offer an ideal solution if you are limited on space and looking for a stylish and functional furniture choice.
Join us as we explore an in-depth guide to sofa beds, day beds, and divan beds, offering valuable advice to find the ideal fit for your space.
The versatility of sofa beds, day beds, divan beds, and more
Sofa beds, day beds, and divan beds are hugely versatile, and they can adapt to multiple home designs and styles.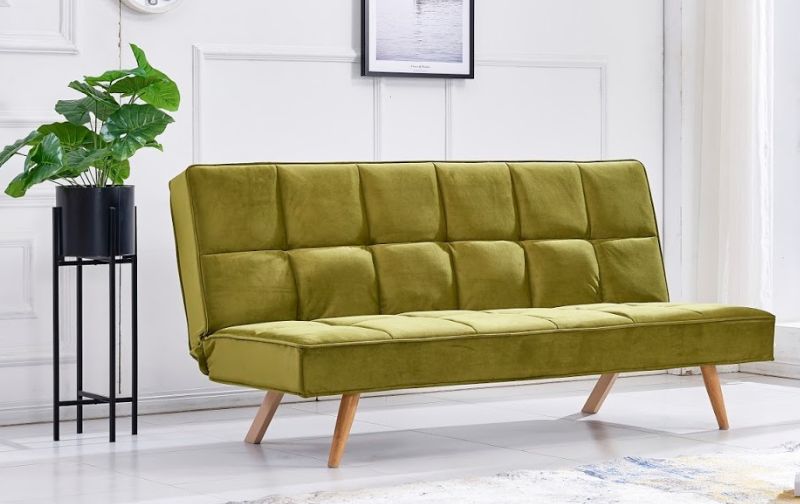 Sofa beds: the perfect blend of form and function
Sofa beds are an ideal choice for busy homes and for those who are limited on space. They also provide a great solution for households that like to host guests occasionally.
The versatile sofa bed serves as a comfy couch during the day, and it transforms into a bed when required.
Some sofa beds come with a built-in mattress, while others allow you to customise your mattress choice, so you will have plenty of options when selecting the ideal one for your needs.
The trusty sofa bed is a great way to gain additional bed options without taking up extra floor space. This makes them a great choice for apartments, studios, and general smaller spaces.
Day beds: daytime lounging to nighttime slumber
A day bed is typically used as both a bed and a seating area. It features three sides, a back, and two arm sides, and it can be used as a sofa, a lounger, or a bed. It is usually the size of a twin bed, but it can be adapted to fit a variety of mattress sizes.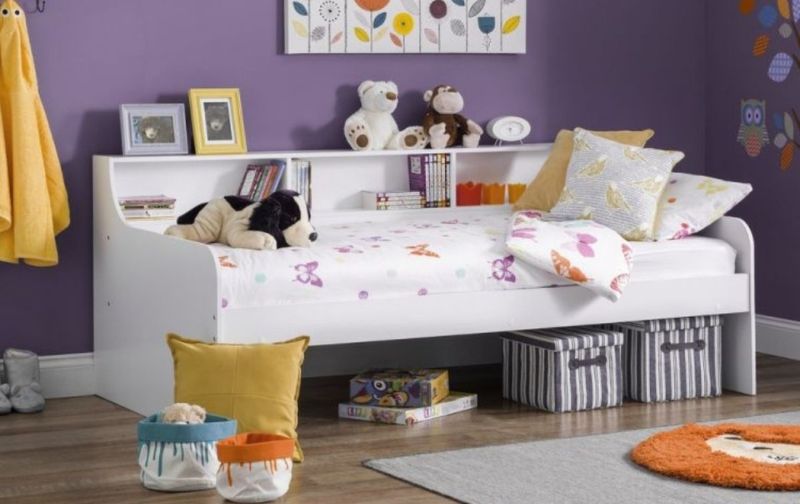 Often resembling a sofa, the versatile day bed looks like a couch but is an ideal option for lounging, sleeping, or sitting. The base can be slatted or a solid platform and some come with a trundle underneath, which is a hidden bed on wheels that can be pulled out as required. This provides an ideal way to maximise on sleeping options without taking up valuable room space.
As day beds come in a range of sizes and materials, such as wood, upholstered and metal versions, they will work with a range of décor styles. The adaptability of a day bed makes them ideal for children's rooms, conservatories, offices, guest rooms, and lounging areas.
Ottoman Beds
Ottoman beds are a fashionable and functional bedroom furniture option. They provide the same level of comfort as any other luxury bed, yet they contain a clever storage solution, where the entire bed foundation lifts to reveal a large storage space.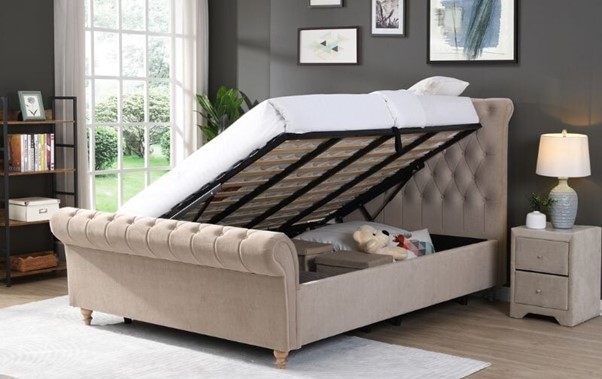 For those living in smaller spaces, where storage is at a premium, the ottoman provides a fantastic storage solution for items such as linens, toys, seasonal apparel, books, or any personal items you wish to store away safely and neatly.
Most ottoman beds are equipped with hydraulic gas-lift mechanisms, which allows you to open and close the mattress easily. It also holds the mattress in place when open.
Some ottomans have built-in headboards while others feature additional drawers and compartments, and you will have no problem finding one that suits your décor style as they come in a wide range of designs, materials, colours, and textures.
Divan beds: classic storage meets stylish comfort
A divan bed can be found in most homes and is noted for its understated design. It consists of a solid base and a mattress and combines a winning mix of comfort, style, and storage.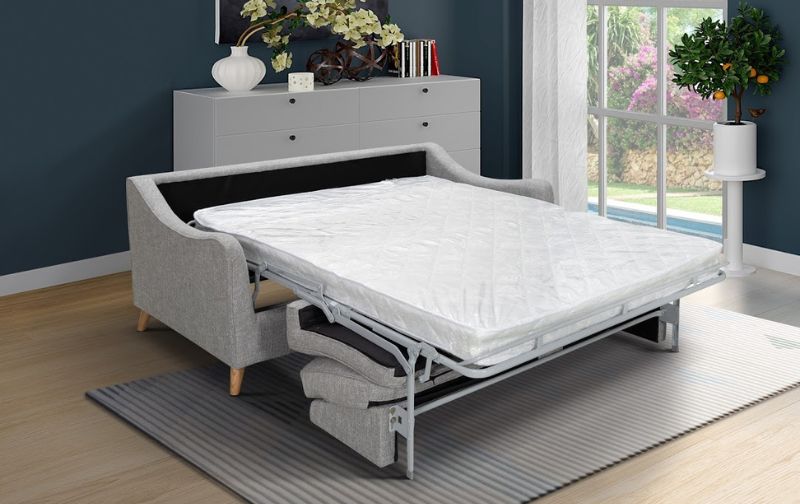 The base of a divan bed can sometimes feature built-in drawers, which allow you to store items, such as, clothes, shoes, books, throws, and blankets. The drawers come either with or without handles, and you also have the option of disguising them and the base of the bed through the clever use of a valance.
The divine divan is a great option for homes that are limited on wardrobe or chest of drawer space, and it works with a variety of décor styles. The mattress can be any type you wish once it fits the base, such as pocket sprung, latex, and memory foam amongst others.
How to choose the right multi-purpose bed for your needs
Finding the ideal multi-purpose bed to suit your home will depend on the space available to you as well as your personal taste, style, and needs.
While the upfront cost of a multi-purpose bed may be higher than the cost of a traditional bed, it could save you money long-term as it will reduce the need to purchase multiple pieces of furniture.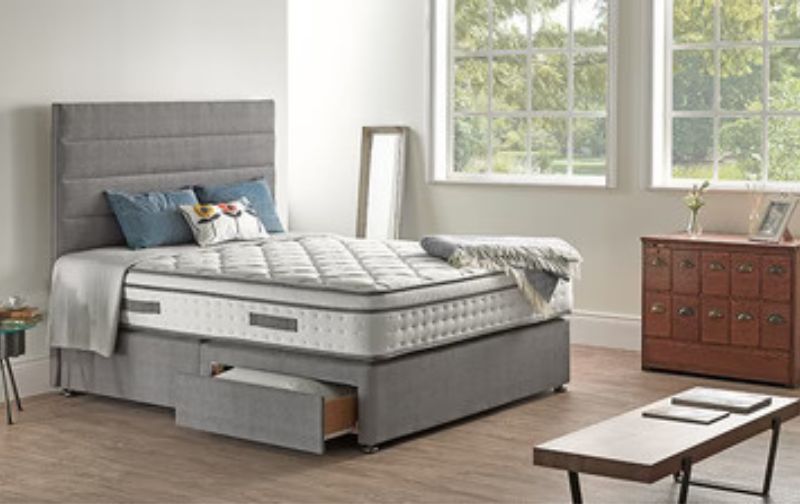 A sofa bed may be the perfect choice for you if you are tight on space and looking for a bed that can be used occasionally. It is also ideal if you want to have a bed hidden away, yet you can easily access it whenever you wish.
As a day bed can be used as a couch or a bed, it is ideal if you are looking for a casual and comfortable option, and depending on how you place them and style them, they will complement a variety of rooms and décor styles.
The day bed is a fantastic option for a guest room that also doubles up as an office space or a child's bedroom that uses most of the floor space as a play area. You can dress up a day bed in any décor style and make it as flamboyant or understated as you wish by using throws, blankets, and cushions.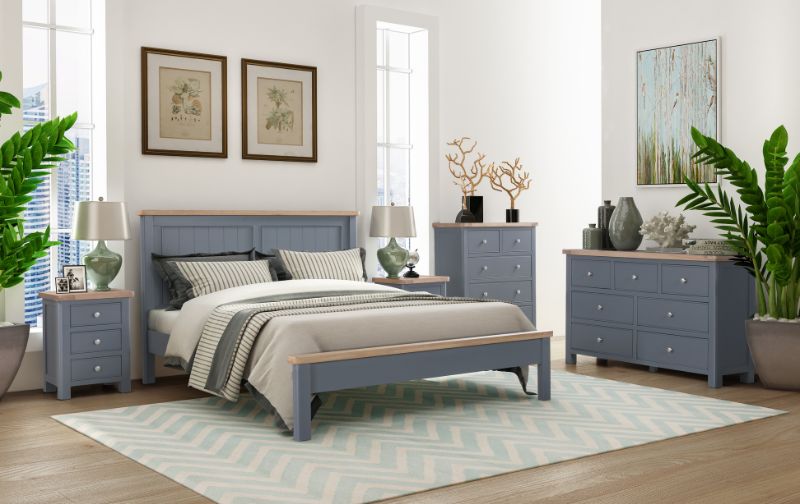 Just like the ottoman bed, the popular divan bed is an ideal option for those who need additional storage space or for those who are looking for a storage solution for smaller bedrooms. They come in a variety of sizes, including single, double, queen, king, and super-king, so they will work well in any home.
Tips for finding the perfect mattress for your multi-purpose bed
The mattress is one of the most important items to invest in when selecting your perfect bed. Regardless of which multi-purpose bed you choose, a quality mattress will increase your comfort levels and have a huge impact on the quality of your sleep.
While sofa beds and day beds often come with a mattress included, other multi-purpose furniture options such as divan beds or ottoman beds don't typically include a mattress. Therefore, if comfort is important to you, investing in the highest-quality mattress you can afford is key.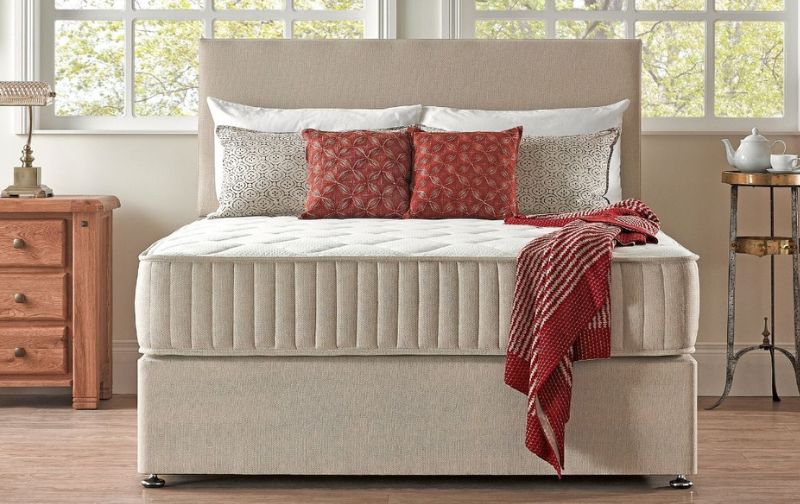 Here are some tips to help you find the perfect mattress:
Mattress size
It is important to make sure that the size of the mattress you choose fits your divan or ottoman bed perfectly. This will ensure that the mattress won't move when in use and that it can be neatly tucked away during storage.
Mattress type
There is a huge range of mattresses on the market, including, innerspring, hybrid, foam, and latex. Each type caters to different needs. For example, innerspring mattresses are known for their bounce and support while providing a cooler sleeping experience; latex mattresses are renowned for their natural materials; and memory foam mattresses are known for their pressure-relieving features as they mould to your body.
Comfort and support
A great mattress will provide you with adequate comfort and support, allowing your head, neck, shoulders, torso, and legs to be supported when sleeping. This will ensure that you wake up feeling refreshed and with no aches or pains.
In general, lighter people will prefer lighter mattresses, and heavier people may need additional support, so they may opt for a firmer mattress. Of course, the type of mattress you choose will come down to your personal preference. There are also many orthopaedic designs that are great for those with back problems or joint pain.
Sleep position
In general, side sleepers will prefer a softer mattress that will contour their body. Stomach sleepers will need a firmer mattress, and back sleepers will be happy with something in the middle!
Mattress durability
If you are going to be using your mattress daily, then it is crucial to invest in one that is durable. You can check out the durability of a mattress by viewing customer reviews online, and you should aim to select one with a good warranty.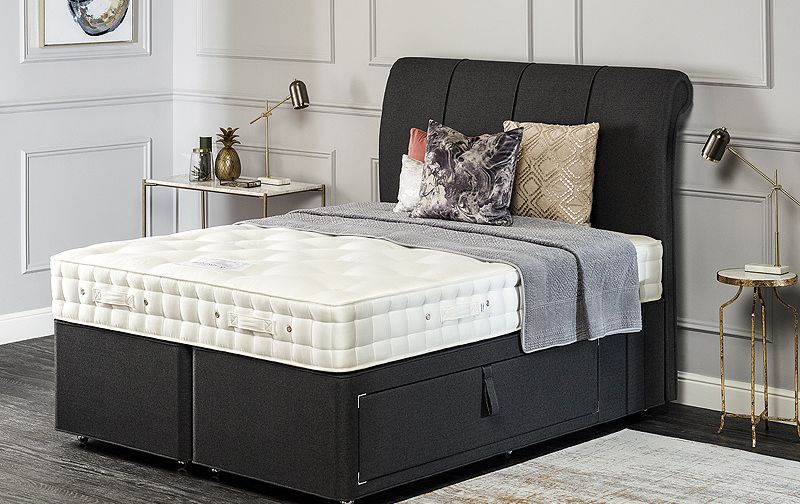 Budget
Determine your budget prior to going mattress shopping. No matter what your budget is, select the highest-quality mattress you can afford, as this will save you money in the long run.
Eco-friendly mattress options
There are many eco-friendly mattress options available made with organic materials and you may also opt for those that follow environmentally friendly manufacturing processes and guidelines.
Want to know more about choosing the right mattress? Explore our thorough mattress guide.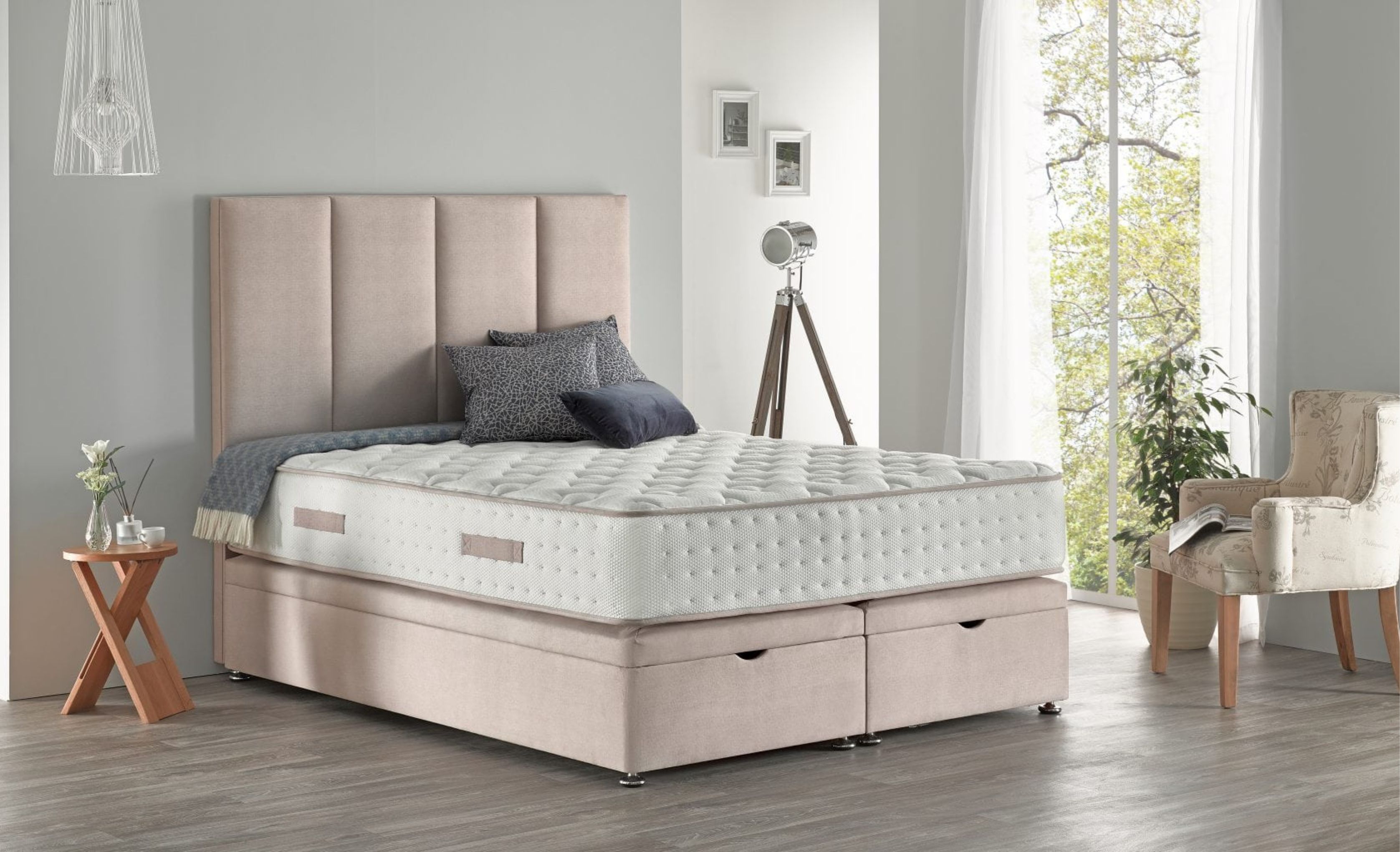 Multi-purpose furniture is adaptable, versatile, and ideal for organising your space. Sofa beds, day beds, divan beds, and ottoman beds provide the ideal solution for homes looking to maximise on space and convenience.
They are also an excellent choice for homes whose needs change frequently, such as those that host a lot of guests or homes with children.
A multi-purpose bed will also help you become more organised, and you can maximise the floor space in your home no matter what the size.
In recent years, designers have started creating multi-functional bed options that are practical, stylish, and modern. This means you can have the flexibility of multi-functional furniture options in your home without having to compromise on style and aesthetics.
Most importantly, choose pieces that fit in with your own personal décor, taste, and requirements. Happy bed shopping!