Paw-sitively Perfect: 5 Top Couch Materials for Dog Owners and their Furry Friends
All good dog owners are familiar with the joy and wonder that come with owning a four-legged furry friend.
However, in addition to all the love and happiness that they bring into a home, dogs can also be a little messy from time to time. So, it's safe to say that a bit of extra cleaning may be on the cards.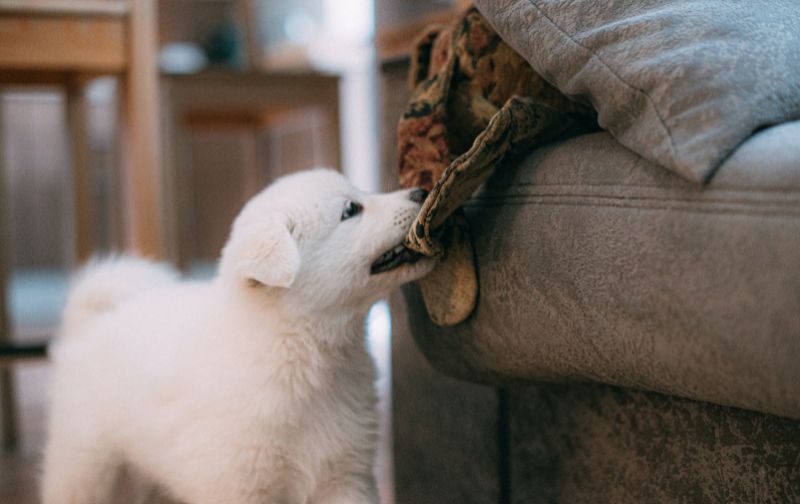 From muddy paws to shedding fur, along with occasional accidental scrapes and spills, your beloved pet can do quite a job on your home furnishings.
And we are all aware of the potential damage that an innocent puppy is capable of as they learn to explore the boundaries of their new home!
However, never fear; we are here to help you by exploring the pros and cons of the best couch materials for dog owners and their fur balls.
This way, you can enjoy quality time with your favourite pet without having to stress about the toll they may have on your new leather sofa. And, as a bonus, it will also limit the amount of day-to-day cleaning you'll have to do.
1. Leather: A timeless favourite dog-friendly fabric
Leather is a great option when considering couch materials for dogs and, indeed, their owners. It is durable, easy to clean, and can withstand the wear and tear of even the most active dogs.
In addition to being practical, leather sofas are also stylish and can add a touch of luxury to any home. Leather comes in a variety of colours and finishes, so you can find the perfect sofa to match your décor.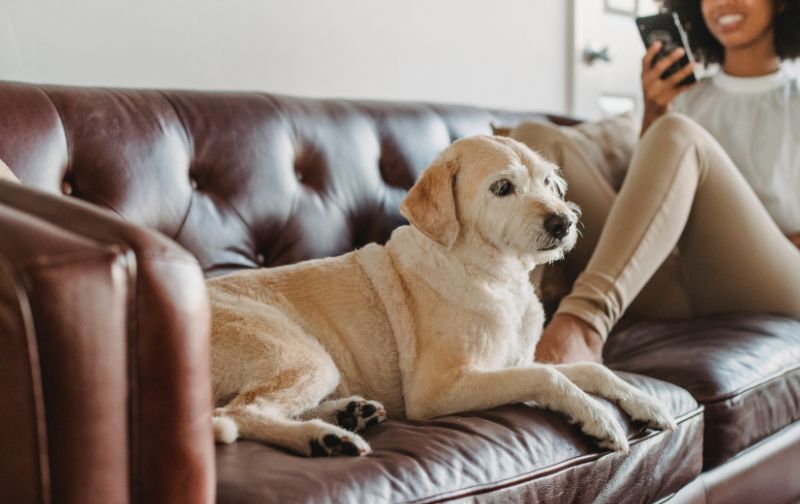 Pros of a leather couch:
Leather is durable and easy to clean.
Minor dog scratches can blend in with the natural finish of leather.
It doesn't trap doggy odours.
Leather repels fur, and if your dogs shed a lot, it can be easily brushed off the couch.
A leather couch will wear well, and as it gets more comfortable over time, it will provide a great lounging spot for both you and your dog.
Cons of a leather couch:
A genuine leather sofa can be an expensive option.
If your dog scratches aggressively, it may leave more noticeable marks.
2. Microfibre: a wonder fabric for dogs and humans alike
Microfiber is a synthetic fabric that is made from very fine fibres. It is known for its softness, durability, and ease of cleaning. Microfibre is also a great choice as one of the top materials for dog owners because it is resistant to stains and odours. These dog-friendly sofas also come in a variety of colours and textures, making it easy to find a suitable one for your home.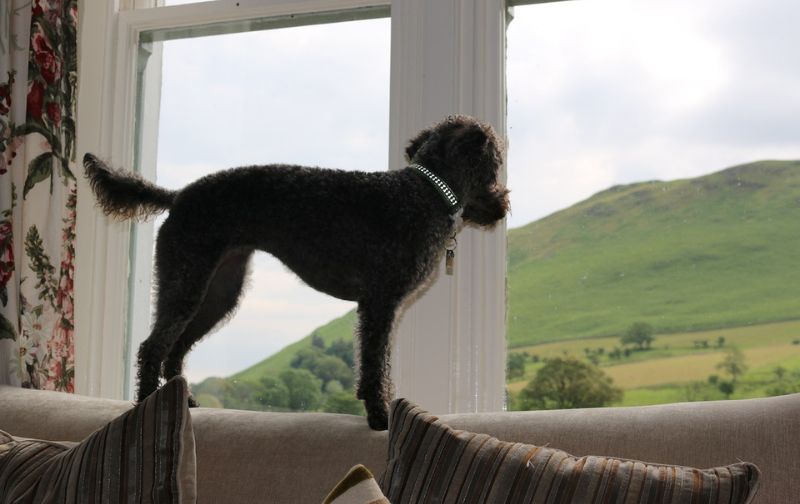 Pros of a microfibre couch:
Microfibre is a synthetic material that feels like suede, giving it a soft, luxurious feel.
Its dense construction prevents hair from embedding into the fabric.
It is durable and easy to maintain.
Paw marks can be easily wiped away.
Spills can be removed with a damp cloth.
If budget is a concern, a microfibre sofa is typically more affordable than leather options
Microfibre is water-resistant and scratch-resistant, making it one of the best couch materials for dogs and humans alike
Cons of a microfibre couch:
Lighter-coloured microfibre options can look dirty almost instantly, but darker neutrals such as brown, grey, or tan will help to prevent this.
There can be resistance between the microfibre sofa and the fabric of your clothing, which may cause static.
3. Canvas: A casual and robust dog-friendly choice
Canvas has been used for everything from bags to sails to tents, and in recent years, it has also been applied as upholstery for furniture. As it's so sturdy, it also makes a good option as a contender for the best couch materials for dogs.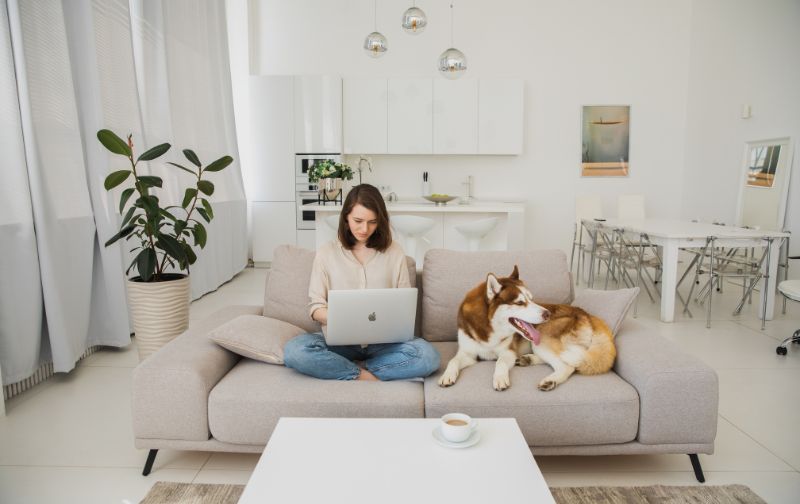 Pros of a canvas sofa:
Canvas is a strong and durable fabric that can withstand the wear and tear of even the most active dogs.
It will resist fading and wear and tear for many years.
Canvas is easy to clean and vacuum, even with stubborn dog hair. It can also be washed in a washing machine, making it a great choice for busy dog owners.
Canvas is very versatile and can be dyed in many colours and patterns.
Canvas has a chilled, relaxed vibe, which works brilliantly with a variety of décor styles.
Cons of a canvas couch:
Canvas can show spills more easily than some other materials, so it's important to be mindful of that if you have a dog.
It can feel quite stiff compared to alternative upholstery fabrics, but it usually softens over time.
Make sure to check that the canvas used for your couch has been pre-treated to resist UV damage, or it may fade.
4. Tweed: Leading the pack in luxe couch materials for dogs
Tweed is a popular fashion choice in the form of jackets, vests, caps, and trousers, and it has also become a design staple for an array of gorgeous couches. The intricate weave of tweed will make it difficult for pet hair to penetrate the material, making it another ideal choice as one of the best couch materials for dogs.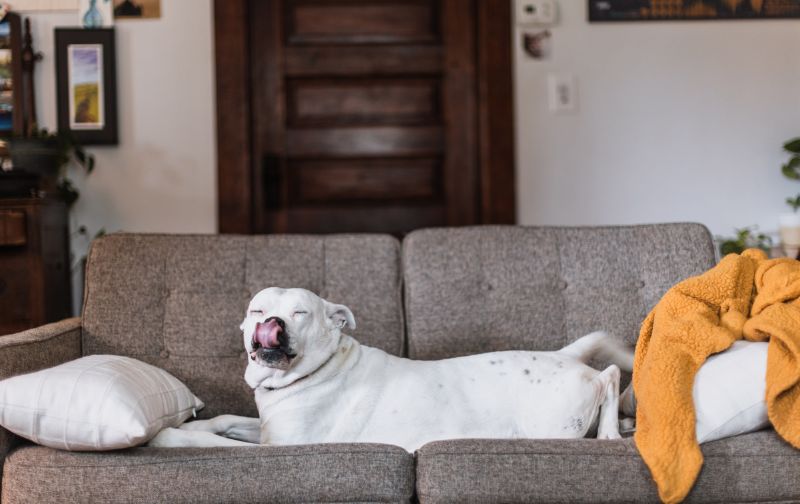 Pros of a Tweed sofa:
The multi-tonal weave of tweed is a great way to disguise minor stains or pet hair on a sofa.
Tweed is a cosy and chic option for a couch, and it will blend easily with a variety of styles.
Tweed is moisture-resistant.
It's smooth and wrinkle-free, which is ideal for pets who like to couch surf a lot!
Cons of a Tweed sofa:
A tweed couch may be too warm in hotter climates; in this case, consider using throws to combat the warmth of the couch.
Some tweed fabrics can feel a little itchy, but this will depend on the quality of the wool and the milling process.
A tweed sofa will most likely need to be professionally dry cleaned or steam cleaned to avoid puckering and keep its quality. Regular vacuuming is also advised to keep it fresh.
5. Vinyl: Style on a budget that dog-proofs your sofa
Vinyl is a synthetic material that is made from PVC plastic. It is a popular choice for furniture because it is durable, easy to clean, and affordable. Vinyl is also a cruelty-free alternative to leather, making it a good choice for animal lovers.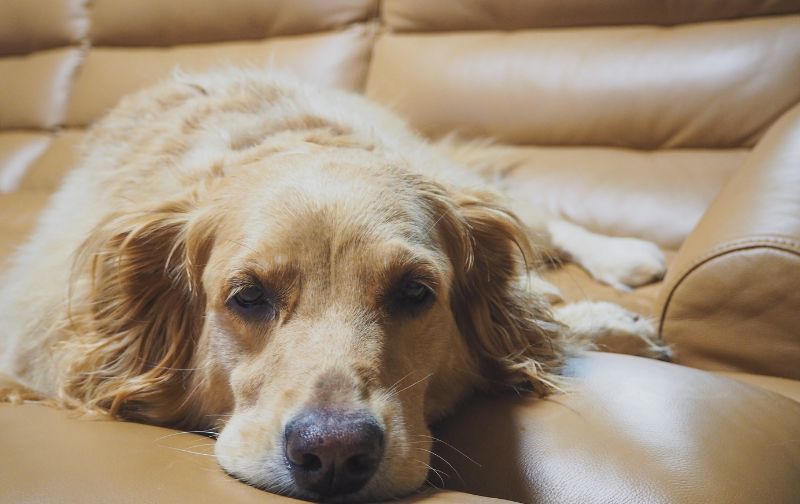 Pros of a Vinyl couch:
Vinyl is a budget-friendly sofa option.
Good-quality vinyl is durable, scratch-resistant, and wears well.
Vinyl is easy to clean and maintain, and it's resistant to staining.
It comes in a variety of patterns, colours, and textures, so it's extremely versatile as a sofa choice.
Cons of a vinyl couch:
Vinyl doesn't breathe as well and may feel sticky in hot weather and cold in winter.
Vinyl is non-biodegradable and can be harmful to the environment.
It tends to crack over time, especially if exposed to direct sunlight.
The final word on picking the best couch materials for dogs
Whichever pet-friendly sofa type you choose, make sure to vacuum weekly to help remove dirt, fur, and allergens. Grooming your dog, trimming their nails, and brushing them frequently will also help to keep your couch clean and sanitary.
Don't forget, you can add throws or slip covers to give your couch a touch of additional comfort and elegance while also protecting your sofa.
Of course, with a bit of patience, persistence, and consistency, you can also train your dog where you'd like them to lounge.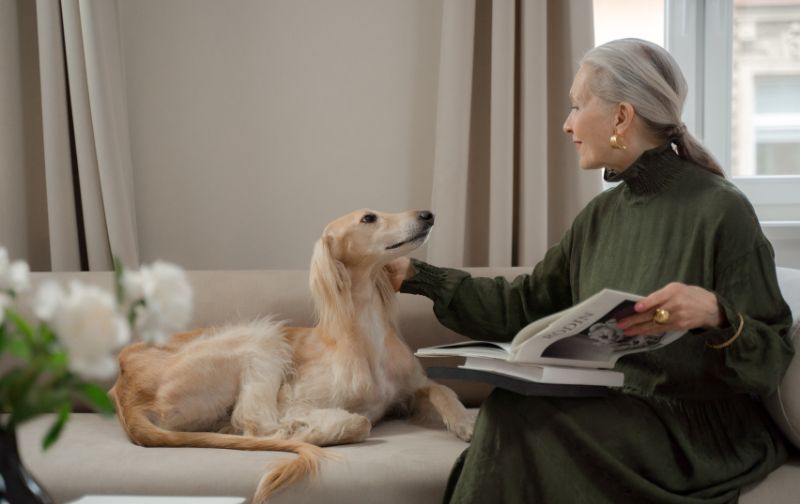 A wide range of considerations must be taken into account while choosing a couch, especially one that is dog-friendly. Personal preference certainly contributes, but it's only one aspect of the puzzle.
After all, given only the allure of aesthetics, many a dog owner would be draped in velvet splendor—until the first paw print makes its debut.
However, practicality is important when considering our beloved furry friends. Durability, ease of cleaning, and resistance to scratches and pet hair are equally important.
When it comes to picking the top couch materials for dogs, finding the ideal dog-friendly couch necessitates achieving a balance between form and function, even though your personal taste may influence your preferences.
Whether it's snuggle or siesta time, you and your furry friend will spend many hours together on the couch, so it's important to find one that meshes with your décor but also stands up to the rigors of doggy life.
As a cherished member of your family, your dog will welcome the cosy comfort that you provide, whether it's in one room in your home or in several areas throughout the house.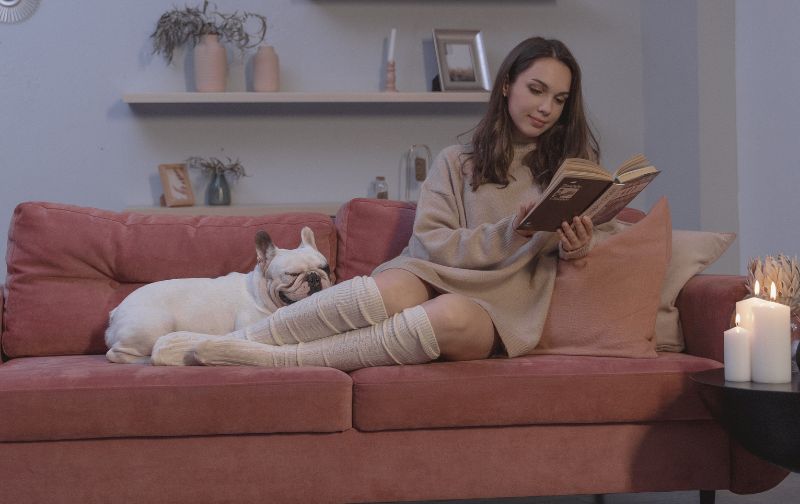 Bear in mind that at the end of the day, a few muddy paw prints or the occasional fur trail is a small price to pay for the unconditional love, happiness, and joy that these four-legged beauties bring to our lives.