Children's bedroom decor that will grow with them
Whether you're a new or soon-to-be parent creating a child-friendly space for your little one, or you're moving house with kids in tow, at Corcoran's we can help you furnish your child's bedroom in comfy, charming style. If your child is old enough, they'll probably have their own ideas about the furniture and decor they want in their room, and you likely want to balance their big dreams with your budget and also not need to entirely redecorate every few years as their interests change and as they grow. 
That's why we have a guide to furnishing your child's room in a way that will grow with them and offer style, safety, and comfort through the years. Read on for our best advice for children's bedroom decor that will see your little ones through infancy, toddlerhood, and beyond.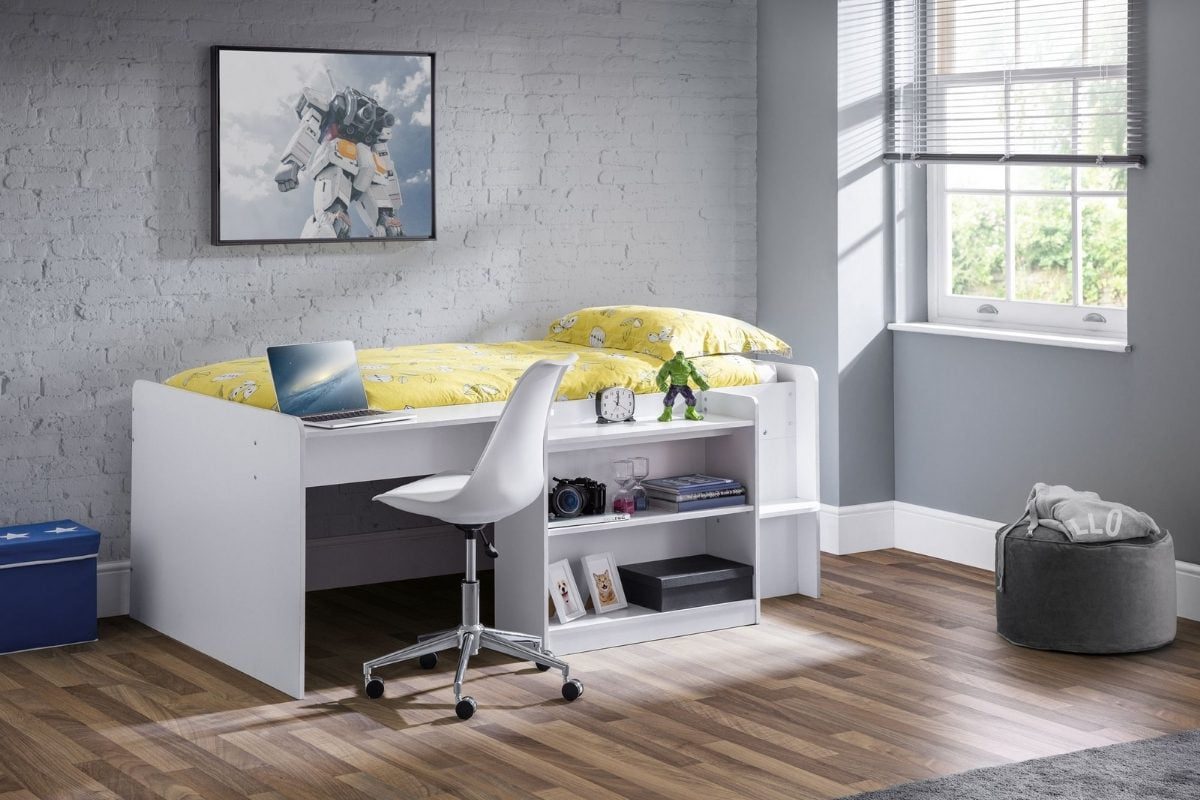 Choosing colours to last a lifetime
Often when considering a colour palette for a nursery or young child's bedroom, people think their only options are the classic pastel blues and pinks. And naturally pastels are a soothing option for your little one's space. But for a setup that will see them through childhood, consider bolder hues.
Colours like navy, yellow, and charcoal can be easily accented with traditional pastels or paired with any shades your little ones love, while still maintaining a sense of style that they'll appreciate as they get older. 
Big interests, small details
One of the best ways to create children's bedroom decor that will grow with them and adjust easily as their interests change is to focus on accessorising. Switching out wall art, figurines, and small details like bedding is a more budget-friendly alternative to changing out entire furniture sets every few years, and allows you to invest in high-quality pieces like beds and dressers without worrying that they'll have to be frequently replaced. 
This also goes for if your child wants a themed bedroom. While princesses and superheroes are fun and playful options for children's bedroom decor, and while you should certainly let your kids express their interests in their own rooms, going all-in on a theme all but guarantees that they'll get tired of it within a year or two. Instead, use their desired theme to inspire accessories and details, and keep the rest of the room as a more neutral canvas that will be equally ready to host their next favourite thing. 
Accent a wall to suit their style
An accent wall with patterned wallpaper is another way to easily change up the look of your child's room over the years without a full revamp. While it requires a bit more work than simply replacing a piece of wall art, you can completely change the vibe of their bedroom without fully repainting or rewallpapering, so you don't have to remove all the furniture or spend as much time on a complete revamp of the space. 
Plus, you can stick to an overall neutral colour palette for the rest of the walls to make sure it will always complement the furniture and flooring, while letting your child pick whatever playful patterns they want for the accent wall. 
Storage: a lasting consideration
Storage is another children's bedroom decor essential that can also help to bring an evergreen quality to their space. Not only can you teach your kids good habits to tidy up after themselves from a young age, but having plenty of storage options can help you to avoid a cluttered space. 
Choosing some key pieces in classic designs or colours — natural wood, painted white, and so on — will keep your little ones' clothes and belongings organised with ease no matter their age. Then add a touch of whimsy with fabric, wicker, or plastic baskets for toys and other items that they can look after themselves and choose to suit their personal style.
The best beds for all ages
Naturally, when your children are first born they'll require a crib or bassinet for sleeping, but when it's time to upgrade to a 'big kid bed' you have a few directions you can go for children's bedroom decor that is still as good for teens as it is for toddlers. 
An upholstered headboard can be a lovely option for a cosy child's room thanks to its plush, padded design. It's just comfy enough to suit a little one who wants to sit up in the evening and read a book, but it also offers a touch of sophistication that will see them through to a 'grown-up' space. 
An alternative is to choose a bed that offers multifunctional appeal for study and play. A lofted or mid-sleeper bed can add extra space to a small room, as well as featuring details like storage, shelving, or even a desk that can create a great study or workspace for kids of any age. Whether they're just learning their ABCs or they're studying for the LC, a bed with an integrated desk can make for the perfect transitional bedroom essential. 
Children's bedroom decor from tots to teens at Corcoran's
Whatever the age of your little one, you can find children's bedroom decor that will stand the test of time and their many changing interests at Corcoran's. From the basics like beds and dressers, to all the fun accessories and details that will really help them make their rooms their own, we have everything you need to kit out your kids' space in style. Shop online now or visit us in-store to find the best furniture and accessories for children's bedroom decor.