Your bathroom buying guide from Corcoran's
Even though the bathroom is generally one of the smaller rooms in your house, renovating it tends to be one of the larger home interiors projects you can undertake. Revamping your bathroom can require a host of new fixtures, an array of tradespeople, and that's even before you consider the decorative details. However, it's one of those projects that's definitely worth it when you consider the frequency with which your bathroom sees use throughout the day, not only by those living in your home but by visitors. 
And while it's a project that can require a lot of time and effort, it's one that really makes a difference. Plus, with our bathroom buying guide, getting everything you need to make your bathroom renovation a success is simpler than you might think! Read on for our top tips for buying bathroom fixtures and more. 
Selecting bathroom floor and wall tiles
When you're starting your bathroom renovation, one of the first things you'll want to consider are the tiles you choose for your walls and flooring. Whether you are tiling your entire bathroom or you're pairing tiles with painted or wallpaper walls as well, the tiles you choose will help set the tone for the space — from sleek, chic, and modern to relaxed and spa-like. 
Natural stone and manmade tiles are ideal options for bathroom tiles. Natural materials like marble and limestone create an opulent look and offer appealing individuality for your space, while porcelain and ceramic tiles are classic manmade picks that are also hard-wearing and affordable. 
You can use the same tiles on the walls and floors of your bathroom, or choose a range of patterns and colours to create an artistic yet coordinated look. You can also choose variations of the same tile type, such as using a gloss tile on the walls and a matching, yet matte-finished, tile on the floors.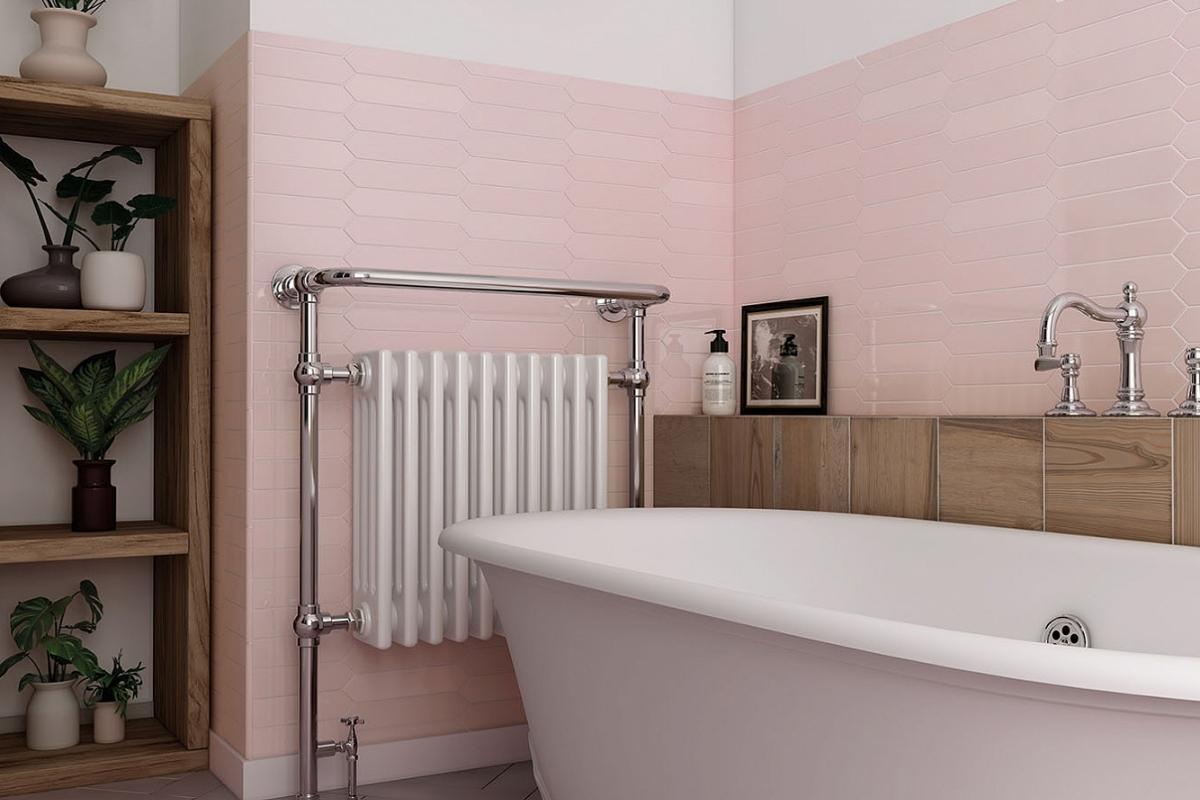 Buying a toilet, bath, and shower 
To an extent, your bath and shower options will be determined by the size and shape of your bathroom. In a small or medium-sized bathroom, you may need to stick with just a shower or at least a combination bathtub-shower if you can't accommodate a freestanding tub. 
A corner shower can be a great way to maximise the space in your small bathroom, or you may even want to consider a wetroom-style shower with glass panels so as not to close off portions of the room. And even if you do have plenty of space to work with, you can also go this route to create an open and minimalist bathroom that is clean and modern. 
If you're considering a freestanding tub, you can go modern or traditional here with a variety of shapes and options with or without metal legs. While in the past, tubs would have only come in a small spectrum of white or neutral shades, you can now buy tubs that match every hue you could choose for your bathroom. 
Finally, the toilet. While you don't have as wide an array of possibilities from which to choose in comparison to showers or sinks, there's more variety than you may think as far as toilet shapes and styles. From fully enclosed toilet pans to wall-hung options, your toilet is a key element of your bathroom and can also help to evoke whatever aesthetic look you're after. 
Choosing sinks and storage
Storage is a sometimes-neglected element in bathroom design. Toiletries, cosmetics, spare toothbrushes, soap refills, and more — bathrooms can get cluttered quickly if you don't have a place to store things. 
One of the most popular ways to add storage to your bathroom is to choose a sink with integrated storage underneath, and again here you can find modern and traditional options to suit your space. 
Separate units, either wall or floor mounted, can also be used to add additional storage to your bathroom. Some of these units even include built-in compartments or other details that will keep you organised with ease. Similarly, a wall mirror with a built-in medicine cabinet is great for keeping makeup, prescriptions, and more close at hand for your morning or evening routine. 
As for the sink itself, you have plenty of options. If you're choosing a sink with integrated storage, it could be freestanding or wall-mounted. If you don't need extra storage or have a separate storage unit, your sink basin can be wall or floor-mounted, or stand on a pedestal. You may even consider a double basin design for larger bathrooms. For faucets and taps, there are plenty of options for different metals and finishes to create the classic or modern look you'll love.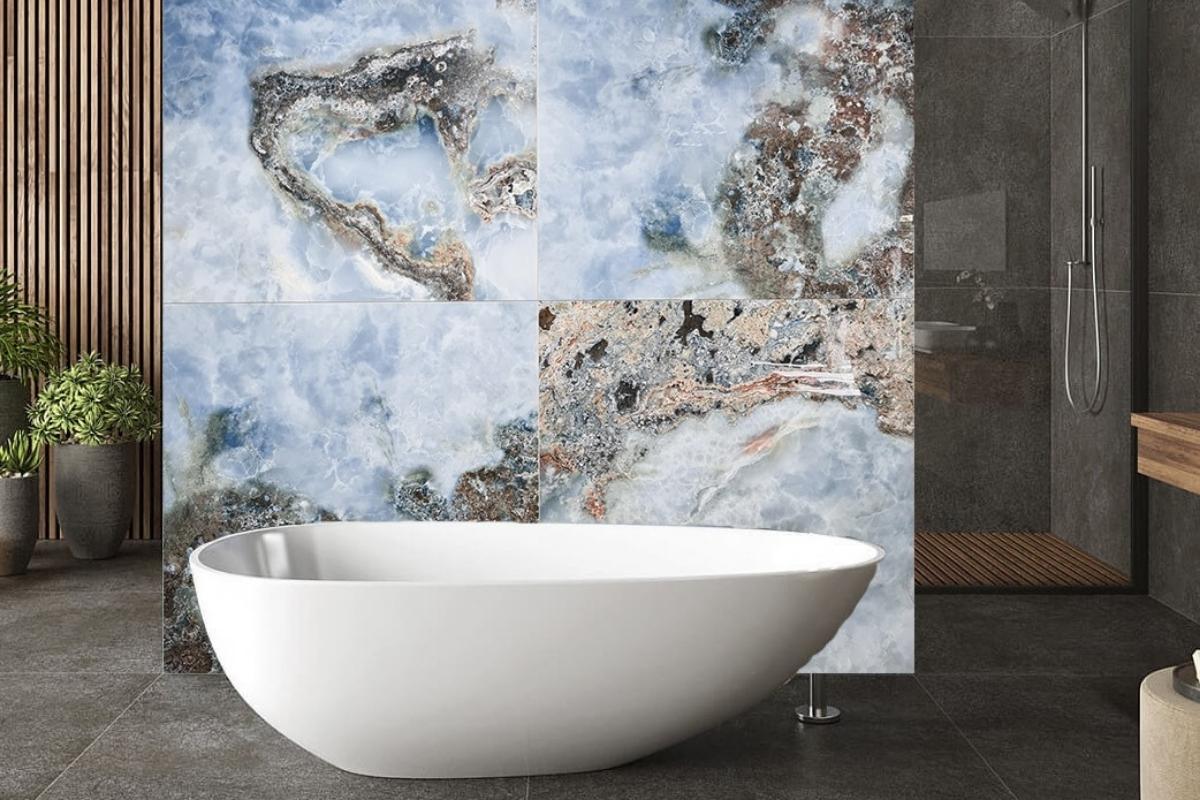 Adding the extra details
Once you've chosen all the key fixtures for your bathroom, it's time to finish the space with everything you need to really create a comfortable daily routine. 
A heated towel rail can add a touch of luxury to your space. Imagine stepping out of the shower to a warm and fluffy towel waiting for you. A heated towel rail can replace your regular radiator and bring an extra cosy element to your bathroom. 
LED lighted mirrors are a favourite of modern bathrooms, not only adding extra illumination to your space but also offering ambient lighting with 'warm' and 'cool' functions, and brightness that can be adjusted to evoke the look of natural light. This is perfect for applying makeup and getting a realistic sense of what you'll look like outdoors. 
 Finally, there's decor. While you need to be careful with the pieces you add to your bathroom as they'll be exposed to heat and condensation — so don't hang your most delicate wall art or set up your most fragile figurines — you can still inject your personal style with scented candles, faux plants, or other decorative elements. 
A bathroom buying guide for beautiful bathrooms and more at Corcoran's
When you're starting the plans for your bathroom remodel, have a browse through our bathroom catalogue or visit our KIllarney Bathroom, Tile & Stove Centre to see all the gorgeous bathroom fixtures, furnishings, and flooring we have to offer for your home. Your dream bathroom is a project worth taking on, and at Corcoran's we can help you make it as easy as possible. 
Want to know about the best shower for your space? Need to find the perfect tiles to suit your budget? Get in touch! Our expert team is here to help you create your ideal bathroom.