What are the Types of Office Desks Available for a Home Office?
If you're looking to upgrade your home office or workspace, office desks should be your first and foremost consideration. A comfortable, supportive office chair is a close second, but to set the stage for a good home office routine, a sturdy, stylish, and functional office desk is an absolute essential. 
What factors should you consider when buying office desks? 
There are three key elements you will want to think about when you are deciding on a new desk for your home office setup. 
The first is its overall purpose. Do you work from home full-time or do you just need a spot to sit down and send an occasional email? Is the desk for your child to do their schoolwork or will it be used by multiple members of the family? Will the desk hold a laptop or a desktop computer monitor, or will it be used to keep files and documents organised? Answering these questions will help you determine the size, storage needs, and style of your desk. 
The next element to consider before buying office desks is the size of your space. A stately mahogany desk will be cramped and crowded if you are trying to tuck it into the corner of a guest bedroom. On the other hand, if you have a dedicated office space that you utilise every day, you will want an office desk that is sized to suit all your work-from-home needs. 
Finally, you can think about the types of office desks that will be best for your daily routine and requirements While all desks will offer the same basic features and functions — a worktop where you can rest your laptop or notebook, space underneath for your chair seat and legs — there are other details that can vary between styles. When you buy office desks, you will be able to choose an option that is ideal for your workday. 
Here are some of the different styles of office desks that you might choose for your home: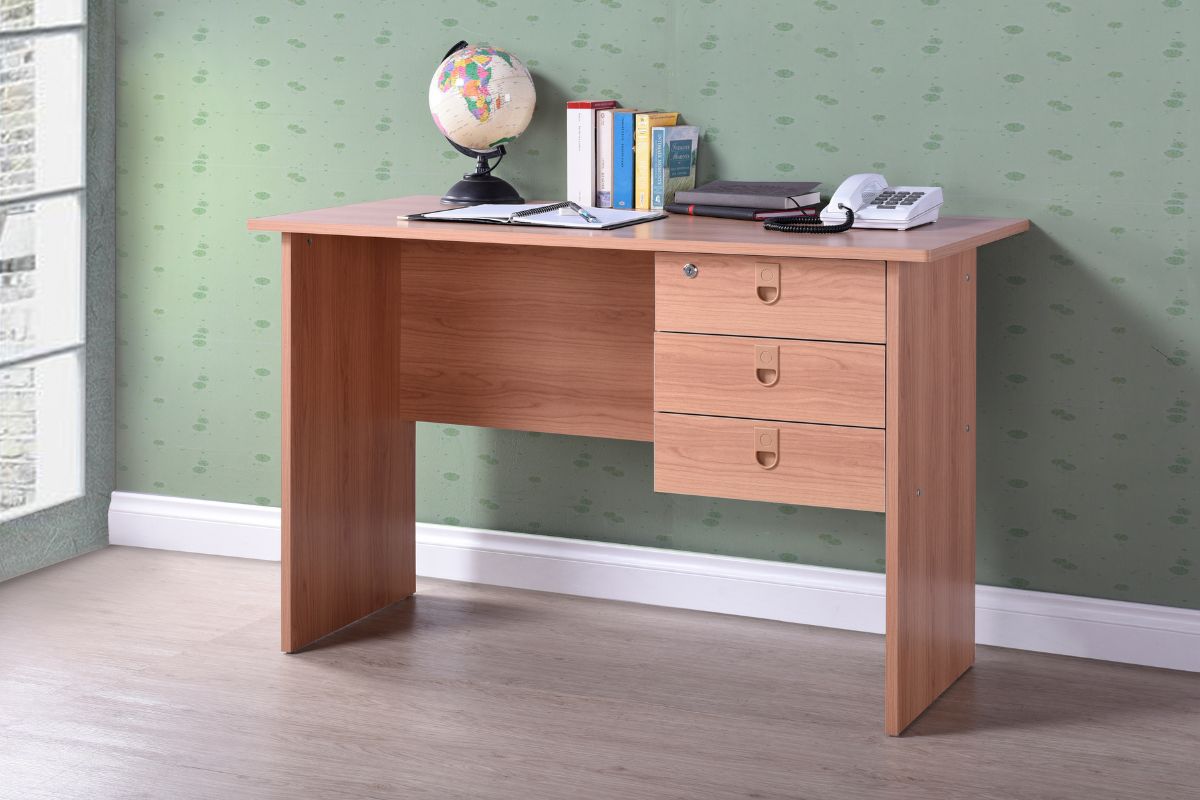 Writing desks
A traditional option, writing desks are generally meant for light or infrequent use, although they are usually spacious enough to hold a computer or laptop if needed. Writing desks may have a desk beneath the tabletop, but they are often simply a small, rectangular surface with an open base, ideal for a simple workspace setup. 
Office desks with storage
No matter the main function of your home office setup, it's likely that you can use a desk that features at least a little bit of built-in storage. You can find desks with one-, two-, or three-drawer configurations, desks with cabinets, desks with open shelves, or even desks that feature a combination of storage options to really maximise your space. 
Executive desks
A type of office desk with storage, executive desks are a spacious, traditional style of office furniture that may be very appealing if your home office sees frequent use. Executive desks feature a large worktop that can be used to hold everything from laptops to lamps. Beneath the desk is ample storage, with a column of drawers or cabinets on one or both sides of the seating area. 
Console table desks
Not everyone wants, needs, or has room for a dedicated office space in their home. If you only need an occasional worktop, or if your home office needs to share space with a guest bedroom or other area, then a console desk might be an appealing option. Part console table, part desk, this compact, versatile favourite is sleek and narrow, but still offers enough surface space to hold a laptop as needed. 
Bookshelf desks
Another great option for a multipurpose home office area is a bookshelf desk. A traditional, compact desk is topped with several open shelves, creating a piece that is as functional for storage as it is for work or schoolwork. Whether you use the shelves for essential storage or decorative display, this is a fabulously versatile option for your space. 
Sit-stand desks
Sitting for extended periods can have negative health effects, so it is recommended that you stand up and take breaks during your workday in order to benefit your posture, circulation, and overall well being. You may also consider an adjustable desk; some office desks allow you to raise the desktop high enough that you can stand while you work rather than sitting throughout your entire workday. 
Corner desks
If your home office area is in the corner of the room, then an L-shaped desk might be your perfect pick. With two desktops positioned perpendicularly to each other, a corner desk doubles your workspace while keeping everything in close reach to avoid stretching and strain. Although you can find L-shaped small office desks, this desk option is usually large and spacious. 
A stylish and practical home office setup from Corcoran's
At Corcoran's Furniture, you can find a full range of office furniture including desks, chairs, and storage solutions. For remote work, schoolwork, or occasional use, you can create a home office setup that supports you while looking good, too. Shop online now or visit us in-store to find the best office furniture for your home.
And for more home office inspiration, check out these other great blog posts: