5 Clever Ways to Use Small Console Tables Around the Home
Is a small console table the missing piece that will complete your perfect decor setup? This versatile furniture type can accent so many areas of the home: in the living room, dining room, or hallway, the possibilities are endless. 
A console table is a fantastic addition to your home because it can serve so many purposes, from convenient organisation and storage to creating the base for a decorative display. And we've got five of our favourite ways to make use of this multifunctional piece.
Make an epic entryway display in the hall
When you come home at the end of a long day, or when visitors arrive at your house or apartment, the entryway is the first thing you encounter. And even in a narrow hallway, a small console table can help create an inviting, stylish ambiance as soon as anyone walks in. 
Use your console table setup to 'introduce' your home and set the tone for your space. We love including a few photo frames with family photos or pictures of things you love — the positive energy will bring a welcoming vibe to the space. 
Hang a mirror above the console to make the entryway appear larger, and add some functional appeal with a tray to mind your keys or a table lamp to brighten up the hall.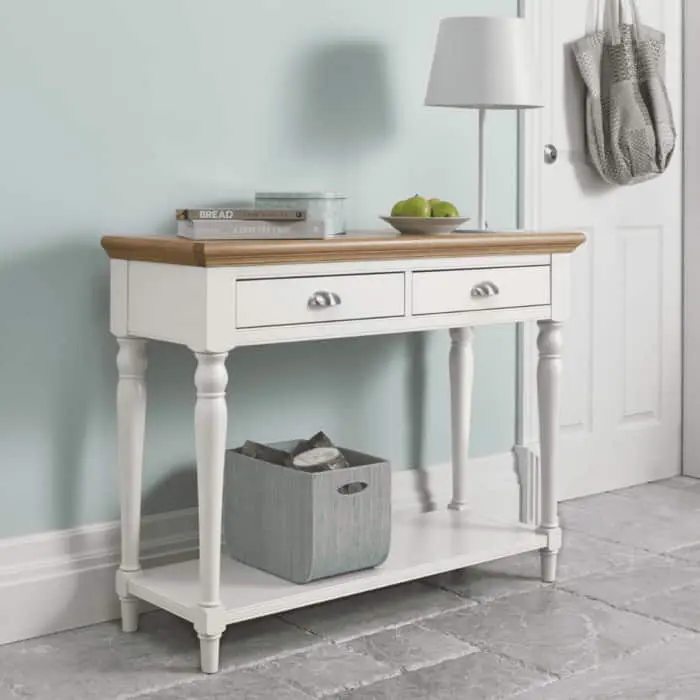 Add convenient storage to the dining area
The majority of your tableware and utensils will likely be kept in the kitchen, but you can keep special occasion cutlery and plates close at hand in the dining room with the help of compact yet useful small console tables. 
Designed to offer reliable storage without taking up too much space, a narrow console table is an ideal companion to your stately dining setup. Shop console tables with drawers or shelves, or simply set items atop and reach for them as you need them. 
Bring multifunctional style to your home office
Not every home has space for a large and imposing office desk, but even if you can't commit a portion of your floorplan to a proper home office setup, you may still need a place to take care of some work or for the kids to do their schoolwork.
This is another place where small console tables can shine! Console desks are a popular option for multifunctional home decor. They don't look as 'office-y' as traditional desks, but still provide a solid worktop that should suit most purposes. 
Plus, because small console tables often feature some built-in drawers, you can tuck documents, laptops, or files away when you're not working and simply let the console stand as a stylish addition to the room. 
Elevate your sofa setup with a console 
A traditional room design for your sitting room is to situate the sofa directly against the wall. However, the popularity of open-plan rooms in contemporary homes has made it so that this is no longer the only, default option, and it also opens up another opportunity to make great use of a console table. 
If you are using a sofa to divide an open-plan area into zones (for example, separating the living room from a kitchen and dining space), put a console table alongside the back of the sofa and decorate it with your favourite trinkets, floral arrangements, or candle holders. This will draw the eye and emphasise the division of the zones, as well as looking fabulously stylish!
Amp up entertaining with a console bar cart
Are you hosting a party or having friends over for cocktails? Small console tables make for perfect home bars, with a bit more space than a drinks trolley. Console tables tend to be long but narrow, meaning they offer plenty of surface space for mixing drinks while not taking up too much room in the floorplan. 
Set up a console table with your glitziest glassware, add a few of your most colourful bottles, and turn your console into a home bar that is as stylish as it is functional. Choose a console with an open shelf base and you'll have a perfect combination for storage and display.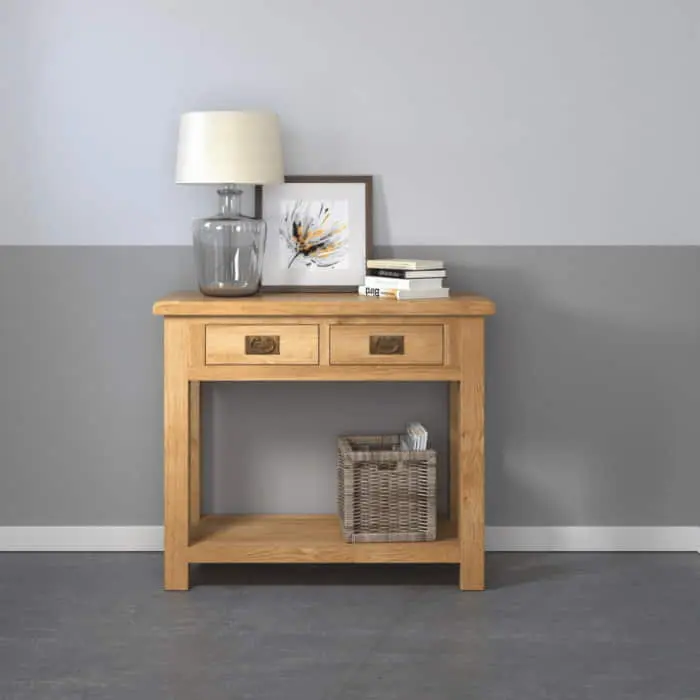 Small console tables and other multifunctional favourites
Some furniture is so essential to your home that it only needs to serve one purpose, such as a sofa or your bed. For all of the secondary pieces that really help make a house a home, being able to incorporate them into your decor in more than one way adds extra appeal when you're choosing the ideal items for your space. And small console tables are one of our favourites when it comes to the perfect combination of form and function. 
Shop console tables online now or visit us in store to explore even more fabulous furniture options for every room in your home.