A Mattress Buying Guide
A great day starts with a good night's sleep, and finding the right choice when you're buying a mattress is key in ensuring sweet dreams. If you're feeling uncomfortable as you fall asleep or waking up feeling sore, your mattress could be the culprit. Now, buying a mattress isn't a one-size-fits-all process; just as we all sleep differently, each mattress has different properties that are better suited to different sleep styles, and the options can feel overwhelming when you're staring at a sea of white, quilted fabric and foam. But we're here to help! Here at Corcoran's Furniture & Carpets, we've put together a guide to choosing your perfect mattress. Let's start with some important questions to keep in mind throughout your journey:
What is your budget?
You spend around a third of your life in bed, so buying a mattress certainly isn't something you should cheap out on, but the most expensive one on the market isn't necessarily the best option for you either. There is a big range of prices, and plenty of great mattresses at all price points, and so you're sure to be able to find one to suit your budget. For example, at Corcoran's Furniture & Carpets, we have mattresses starting at €159 and running upwards of €1699. Decide on your budget, and that will be a great start in helping you narrow down your choices when you're buying a mattress.
How old is your current mattress?
We know that buying a mattress is a big investment, so you might be wanting to keep your old one around as long as possible. However, if you're tossing and turning through the night, waking up in pain, or otherwise uncomfortable while you sleep, it's probably time to consider an upgrade. Most mattresses have a lifespan of eight to ten years, although some will need replacement around five while others will last as many as twelve. Look at the lifespan, as well as visible factors like sagging, lumps, and other wear and tear. If you're reading this, then you're probably not currently having the best sleep of your life, so a new mattress might be just what you're looking for.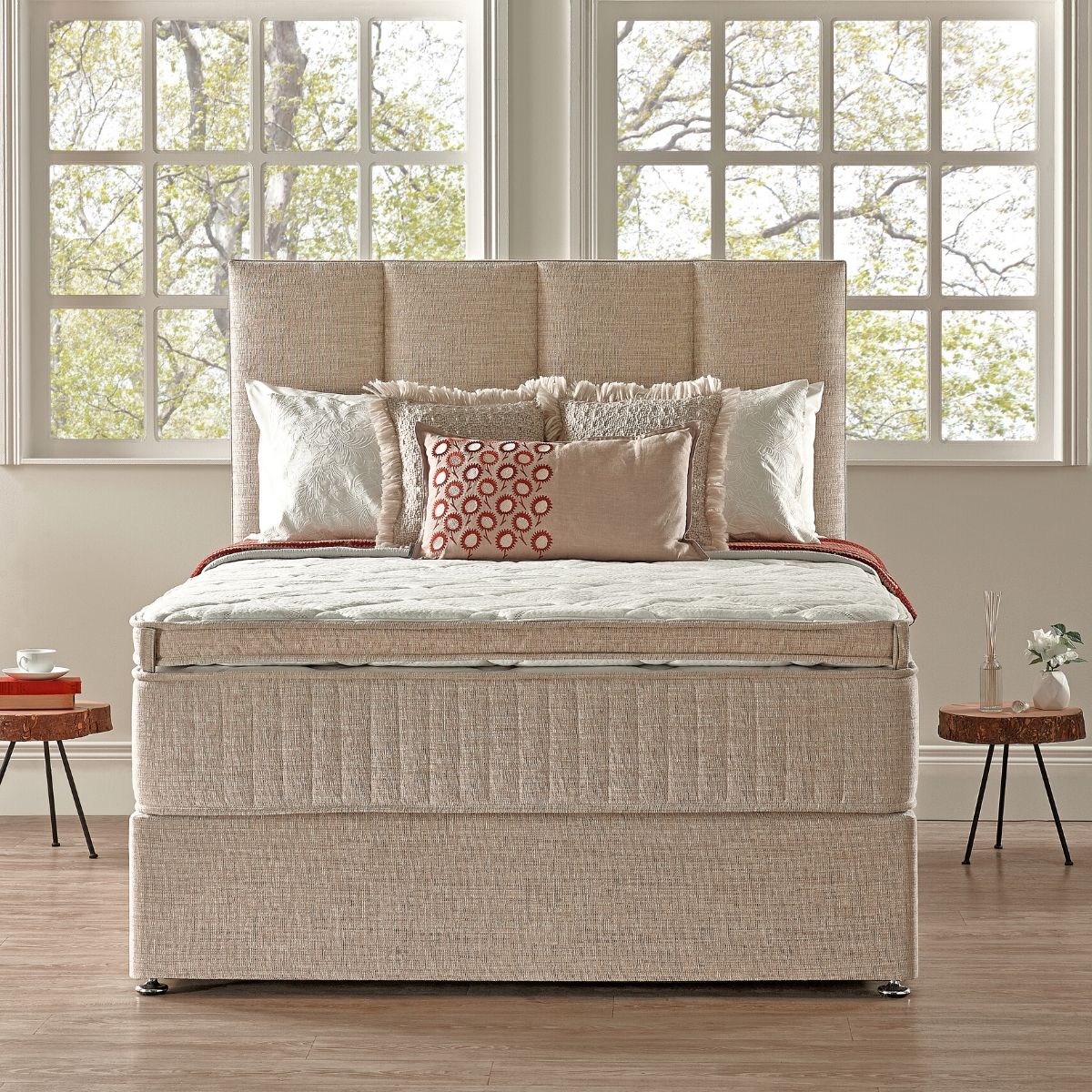 Buying a Mattress: Where to Begin?
There are so many different types out there that the choices can be overwhelming as you start the process of buying a mattress. Here's a quick rundown of the most popular styles to help you make your decision:
Coil: This is what most people think of when they picture a mattress. A coil (also known as innerspring) mattress has a layer of metal springs that provide support as you sleep.
Pocket Spring: A pocket spring design is similar to a coil except that each coil is sewn into its own fabric pocket. This provides more support and comfort than a traditional coil.
Memory foam: These contour to your body thanks to their hi-tech construction that softens and moulds to body heat. This reduces pressure and increases comfort, although some sleepers find them too warm.
Gel: For those who prefer a cooler sleep, the gel design might be the way to go. Gel foam provides support while reducing heat build-up, as well as promoting better air circulation.
Latex: Latex can be found in the comfort layer, support layer, or both layers. It's responsive like memory foam, but doesn't contour quite as heavily, great for sleepers who want a foam feel that's a bit less snug.
Hybrid: Many mattresses offer a combination of materials to suit a variety of sleep needs. From springs topped with memory foam to latex covered in gel, and some also have a soft, "pillowtop" topper for extra cushioning.
How firm do you want your mattress?
Firmness is one of the major factors that most people consider when they're buying a mattress and looking to upgrade their sleeping space, and it's a very personal choice. Some people want the feeling of resting on a million pillows, while others would prefer to sleep on a wooden board than sink into a mound of fluff. We think that there's a happy medium, with a range of firmnesses to suit your sleep style. A side-sleeper or someone who moves around a lot in their sleep would most likely benefit from a softer mattress that moves with them and contours to their body shapes. On the other hand, back and side sleepers will likely want a firmer mattress to provide consistent support across the length of their bodies. Also, keep in mind that softer doesn't necessarily mean unsupportive—good support refers to ability to keep your spine in the correct alignment while you sleep.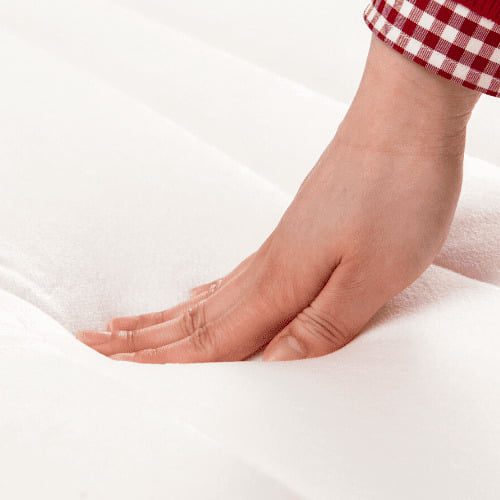 What size should your mattress be?
If you're buying a mattress to replace what you already have, for a bed that's already in your room, this is an easy question. But if you're moving into a new space or dreaming of a new bed as well, there's more to think about. Obvious factors to consider are your height and whether you sleep with a partner, but you should also think about the size of your room itself. You probably don't want a bed that's going to fill the entire room or one that will look tiny in a larger space. Of course you should make sure the mattress fits your intended bed: bed frames will usually be a little bit bigger than your mattress, while a divan bed base should have the same length and width dimensions.
Finally, make sure there's room to get it into your bedroom! You don't want to end up sleeping in your sitting room because the mattress is too big to carry up the stairs. In Ireland, standard sizing is as follows:
| | |
| --- | --- |
| Small Single (2'6") | 190 L x 70 W cm |
| Single (3′) | 190 L x 90 W cm |
| Small Double (4′) | 190 L x 120 W cm |
| Double (4'6″) | 190 L x 135 W cm |
| King (5′) | 200 L x 150 W cm |
| Super King (6′) | 200 L x 180 W cm |
How should you test a mattress?
Trying out a mattress while shopping isn't as easy as trying on a shirt. You can't just pop into the fitting room, take a quick look, and make your decision. However, it's very important that you ensure that what you're about to purchase feels right to you. And that doesn't mean just putting your hand on it or even having a quick seat. Ideally, you should lie down for 10 to 15 minutes in your usual sleeping position. We know, it feels a bit weird to be taking a power nap in the middle of a shop, especially if there are other customers milling around, but the results will be worth it. It's also a good idea to have a chat with the staff of the department to advise you based on your sleep needs. Buying a mattress isn't like buying other furniture, where you might be initially drawn to one based on its looks, as they're all pretty similar in appearance, but good staff will be able to show you the details of each one and make recommendations to help you get your best sleep.
What about buying online?
Buying a mattress in-store is still by far the most popular choice, with SleepAre reporting that 92% of buyers prefer to look in-store before purchasing, but there are plenty of options for online shopping as well! At Corcoran's Furniture and Carpets, we have a wide variety of mattresses on our website, and even if you won't get the chance to relax on your mattress before buying it, there are still ways to be sure that you're making the right choice. Read the product descriptions to learn about materials, check the measurements so you know it fits, and reach out to in-store staff with any other queries.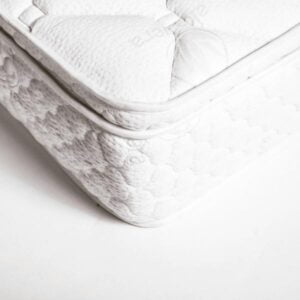 Completing your sleep space
You've done it! You've followed our buying guide and picked out your perfect new mattress. You've had it delivered and set up on your bed. But before you take a nap as a reward for a job well done, consider what else might turn your bedroom into a perfect relaxation space. A topper can add an extra plush element to your bed, while a protector offers extra reliability to keep your new mattress in great shape. When was the last time you changed your sheets? What about upgrading your pillows for hotel-quality luxury? This is also your chance to create a new and cosy bedroom aesthetic with throw pillows, blankets, or even lighting. Most importantly, think about establishing a good sleep routine to make the most of your nighttime slumber and wake up feeling happy and refreshed.