Our Quick Guide to Carpet Options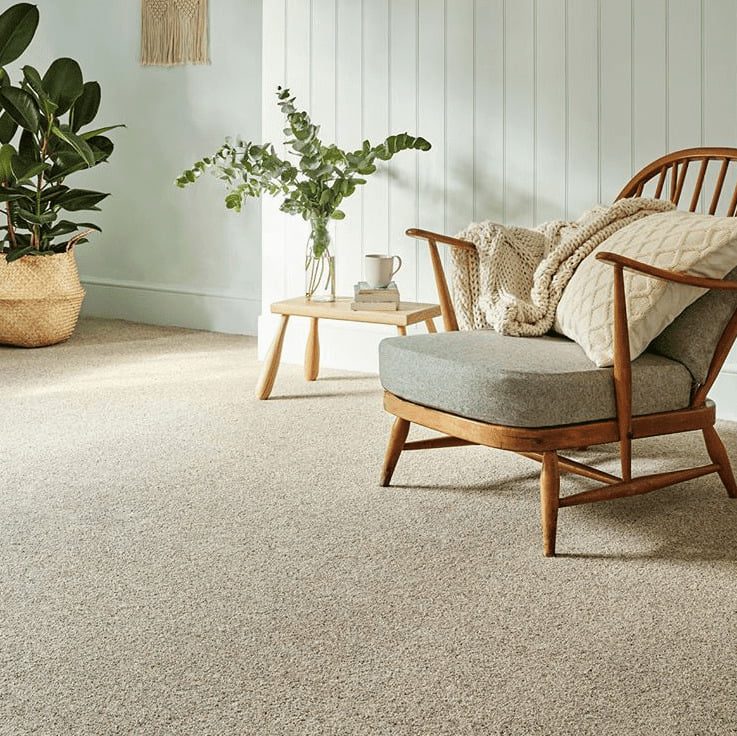 When you're after flooring that's soft, cosy, and comfortable, carpet is the obvious choice. Warm and well-cushioned, carpet is a favourite option for rooms where you want to lounge. Whether you're revamping your home or starting fresh with a new build, you can enjoy style from the ground up with the perfect carpet options for your decor.
From lush high-pile shag to tight Berber loops, you want carpet options that are not only aesthetically pleasing but also well-suited to the function of the room.
While wood and tile flooring are ideal for rooms like the kitchen and bathroom, for rooms dedicated to relaxation you probably want something softer and more sumptuous. Stepping out of bed onto plush carpet is much nicer than putting your bare feet on to cold tiles in the morning, and stretching out on the carpeted floor as you play toy trains with your children is preferable to sprawling on hardwood planks.
There are a huge array of carpet options to choose from, from material to pile height. With our quick guide to carpet, you'll be able to choose the perfect foundations to your home, bringing style and function to every space.
Carpet materials
There are a variety of carpet options in terms of material, and the one you choose can depend on the look and feel you want, as well as where you want to use it.
Nylon is the most resistant to wear and tear, making it ideal for a high-traffic space. Nylon is often considered the best carpet option due to its durability and resiliency that prevents it from being flattened by footfall. It's ubiquity also means it can be found as a carpet option at price points for all budgets.
Wool is a luxurious choice that requires more maintenance but is great if you want a natural material for your flooring. A gorgeous wool carpet is often worth the extra work for its plush look and feel. It's also a natural humidifier, taking in and releasing moisture to keep balance in your home.
Acrylic offers a synthetic alternative to wool, with a similar look and feel but with a design that is hypoallergenic and moth-resistant. For those who want the style of wool but who are on a tighter budget, acrylic can be an appealing substitute.
Polypropylene (also called olefin) is often found in loop pile carpet options. It's not quite as durable overall as other carpet fibres, but it is extremely stain-resistant and easy to clean, which makes it ideal for areas that are prone to splashes and spills, such as in a dining area or as an area rug beneath the kitchen table.
Polyester is the one to pick when you want bright colours that won't fade, perfect to make a bold statement on your floors. And if you're looking for an eco option, modern polyester carpets can even be made of recycled plastic for extra environmentally friendly appeal.
Finally, there are an array of other natural fibres you can choose for your floor, such as jute, sisal, and seagrass. These carpet options are a great alternative to hardwood because they offer that natural look and feel but in a softer, more comfortable style.
Carpet pile
What about pile? Carpets are made by weaving or tufting fibers through a sheet of backing material in a series of closed loops.
Loop pile (sometimes also called Berber pile) leaves these fibers in intact loops. These carpets are ideal for busy rooms because they tend to be very durable and they don't show footprint indentations. Berber carpet was originally used mainly in commercial settings, but it's durability has also made it appealing in residential rooms.
For even more durability, you can consider a flatweave carpet that features interlocking horizontal and vertical threads that offer the impression of being firm and flat. It's ideal for areas such as stair runners.
On the other hand, cut pile slices away the loops to leave a soft, inviting look and feel. You can opt for cut pile carpets of different lengths, from deep shag carpet to a smooth and even short pile look.
Saxony carpet is probably what you think of when you imagine cut pile carpet options. A plush, medium-height carpet style, this versatile option can suit pretty much any decor style or room type.
Shag carpet is ultra-plush but is often considered to be somewhat dated due to its popularity in 70s-style decor. For a carpet option that emulates the lushness of shag carpet, but with a more modern feel, opt for frieze carpet, which features long cut pile and tightly-twisted fibres that ensure long-lasting reliability.
There are even carpet options that combine cut pile and loop pile, appropriately named cut and loop carpet. These contrasting elements create a carved look that can be turned into a variety of patterns and designs, and offer visual and textural interest that can make your floor a work of art.
Choosing carpets
When you're considering your carpet options, there are a number of things to keep in mind.
Make sure to accurately calculate the measurements you need for a room before you buy carpet, to avoid issues like obvious seams, inconsistent pile direction, and pattern mismatch. We can help you with determining your carpet needs if you get in touch with our expert flooring team.
You'll also want to think about installation when you're deciding on your carpet options. Unless you're carpeting a simple, square room or using carpet tiles, we highly recommend arranging a professional installation, especially if you're carpeting tricky areas like stairs.
Choosing the right underlay is also important, and you can get advice on this from our team as well.
Another thing to keep in mind is that there is a huge variety when it comes to carpet, but possibly less so when choosing your furniture. No matter the look of your dream sofa, you will likely be able to find carpet options that suit. So if there's a centrepiece item you want to design a room around, select that first and then choose carpet to match.
Lastly, once you've chosen your perfect carpet options, you can also think about how to accent it. While area rugs are traditionally used atop hard flooring to add softness and warmth, layering area rugs over carpet is a trend that has become increasingly popular as a way to add contrasting textures and extra plushness to your decor.
With so many carpet options available at Corcoran's, there are an infinite number of things you can consider when choosing the perfect flooring for your home. However, we hope this quick guide to carpet has given you some ideas on the best carpet options for your floors. And if you want to learn more, just talk to our team!
Your floors — and your feet — will thank us.