The best rustic flooring for every home
The rustic interior design aesthetic will never go out of style. A homey, lived-in look that evokes traditional decor details, rustic decor can offer appealing style for your home whether you prefer a rural farmhouse-inspired look or you lean more toward vintage elements in your interiors. 
When you're crafting a rustic aesthetic for your home, you can focus on furniture or accessories to create your ideal look, but you can also give a room traditional appeal from top to bottom with rustic flooring and more. 
When you imagine rustic flooring, you may immediately picture hardwood floors with natural grain and knots, and this is indeed a classic look for the rustic home. However, there are also other options for rustic flooring that you'll love in your own interiors, so read on for our guide to some of the best rustic flooring types you can choose for a traditionally-styled home.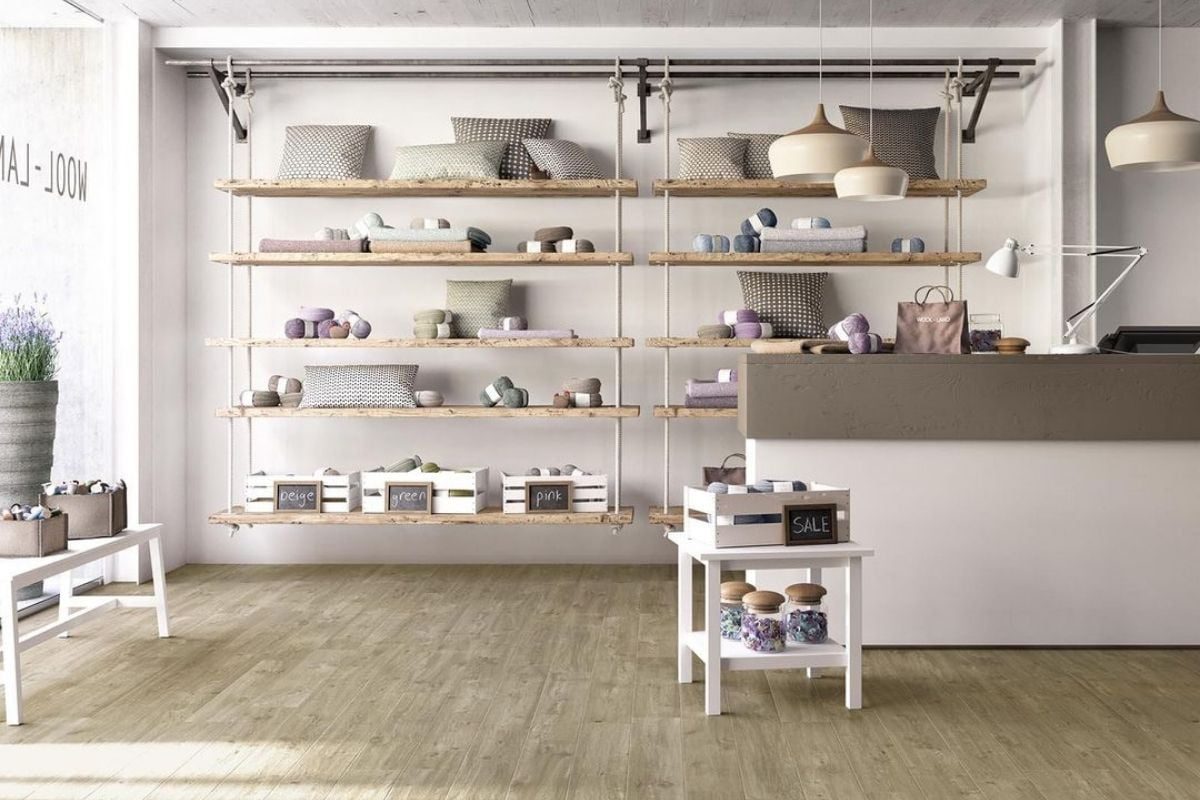 Treverkway porcelain tiles offer a wood effect that is ideal for rustic styling. 
Rustic hardwood flooring is a classic pick
Naturally, hardwood flooring is a classic option when you're looking for rustic style in your home. Hardwood is a timeless option for rustic flooring because of its natural appearance. Opting for hardwood flooring that showcases the natural grain, knots, and details of the wood will immediately give your home a classic, rustic look. 
For the best rustic hardwood floors, opt for distressed finishes or light-coloured stains and varnishes that let the natural age and wear of the wood shine through. 
Laminate and LVT flooring with a rustic feel
While wood is a classic option for rustic flooring, if you want the look of hardwood in a more budget-friendly style, you can opt for laminate flooring or LVT (luxury vinyl tile). High-quality photographic imaging can emulate the look of any material, including natural wood, giving you that rustic feel in a modern material type. 
Plus, quality laminate and LVT flooring options are protected by a top layer that will prevent wear and tear and ensure your rustic flooring will look flawless and maintain durability for years to come. 
Get a rustic look with wide-width or multi-length planks
Whether you choose hardwood flooring, engineered wood, or an option like laminate or LVT, you can evoke the look of reclaimed wood and get a hand-hewn feel from your flooring by choosing planks that are extra-wide or that come in a variety of lengths. 
This "perfectly imperfect" flooring look creates styling that is deliberately non-symmetrical. Imagine a traditional farmhouse with floors made of reclaimed wood — you can bring this look to your own home for rustic flooring with plenty of character.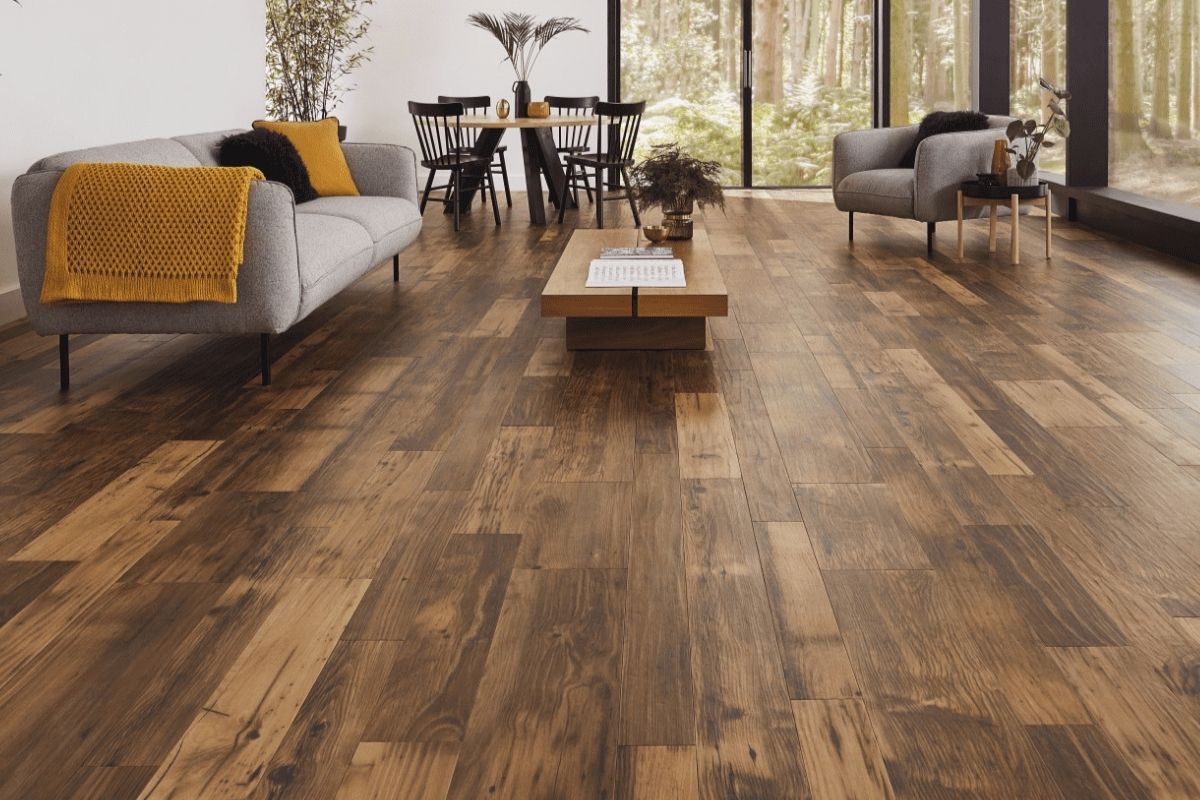 Karndean Designflooring supplies a wonderful array of rustic LVT flooring
It's not all about wood; try rustic stone flooring
When you picture stone floors, a sleek modern design may immediately spring to mind, with polished grey or white marble or another contemporary look. However, stone floors (or vinyl tile that emulates stone flooring) can also be used to create a rustic flooring aesthetic. 
Opt for earthy tones, matte finishes, pebbled textures, and materials like slate, granite, and limestone. As with wood and wood-look flooring, an asymmetrical motif with different stone sizes or non-geometric shapes will offer the best rustic look. 
Whitewash gives rustic flooring a cottage feel
Natural finishes offer the best rustic flooring looks, but if you are looking for a super light and airy feel that still brings the cosy, classic style of a quaint cottage or farmhouse, you might consider a whitewash finish over your wood flooring. 
A white painted finish, especially one that lets a touch of wood show through, can help to keep that rustic look and feel while also really brightening up a room. For the best rustic styling, opt for a matte rather than gloss finish. 
Yes, carpeted floors can be rustic, too
Most rustic flooring recommendations are for hard materials like wood, stone, or vinyl. However, if you prefer the look or feel of carpeted floors, you still have options for evoking a rustic aesthetic. Low-pile carpet in neutral tones such as brown, tan, and cream offers a lovely complement to rustic furniture and doesn't take away from the overall rustic feel of a space. 
Area rugs can also provide soft and visually appealing accents to rustic flooring designs. Once again, neutral and earthy tones are the name of the game here, as are natural materials and organic shapes.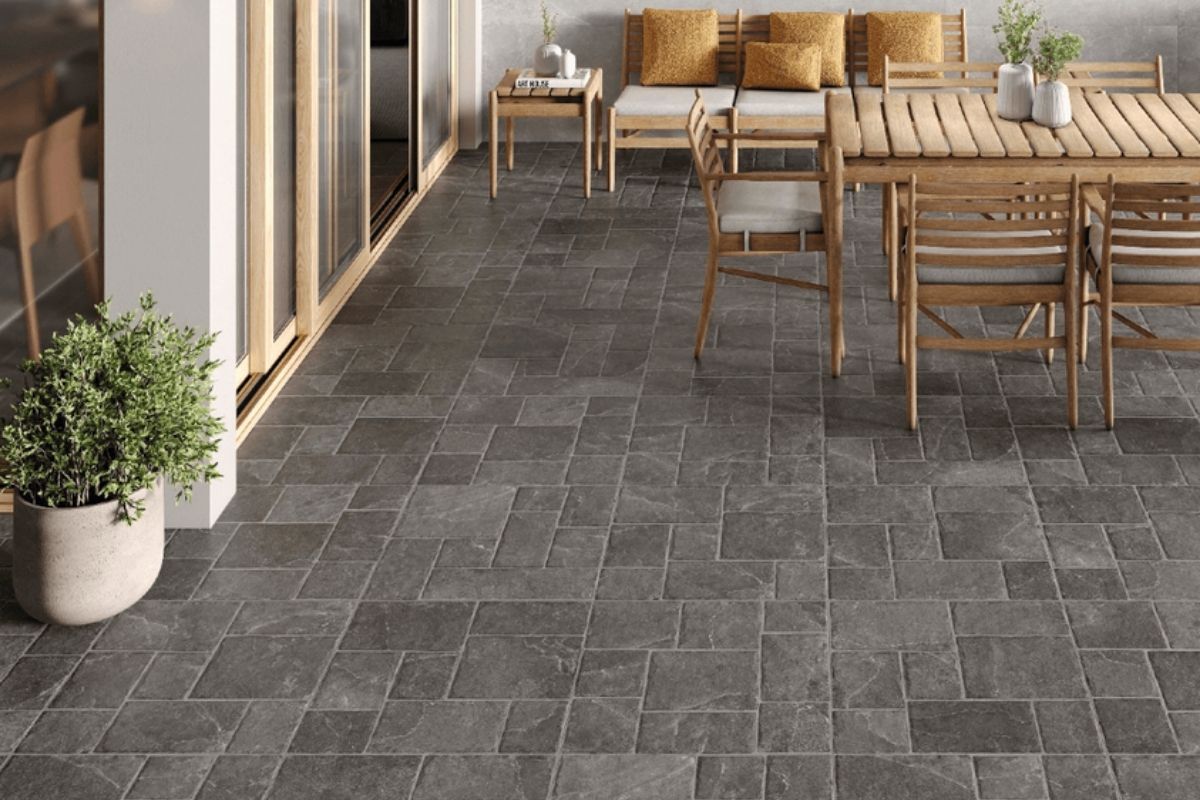 Matte-finish stone like the Pulse Antique Graphite tile can bring rustic detail to outdoor spaces. 
Find charming rustic flooring and furniture at Corcoran's
If you love a rustic interior design aesthetic, you can bring traditional charm to your home from top to bottom with rustic flooring and furniture from Corcoran's. From high-quality hardwood to lasting LVT, we have rustic flooring options to suit every home and budget, along with cottage-inspired furniture and accessories to complete the look. 
Visit us in-store to shop flooring, have a look at our Corcoran's BTS Centre on Facebook for inspiration, or get in touch and let our expert flooring team help you find the perfect rustic options for every room.