The best spring bedroom ideas 
Spring is on the way, and here at Corcoran's we are already looking forward to longer days, warmer weather, and beautiful seasonal home decor. There's something extra special about decorating your home for the spring — it's the season of growth and regeneration, and as the flowers begin to bloom, it's the perfect time to refresh your space. 
We have some beautiful spring bedroom ideas that are designed to reflect the season in warm, welcoming, sunny style. Read on and get inspired to create a beautiful spring-themed bedroom look for your home.
Opt for neutral bedding 
One of the simplest ways to transition your bedroom from season to season is to start with neutral bedding. If you really want to go all-out with spring-themed decor, you can opt for a floral duvet or comforter, but if you're looking for easy spring bedroom ideas to suit every interior design style, go for neutrals.
A white or cream bedding set is a perfect blank canvas for your space, ready to decorate with seasonally-themed details. Top your light-coloured bedding off with a bright throw and some pillows in a spring-themed hue or pattern. Pale tones and pastels are always a springtime favourite, or if you love a pop of colour then some darker on-trend colours for spring include duck egg blue and sage green. 
To give your bedding plenty of spring style, choose a lightweight fabric such as linen or cotton rather than a heavy damask or brocade. If you want to use the same duvet cover all year long, you can always replace this seasonal set with heavier knit or velvet pieces when the temperatures drop.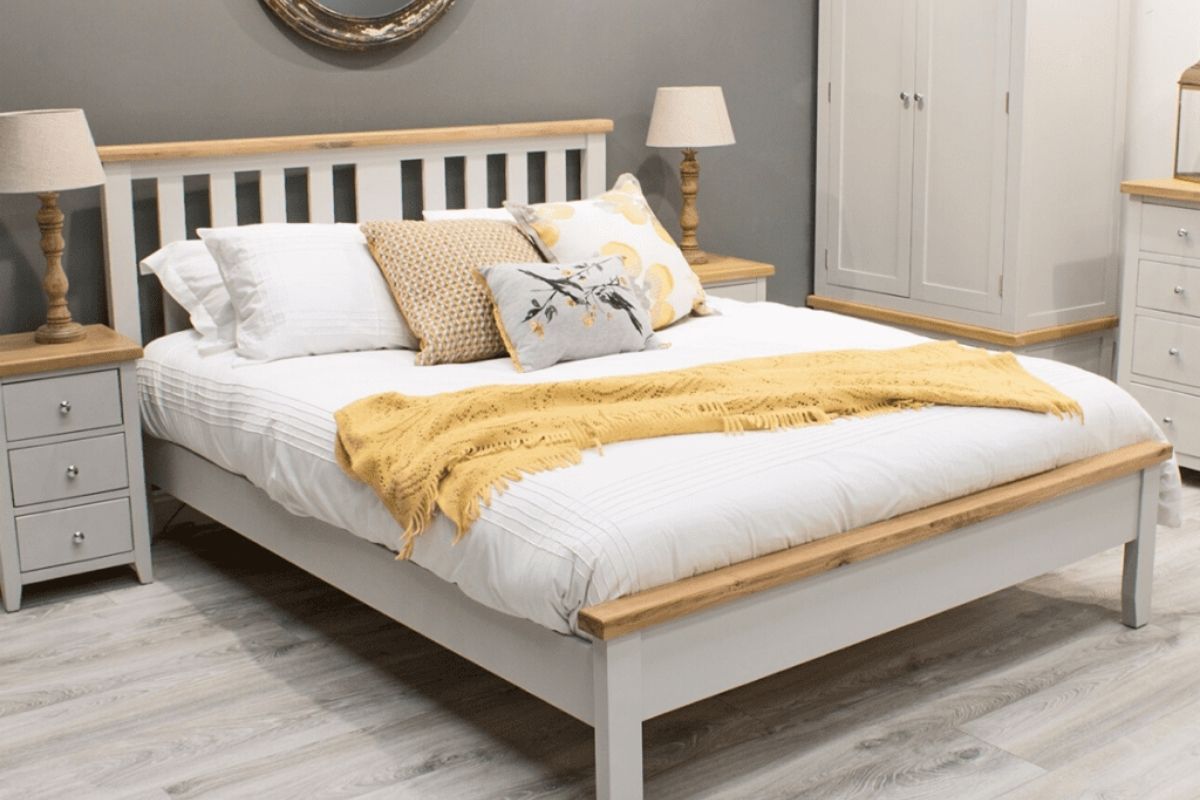 Embrace indoor/outdoor living
Home decor that brings the outdoors in is always a popular pick for living rooms and kitchens, but an indoor/outdoor space is one of our spring bedroom ideas as well. While you are less likely to have a bedroom that opens directly to the outdoors the way you may have a kitchen that leads to a patio or a living room with a door to the garden, you can still incorporate the outdoors into your spring bedroom ideas. 
Real or faux flowers and plants are an ideal element of the outdoors that you can add to your bedroom. Real flowers will freshen up your space and add a lovely scent, while fake greenery is a low-maintenance way to add a natural detail to your decor. 
Botanical wall art is another great idea for a spring-themed bedroom, or if you want to evoke the feeling of spring in your bedroom all year long, you can even choose botanical-patterned wallpaper to really bring the aura of a garden into your space. 
Lighten up your window treatments
As with your bedding, a lightweight, light-coloured fabric choice for your curtains can help you really embrace the transition to the spring season. As the days get longer, change out heavy winter curtains for sheerer, airier alternatives to take advantage of the increase in natural light. 
If you're not ready to commit to patterned wallpaper, floral or botanical print curtains are one of our favourite spring bedroom ideas for adding seasonal style to your space. Likewise, you can choose curtains in a spring-ready shade like blush pink or mint green to add a touch of pastel colour to an otherwise neutral bedroom setup. 
Even as you let in natural light during the daytime, you'll still want to keep your room dark in the night for better sleep, and this can become difficult when the sun stays up late into the evening. Consider pairing your curtains with venetian or roller blinds that tuck out of the way easily during the day and block out the light when you're ready to sleep.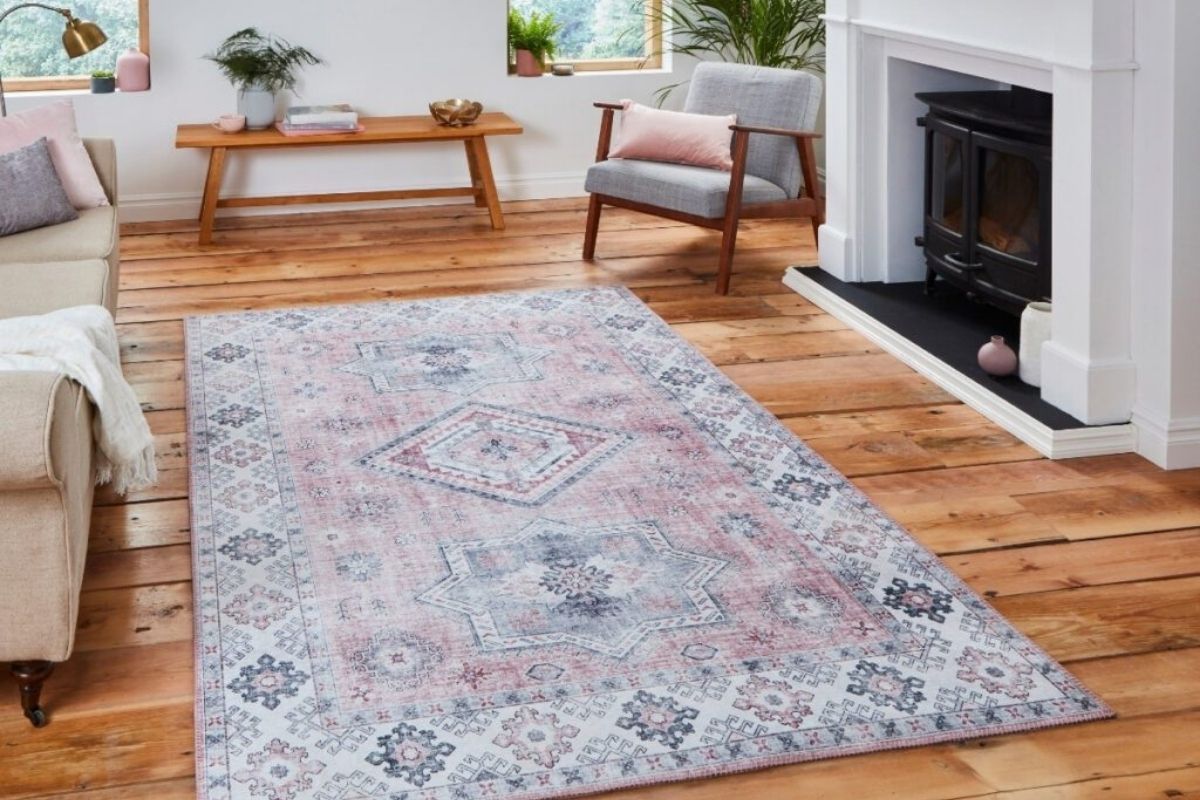 Add a bohemian area rug
Textiles are one of the best ways to incorporate spring bedroom ideas and styles into your decor, and if you've picked beautiful spring-themed bedding and curtains for your room, finish the look with an area rug that's suited for the season. 
Area rug patterns tend to be artistic yet subtle, making them perfect for your bedroom as they'll add texture and colour to your space without making things feel too busy in a room where you want to relax. Choose a bohemian rug in light or pastel shades to really get that springtime feel. 
And if you already have a rug you love in your bedroom, be sure you make it part of your spring cleaning routine. Your bedroom area rug should be positioned under at least two legs of your bed, and so it can sometimes be forgotten when it comes to spring cleaning. Take it out and give it a good shake or vacuum to remove dust and freshen it up. 
Spring bedroom ideas for every home
Whether you're looking for spring bedroom ideas that will completely change the look of your space, or whether you're simply after for a few finishing touches that will add a bit of spring style to your room, Corcoran's has plenty of furniture and accessories in shades of pink, green, and more that are perfect for a seasonal spring refresh in your bedroom. 
Shop online now or visit us in store and start the season right with a spring-ready bedroom that's blossoming with style.