Dress up your vanity with the best dressing table ideas
How you begin your morning sets the tone for the rest of your day. Whether it's waking up well rested, having a relaxed breakfast and cup of tea, or getting your morning routine off to a good start, a pleasant morning leads to a good day overall. And, equally, finishing your evening well can lead to a better night's sleep. 
Having an organised, well-furnished bedroom can help you start your day off on the right foot and finish it just as well, and a good dressing table setup can be a key element in a relaxing and effective day or night routine. We've gathered some of the best dressing table ideas for your space — read on for pretty and practical vanity styling!
Add essential lighting to your vanity setup
One of the most important dressing table ideas you can add to your bedroom is the right lighting. Whether you're applying cosmetics or skincare, or simply starting the day in comfortable style, brighten up your space with the best lighting for your dressing table. 
One of our favourite dressing table ideas when it comes to lighting is a vanity mirror with Hollywood lights. Not only does a lighted mirror add glamorous style to your space, but a Hollywood mirror also offers even brightness across your vanity setup. With LED lighting options, you can even choose warm or cool lighting to suit your needs. 
If you prefer lighting that's separate from your vanity mirror, you may prefer a desk lamp to enhance the atmosphere of your dressing table setup. A desk lamp that shines at face level when you're seated at your vanity will offer the illumination you need for your routine.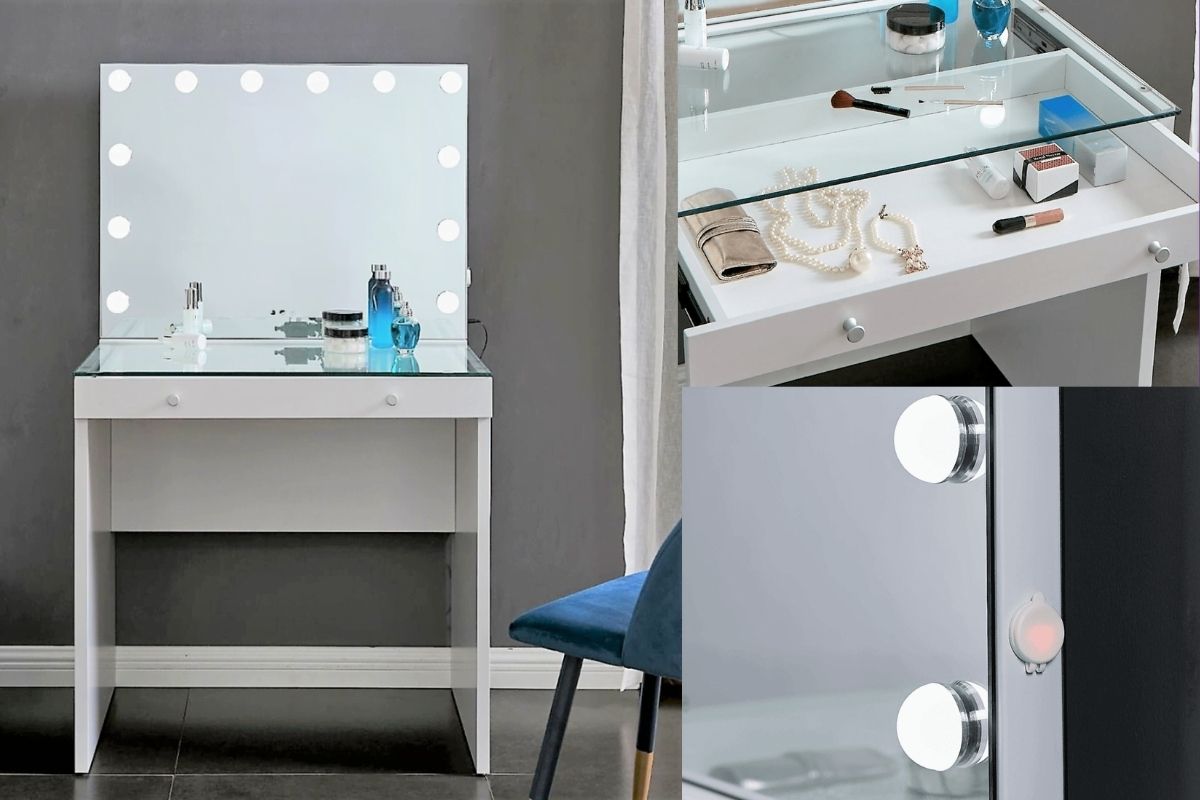 Give your dressing table a focal point
The traditional setup of a dressing table is to have the table, a stool, and a mirror perched on the tabletop. A vanity mirror provides a focal point, offering balance as well as making your room seem larger and, of course, a place for you to look at yourself as you do your makeup or skincare. If you don't want a tabletop mirror, you could also use a wall-hanging alternative. 
However, there are plenty of dressing table ideas that don't make the mirror the focal point but still add style to your space. For example, you might prefer a small, magnified mirror to a large, attention-grabbing option. In this case, consider a large piece of wall art as your focal point. 
Or, if the layout of your bedroom suits, put your dressing table beneath a window. Not only do you get the best natural light, but you'll have a nice view during your morning routine as well.  
Let a dressing table pull double duty in a small room
We know that not every bedroom is big enough for every piece of furniture you might want in your room. And if you're in a shared house, an apartment, or any sort of smaller space, your furniture may need to have multifunctional appeal. 
A dressing table is a great option to double as a desk to make the most of your space. Opt for a dressing table with a good number of drawers, so that you can store both your school or work essentials and your cosmetics, skincare, etc. If your vanity is going to be used as a desk as well, make sure to choose a chair with back support rather than a traditional dressing table stool to ensure comfortable seating for longer periods. 
If you're really short on space, you may need to forego a traditional dressing table altogether, but that doesn't mean you can't still create a space to start your day. Place a vanity mirror on your dresser, add your favourite organisers and decorative trays, keep a small stool close at hand, and turn your chest of drawers into a convenient, as-needed dressing table. 
Even in a small room, remember that you don't have to choose a minimalist aesthetic if you love a big and bold look. Display your makeup in glass or acrylic storage and let it brighten up your room. Check out our blog on Maximalist Decor for tips on adding vibrant style to a compact space!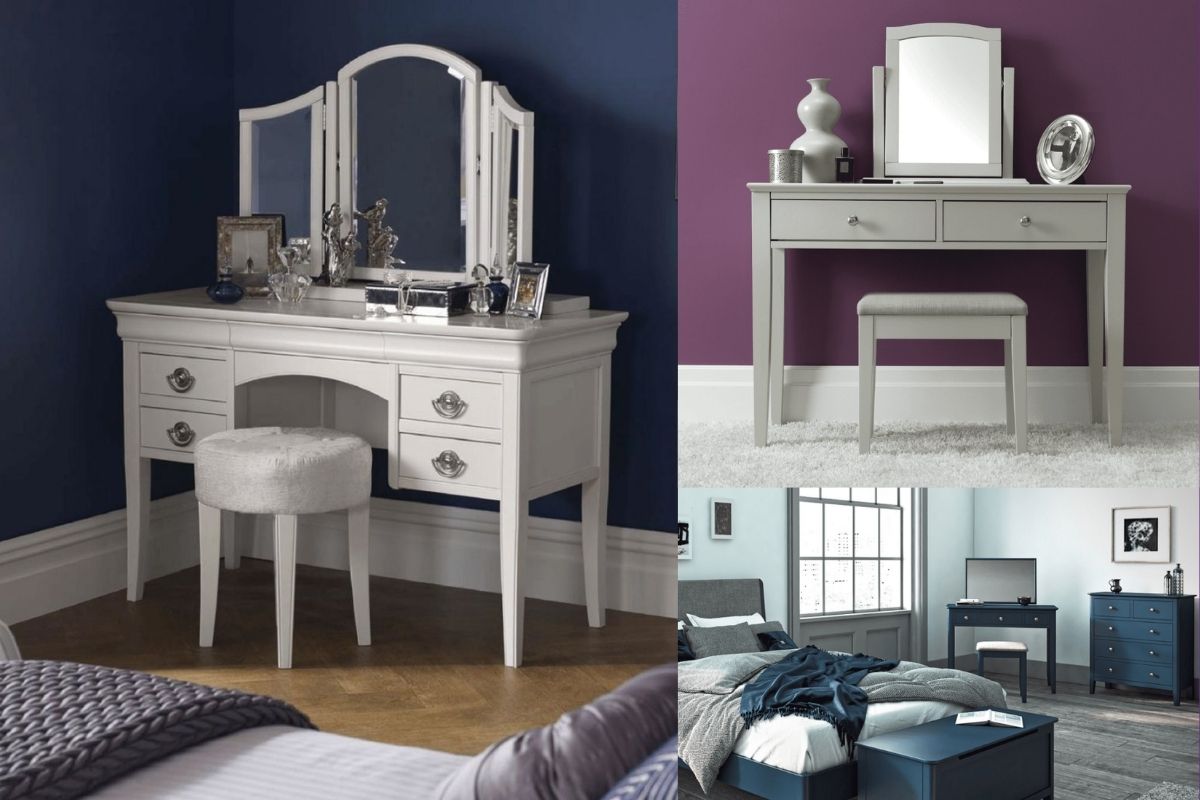 Decorate with levels for visual interest
Your vanity table's main purpose is functional, but don't forget about injecting some personality and style, too! You can use decor tips for console tables, sideboards, and more to inspire dressing table ideas as well, and one of our favourites is to think about levels when you're decorating. 
What this means is that rather than having all of your dressing table decor at the same height, choose shorter and taller pieces to create visual interest. A collection of candles of different heights, a tall figurine beside a small ring holder, or a towering table lamp placed in the midst of your small organisers creates a standout look for your space. 
When it comes to decorating your vanity, try not to overcrowd it. Choosing pieces that are functional as well as stylish, like a beautiful jewellery box or a decorative tray, can maximise your surface space while also providing everything you need for your daily routine. 
The best dressing table ideas and decor at Corcoran's 
We have a gorgeous collection of dressing tables, vanity mirrors, and stools to help you create an oasis of relaxation and calm in your bedroom. No matter your decor style, we can help you find dressing table ideas to suit your space and enhance your morning or evening routine. 
Shop dressing tables and vanities online now, or visit us in store for even more great options. Start your day off right, and end it just as well, with the best dressing tables from Corcoran's.