Elevate Your Outdoor Space: A Comprehensive Guide to Garden Furniture
Spring provides the perfect opportunity for you to get outdoors ready, and there's no better way to do this than to spruce up your garden, patio, or deck space. By upgrading or investing in new garden furniture you can create your very own idyllic space that's both inviting and relaxing, as well as perfect for entertaining guests, family, and friends.
Whether you have a small deck or a large patio, there are a variety of contemporary and traditional weather-resistant outdoor furniture options to suit your every need. By cleverly selecting the right garden furniture for your home, you can intentionally blend the beauty of nature with your outdoor dining or lounging area. The material, style, and, colour of the furniture you choose, together with the clever use of garden accessories and seating arrangements, will help you to instantly transform your outdoor space.
When selecting the most suitable furniture for your garden or patio, it is important to consider a few things. What look and feel do you want to give your space? Do you want to create a welcoming and functional outdoor dining area with a simple garden furniture set, or do you want to create a unique seating area with a trendy egg chair or some cosy lounging options?
Whatever your design goals are, we have lots of tips and advice on how to choose the perfect garden furniture pieces to showcase your individual style and personality. We also have plenty of design inspiration to share with you as you go about creating your dream space. Before you know it, you will be kicking up your feet in style in your very own outdoor retreat!
Choosing the best garden furniture for your home
Investing in outdoor garden furniture is a great way to add value to your home, regardless of the size of your space. An attractive outdoor garden furniture area allows you to create additional space for both socialising and leisure, and you can also have lots of fun getting creative as you showcase your personal taste and style.
There are a huge variety of garden furniture options to choose from, whatever your budget and space, and it is important to invest in long-lasting, comfortable outdoor furniture that you can enjoy for many years to come. By researching the many options available to you, along with your individual design goals and budget, you will ensure that you will get full bang for your buck.
Comfort is vital when choosing the perfect outdoor furniture for your space, as it will make a huge difference when you are soaking up the sunshine and lounging with a book or relaxing with friends. After all, the main aim of your outdoor furniture is to provide a space to 'relax' in; therefore, comfort is key. We recommend that you invest in the most affordable and comfortable garden furniture options available to you from the onset; this will last longer, and will take you from season to season. Additionally, the comfort factor will ensure that you will enjoy utilising, lounging, and lingering in your outdoor area a lot more.
Some considerations when choosing outdoor garden furniture
Weather conditions and climate: Before purchasing your garden furniture consider the weather and climate you live in, as the sun, wind, and rain will all have a huge impact on your furniture choices. As we know, Irish weather can be somewhat temperamental, even during the summer months, so make sure to consider this when purchasing your garden furniture. Wicker doesn't hold up very well if it is exposed to constant moisture, and hot and dry conditions can ruin some woods. Materials like teak, resin, and wrought iron are known for their ability to withstand outdoor elements; however, strong winds can sometimes send aluminium furniture flying. Remember that the furniture you buy will have to withstand exposure to the elements as well as general wear and tear, so take your time and choose wisely.
Size of your space: You can have great fun getting inventive and putting your own personal stamp on your outdoor space, but keep in mind that the size of the space available to you will determine the type of outdoor furniture you purchase. Make sure to allow for movement in between the layout of your garden furniture in your seating area so that you and your guests can move easily throughout the space as you relax, chat, read, eat, celebrate, snooze, drink, and socialise.
Showcase your style: Don't be afraid to tap into your creativity and style when it comes to choosing the perfect outdoor garden furniture to suit your needs. Similar to your indoor furniture, good quality outdoor furniture pieces will last for many years, so it is a good idea to choose something that you love and something that reflects your unique taste. When preparing your outdoor space remember to choose furniture pieces that are in keeping with the 'flow' of the house. This will help to create an overall sense of balance and harmony in your home.
Versatile Furniture: Choose furniture that can be easily moved and repositioned. This allows you to make changes to your garden furniture when the seasons change or when you want to switch up the look. You can also save space and money by selecting versatile garden furniture that can be used for multiple purposes. For example, choose pieces that can be used as seating, as a work surface, for storage, or for displaying plants. This also provides a great solution when working with a smaller patio or garden area.
Bling accessories: Accessories will make a genuine difference to your outdoor area, and you can change these up along with the seasons. For example, the addition of throws and blankets will be a super addition during the colder months, and candles and lighter-coloured cushions will spruce up your space during spring and summer.
There are so many great decorating and garden patio ideas to choose from, you will be able to instantly transform and personalise your space however you wish. Have fun with it and enjoy the process of creating your own personal outdoor sanctuary.
Cosy up on your perfect garden furniture seating
When it comes to choosing the best seating for a patio or garden, there are a few things to consider. If the size of the space is small then you'll want to choose more compact seating, such as benches or folding chairs, and if you have a larger area, then you can opt for larger outdoor furniture pieces such as sofas, outdoor beanbags, and loveseats.
You may also want to consider what style of outdoor furniture you are choosing. Is your house contemporary or traditional? If the space is more traditional, then a classic design made of wood will work for your space; if you have a home with a more modern feel, then choose sleek furniture made of contemporary materials. Do you want comfortable seating with deep cushions, or would you like to present a more formal seating area with arms and back support? There are so many options to choose from, and all of them are down to your individual design preference and taste.
Get outdoors ready through the use of clever accessories
There are lots of ways to incorporate the best garden accessories for your space. A great way to instantly get outdoors ready is by adding plants and flowers to your patio or garden. Planting flowers, shrubs, and trees will add colour, texture, and fragrance to any area, and they will naturally complement your garden furniture. You also have the option of growing herbs, which not only smell great, but also come in very handy for those who love to cook!
Accessorising your patio or garden will also go a long way towards completing the overall look you wish to achieve. For example, a bird feeder will attract birds, and adding a water feature, such as a small fountain or a bird bath, will add a sense of calmness and 'zen' to your space. By adding a sun umbrella, you will provide protection for hotter days, and the use of clever lighting will instantly help to create a beautiful and tranquil environment.
Equally, the addition of a fire pit or outdoor heaters will help to create a warm and welcoming atmosphere and will provide some additional heat later in the evening as the sun goes down or on colder days. Therefore, you can enjoy this space from dawn until dusk throughout all seasons.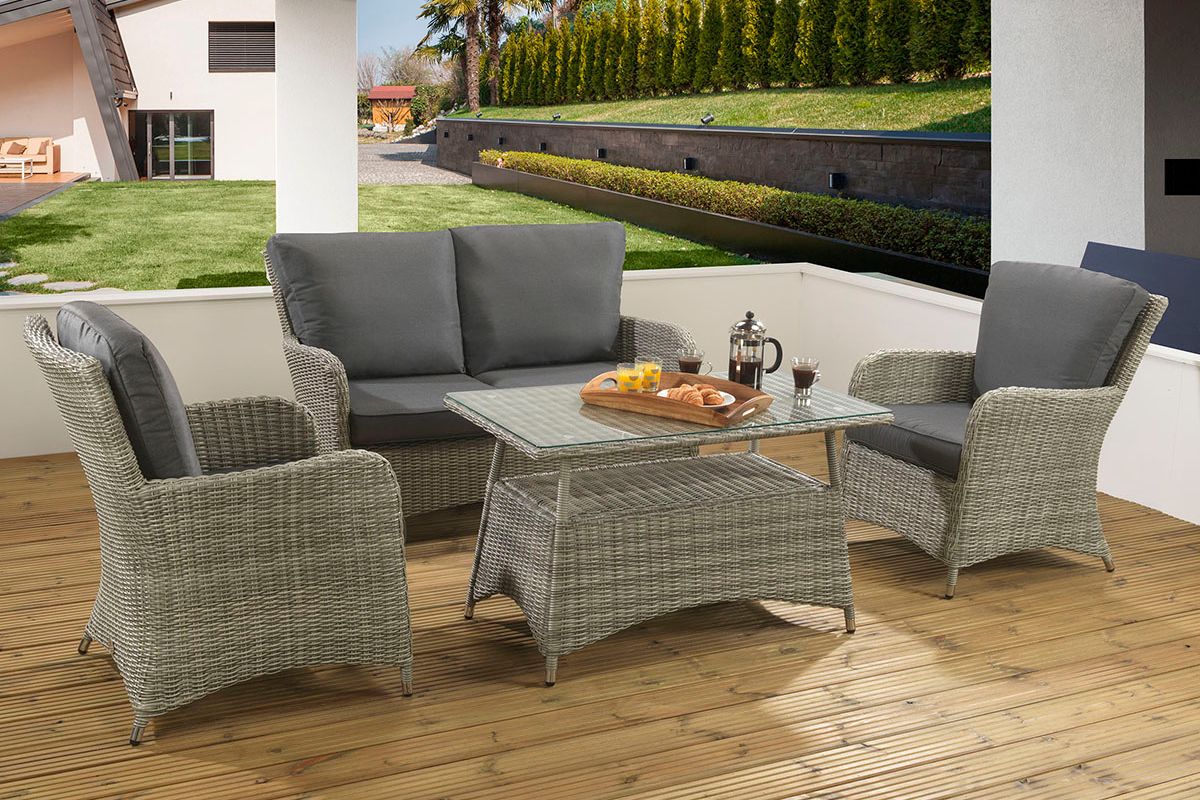 Dine in style with luxurious garden furniture
Dining outdoors instantly allows you to embrace the great outdoors. By adding outdoor dining furniture to your patio or back garden, you will immediately create a natural space that blends elements of the outdoors with the style and comfort of your indoor space.
Garden dining furniture can range from traditional wooden tables and chairs to modern metal designs. You can also choose from a variety of wicker, rattan, and bamboo materials for a more relaxed and natural look. By choosing the perfect outdoor dining furniture to suit your space, you can create a charming and functional area that is ideal for hosting dinner parties or for soaking up the sunshine on a casual Sunday afternoon.
An idyllic outdoor dining space can be created through the addition of a beautiful outdoor dining table and chairs, together with a comfy outdoor sofa set, warm lighting, candles, throws, and some plants. The addition of rugs and cushions will also add to the overall ambience of a patio area, and they are a great way to showcase your personal taste and flair for design.
Tips on garden furniture maintenance and storage
Garden furniture needs to be maintained and stored correctly to be kept in good shape for many Summers to come. In addition to proper storage during the off-season, routine cleaning and maintenance can help avoid damage from weather and use. Depending on the type of furniture and the materials used, different items require different amounts of maintenance and storage. A few general recommendations include routinely washing the furniture, properly drying it, and covering or storing it in a dry location. With the proper maintenance, your outdoor furniture may continue to offer comfort and pleasure for many years to come.
There are so many stunning garden furniture options to choose from, and there are endless possibilities of how to get your garden ready just in time for warm, sunny days. Enjoy getting creative and elevating the ambiance of your outdoor space by incorporating gorgeous and glorious garden furniture.
Looking for inspiration? You can view our full collection of garden furniture here.