FAQs (Frequently Asked Questions) About Garden Furniture
Whether you've already picked out the perfect patio set from Corcoran's or you're still looking for your dream summer setup, you might have a few questions about the best way to buy, enjoy, and care for your garden furniture. Never fear! Our furniture experts have gathered up some of your garden furniture FAQs to make it easy to enjoy al fresco dining or outdoor relaxation.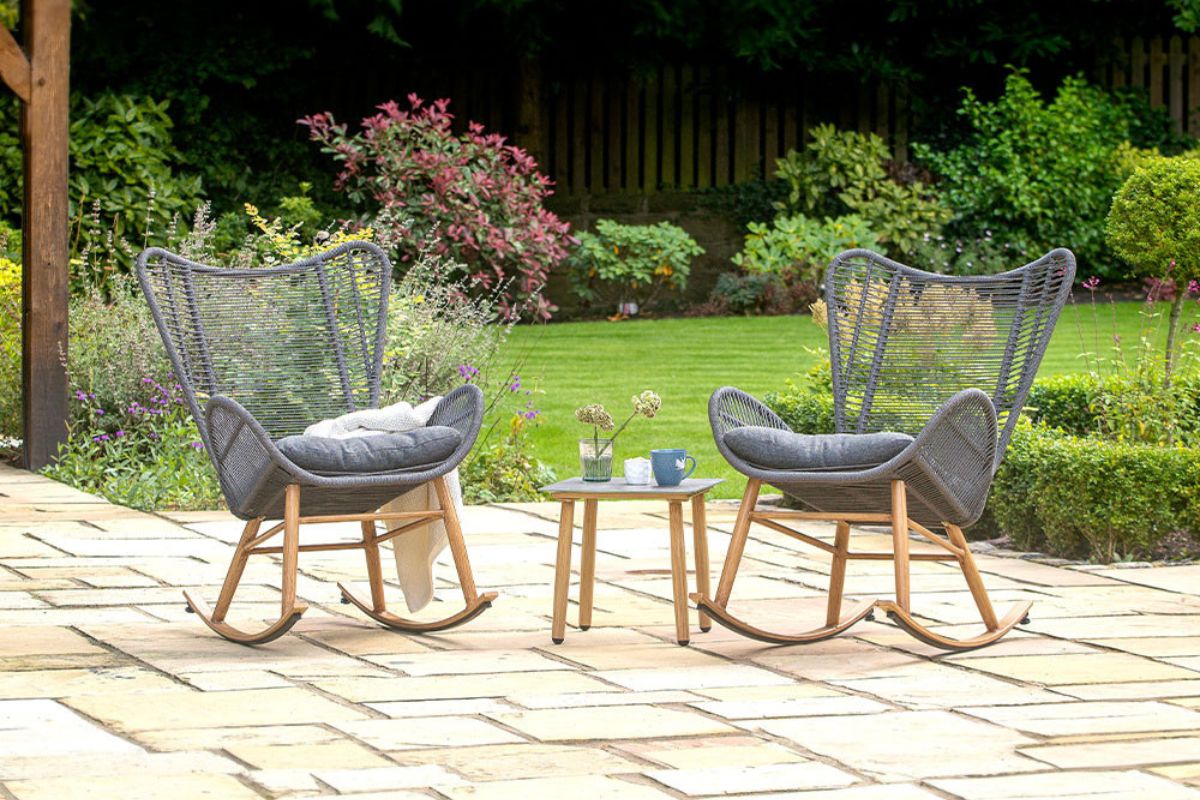 What types of garden furniture are there? 
When you are shopping for indoor furniture, the possibilities are almost endless. After you select the key items like a bed and a sofa, you can incorporate a huge number of secondary furniture pieces like end tables, dressers, and occasional chairs.
In contrast, garden furniture types are slightly more limited. Most garden furniture is designed for dining, so you can host an outdoor dinner party or eat a meal at a BBQ. Therefore, the usual configuration of garden furniture is a table and chairs. 
However, there are still variations to be found within this category. You can opt for different numbers of chairs, or larger seating that can double as loungers. Egg chairs and swing chairs are also a popular option for outdoor relaxation. 
How much should I budget for garden furniture? 
Determining your budget for outdoor furniture will naturally depend on a number of factors. How much do you plan to use your furniture pieces? How much can you afford to spend? What types of garden furniture do you want to add to your outdoor space? 
While you can spend very little on garden furniture from some retailers, it's better to invest in high-quality pieces that will stand the test of time. Shopping for items made from quality materials and with superior craftsmanship will, of course, be more expensive than flimsy items that will only last through a single season, but the extra expense will surely be worthwhile when you're enjoying your outdoor space for years to come. 
What is garden furniture made of? 
You can find outdoor furniture made with a variety of materials, including wood, plastic, rattan, and wrought iron. Each of these options offers different qualities in terms of cost, weight, durability, and style. 
Some furniture sets also combine materials for different purposes. For example, you may have a dining set with a metal frame, rattan weave surface, and tempered glass tabletop. Because of the selection of materials available, you can choose the right options for your personal space and style. 
What makes outdoor furniture different from indoor furniture? 
The main thing that sets outdoor furniture apart from traditional indoor furniture is that it must be built to withstand the elements. While you may cover or store your furniture in bad weather, for the most part it is going to be subjected to wind, rain, and UV rays, and therefore garden furniture is created to last and look great in the process. 
However, outdoor furniture is also wonderfully versatile! In many cases, you can use outdoor furniture indoors. Place a rattan dining set in a sunroom or an egg chair in your sitting room and enjoy the feel of the outdoors inside your home. 
What do I need besides furniture for my outdoor space? 
When you are furnishing a room indoors, you need to think beyond furniture and also add accessories, flooring, and more. The same is true of creating an ideal outdoor space. There are plenty of other elements that go into a perfect garden setup. 
Flooring options like patio tiles and artificial grass can offer the best base for your outdoor furniture choices. You may also want to consider accessories like outdoor rugs and lighting for an all-around inviting ambiance in your garden. 
Finally, make sure that you and anyone you're entertaining in your garden stays warm and comfortable with a fire pit or space heater, or add throws and cushions to your seating for extra snug style. 
Shop garden furniture now at Corcoran's
If you choose the right furniture, flooring, and accessories for your yard, you'll create a garden or patio setup that you can enjoy on good days for years to come, and you'll find all of the above at Corcoran's. 
Shop in-store or right now online and pick out the best dining sets, egg chairs, and anything else you need for a great outdoor space. Our furniture experts are also hear to answer any questions you might have about the benefits of rattan, the best bioethanol fire, or anything else you might want to know about al fresco decorating — just get in touch! 
And if you need more inspiration for your dream outdoor decor, check out these other blog posts: