Glossary of Terms – Bedroom Furniture
Buying bedroom furniture can sometimes feel overwhelming. While the basics are easy — a bed, a nightstand, a wardrobe, a mattress — there are so many styles, varieties, and details to select from. Making a choice can be difficult even if it means more opportunity to find exactly what you want. 
When you're shopping for furniture online, it can be even more confusing. There are so many different terms to describe the features of your bedroom furniture, and with no salesperson available to ask (although you can always use our chat or contact us with any questions you might have), it can be hard to figure out which keywords will lead you to the perfect bedroom furniture that you're looking for. 
Luckily, we've put together a glossary of some bedroom furniture terms that will help you narrow down your choices and find the best bedroom options to buy for your home.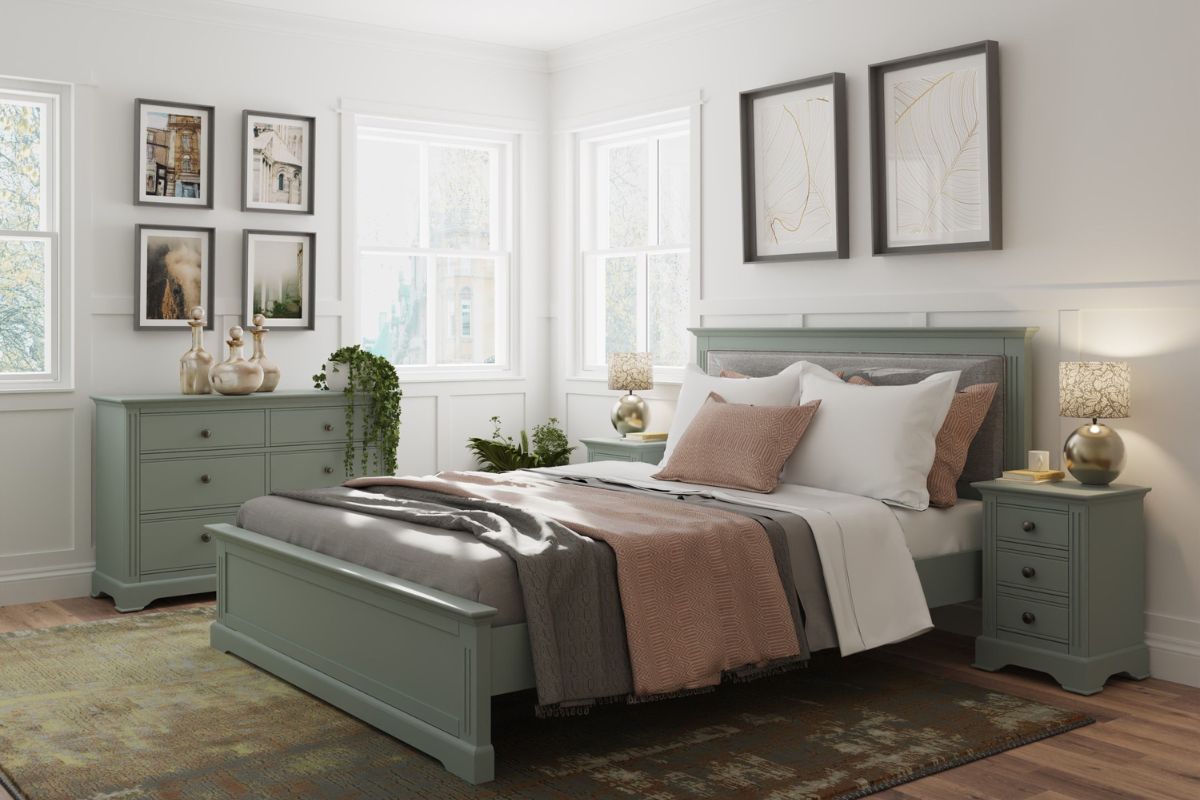 Brooke bedroom range in Cactus Green
Armoire: A large, often ornate wardrobe that usually has a number of different storage options including hanging space, shelves, and drawers. 
Bevelled edge: An angled edge, usually found on mirrors and photo frames. A bevelled edge draws the eye and adds aesthetic appeal. 
Blanket box (or blanket chest): A low chest usually placed at the end of a bed. As the name suggests, it is used for storing spare linens and may also function as a seat. 
Castors: Wheels attached to the bottom of a piece of furniture such as a bed base, used for easy movement. These are typically found on office chairs, although they are becoming an increasingly popular feature with other furniture types.
Cheval mirror: A tall floor mirror that is fitted to an adjustable frame, allowing it to tilt up or downward. 
Combination mattress: A hybrid mattress that contains both springs and foam layers for extra support and comfort. 
Combi wardrobe: A wardrobe that, in addition to the traditional hanging rail space, includes other storage features such as drawers and/or shelves. 
Continental drawers: Drawers in a divan bed base that allow for convenient underbed storage. Rather than opening upwards like in an ottoman storage bed, continental drawers pull outwards from the bed frame and slot back into place for hidden storage.
Daybed: A three-sided bed frame with a thin, firm mattress. A daybed can be used as both a sofa and a bed without needing to fold out or convert. 
Divan base: A solid, upholstered bed base with a hollow interior that serves as the foundation for a mattress and usually has interior storage. 
Edge-to-edge support: Reinforced edges around the perimeter of a mattress that provides extra support and prevents sagging or disturbance when sharing a bed.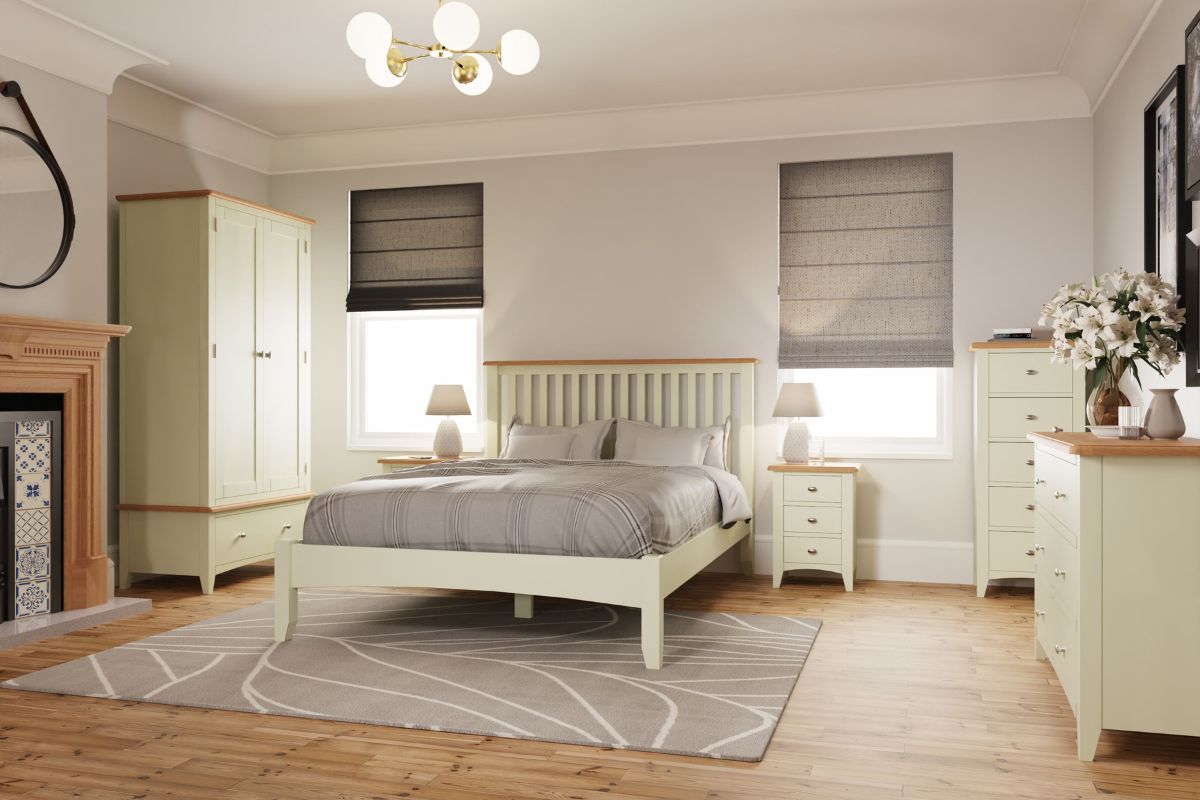 Gabrielle bedroom range in White
Fluting: Grooved details in upholstered furniture such as sofas and headboards, that offers subtle yet interesting texture and detail. 
Highboy (or Tallboy): From the French 'haute bois' (tall wood), referring to a tall chest of drawers, or sometimes a chest on top of another chest. 
Memory foam: Polyurethane foam that uses pressure and temperature to mould to your body shape as you sleep, for customised support. 
Midsleeper bed: A raised bed that is lower than a loft bed but that has space underneath for additional features such as a desk or a set of drawers or shelves.
Orthopaedic mattress: A mattress that is designed to alleviate discomfort and back pain. Orthopaedic mattresses often provide medium or medium-firm support. 
Pillow Top: A mattress topper that is permanently sewn to a mattress, featuring a fabric cover encasing fibre or foam for a 'pillowy' feel. 
Pocket sprung: Each spring in a pocket sprung mattress is encased in an individual fabric pocket for customised support depending on the pressure put on different areas. 
Slatted base: A bed base made of horizontal slats, usually made of wood. The slats are curved slightly to create springiness, ideal for retaining the feel of soft mattresses. 
Sleigh Bed: A traditional bed style with an outward-curving headboard and footboard. They usually feature opulent designs and elegant details. 
Soft close drawers: Drawers with mechanisms that allow them to close quietly. As you shut the drawer, the mechanism will pull it in gently the rest of the way for a smooth, silent close. 
Tufting: Upholstery that has buttons or stitches that create a geometric pattern. Originally used to keep filling in place, tufting creates a sophisticated look for headboards and other furniture. 
Learn more about bedroom furniture and shop now on the Corcoran's website
At Corcoran's, we love furniture and helping you find the perfect pieces for your bedroom and every room in your home. We have a fantastic collection of bedroom furniture that you can browse and buy now online, as well as even more in store at our Kerry and Limerick showrooms. Beds, nightstands, mattresses, and more, plus accessories such as rugs and lighting that will help to complete the look. 
And if you're looking to learn even more about creating your dream bedroom, you can check out all of our blog posts on bedroom furniture, sleeptime style, and setting up your bedroom to be a comfortable oasis of calm and relaxation that will see you through to sweet dreams.