8 quick bathroom design ideas that bring spa-like luxury to your home
Your bathroom is the unsung hero of your home. It's probably the first room you go to when you leave your bedroom in the morning, and likely the last you visit before you head to bed at night. You're likely to use it several times a day for various parts of your daily routine, and most visitors to your home will see it as well. And yet, when it comes to home interiors projects, the bathroom sometimes falls by the wayside when we're planning our decor updates. 
You may see the bathroom as a strictly utilitarian room, serving its functions but somewhere you go only out of necessity. However, with some easy adjustments, you can give your bathroom a spa-like feel that makes it the perfect zen space to unwind with a bath or to spruce up before a night out. Read on for our guide to simple and appealing bathroom ideas you can use to turn the room into a space as beautiful as it is functional. 
[interact id="619222fb1ab9670018ea4465" type="quiz" mobile="false"]
Bathroom design upgrades when you have a few minutes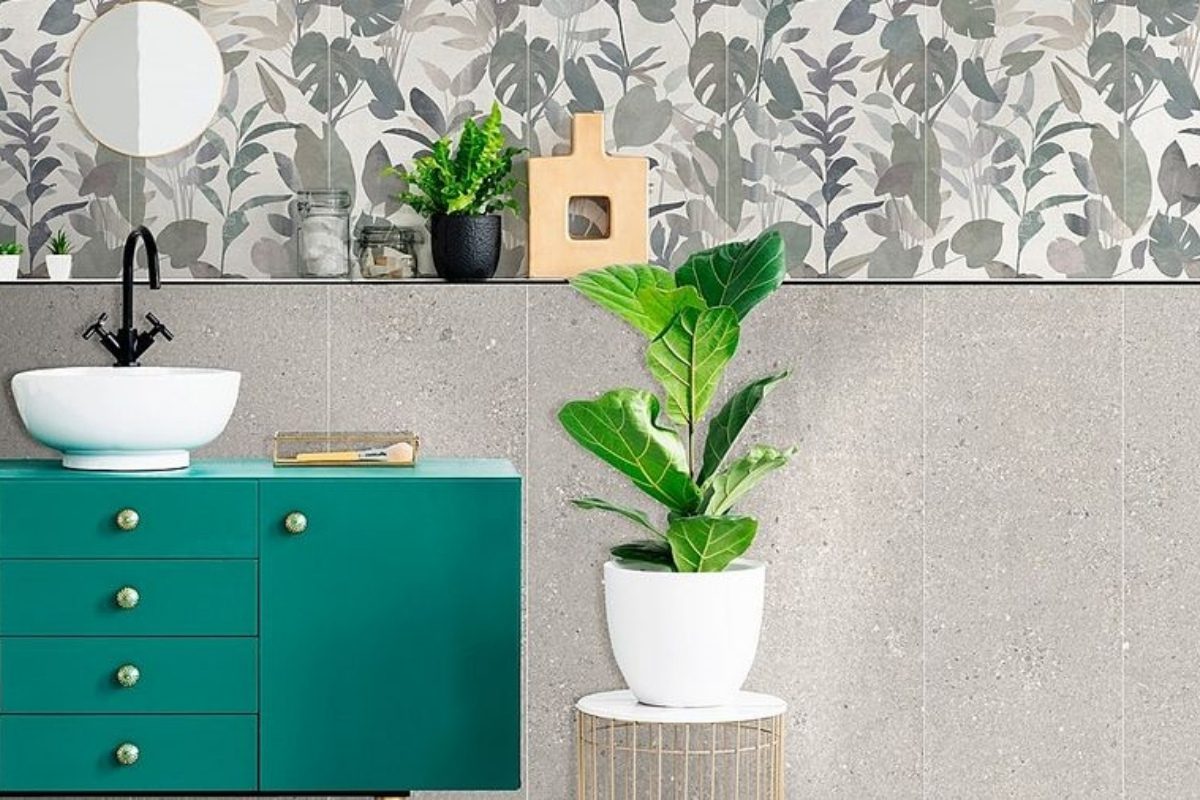 If you want to upgrade your bathroom in minutes, the easiest thing to do is to add to the decor and the ambiance of the room. Think about the things that will add a relaxing element to your shower, or that will bring a bit of zing to your mornings as you get ready for work. There are a number of things you can do to instantly enhance the look and feel of your space, no tools or plumbing changes required. 
Embrace aromatherapy
A pleasant scent is a perfect way to add to the relaxed mood of your bathroom. Scented candles or essential oil diffusers give your bathroom design that luxury spa feel in an instant. Try eucalyptus to help clear sinus congestion, or lavender in the evening to promote healthy sleep. 
Swap your shower curtain
When was the last time you got a new shower curtain? So many of us are guilty of keeping the same curtain until it gets old and yellowed. And even if you do replace your shower curtain, does it actually add to your bathroom design, or is it just a bland necessity? Try a bold or patterned curtain instead to amp up your space. 
Organise your bathroom essentials
As the saying goes, 'a cluttered house is a cluttered mind,' and this adage holds true in the bathroom as much as it does in your home office or anywhere else. Instead of lining up your shampoos and shaving gels haphazardly along the edge of your shower, invest in a nice storage basket and keep things organised. 
Bring nature in with faux plants
Studies show that houseplants can help to reduce stress and relax your mind. However, while there are plants that will thrive in your bathroom, they can be hard to maintain due to the room's fluctuating temperatures and humidity. Instead, opt for faux flowers or plants in your bathroom design and enjoy the lush, natural look of florals or greenery, with none of the work of monitoring or watering. 
Bathroom design upgrades when you have a few hours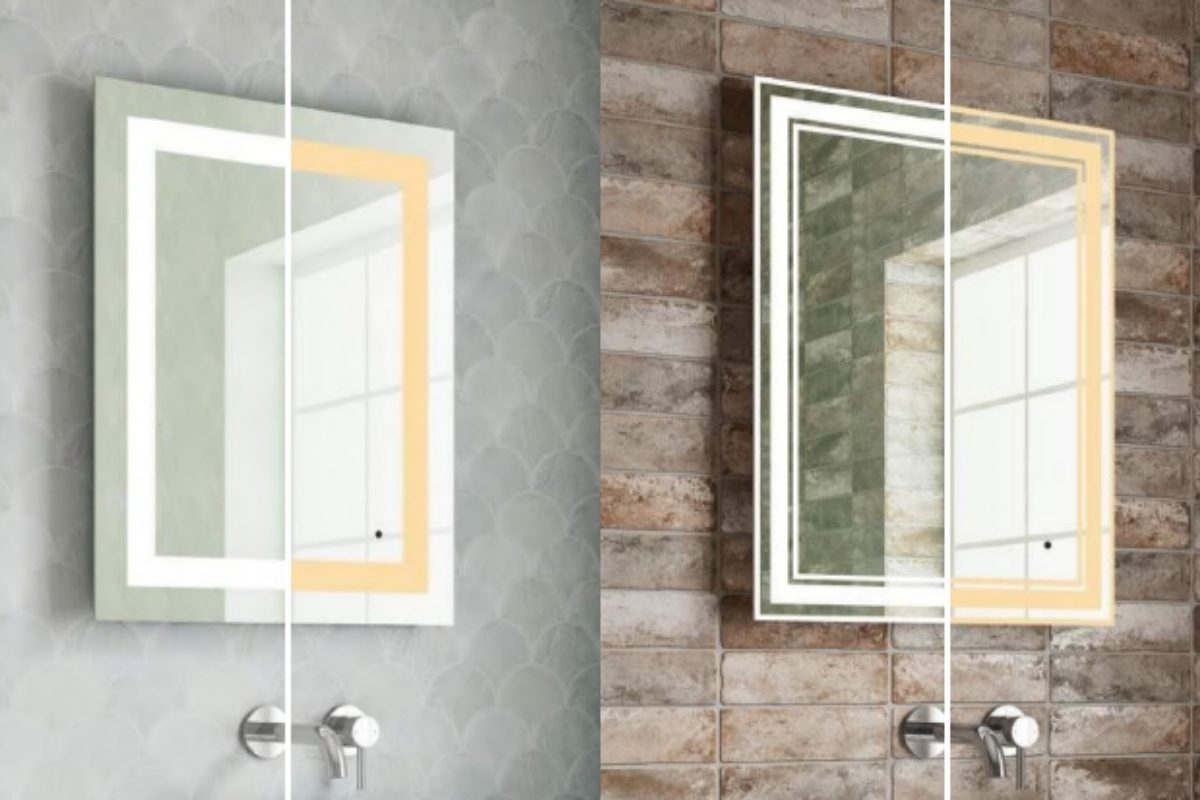 Maybe you want to go a bit farther in spa-ifying your bathroom design, and you have a little more time and a slightly larger budget to dedicate to your project but you're still not looking to do a full reno. Here are some ideas you can do in an afternoon without too much effort, but with high reward for the look and feel of your space. 
Mix up your metals 
If you love the look of mixed metal finishes, your bathroom design is the perfect place to implement this style. And changing out your faucet taps, showerhead, or even toilet hardware is a fabulous way to change the look of your bathroom with ease. Try mixing chrome and brass to create an appealing combo of variations on modern shine, or add some matte black details for an extra contemporary look. 
Hang a modern mirror
Have you ever put on your makeup in the morning under the fluorescent overhead lights in your bathroom, then walked outside and found that it looked completely different? Take the guesswork out of your bathroom lighting with an LED-equipped mirror that illuminates your face with ease. You can even opt for a lighted mirror that emulates natural lighting with adjustable warmth and brightness. 
Add some wall art
With the caveat that you need to choose your bathroom wall art with some care (a family photo might be a bit strange, and you don't want anything that can be damaged by moisture like an oil painting), your bathroom walls are a unique place to inject some personality into your home with wall art. A botanical print can bring a relaxing natural feel to the room, or opt for nautical inspiration with a coastal scene. 
Warm up with a heated towel rail
When you step out of the shower, don't settle for a cold, limp towel, especially on a chilly winter night. A heated towel rail brings a luxurious element to your bathroom design, replacing a traditional radiator with a modern fixture that not only warms your bathroom, but also your bath towel. With a variety of shapes and finishes available, you can find a heated towel rail to suit your space and ensure your bath towel is cosy, fluffy, and warm. . 
Beautiful bathroom design for every home 
If you're completing a full bathroom reno and looking for the finishing touch, or if you're simply looking to enhance your current bathroom design with ease, Corcoran's has everything you need to add cosy relaxation and fabulous style to your space. Visit our Bathroom, Tile, & Stove Centre in our Killarney store, or browse our bathroom catalogue online and get in touch to find the perfect fixtures and accessories for your home.