Our Top 5 Seasonal Trends for Autumn and Winter 2021
Autumn and winter are fabulous times to think about redecorating your home. The colder weather means you're spending more time around the house, and if you're planning on hosting friends and family over the holidays then it's a nice opportunity to spruce up your space before you have visitors. 
While many people have spent the last 18 months revamping their houses due to extra time spent at home, this is still a great time of year to add seasonal trends into your space. We've gathered some of our favourite seasonal trends for autumn and winter, from cosy fabrics to earthy tones, so whether you're planning a full-on redecorating project or you just want to add a few new details to a room, read on for five of the best seasonal trends to look for this autumn/winter 2021. 
Warm neutrals
One of the biggest ongoing trends of the last year has been all about incorporating natural elements into your space and bringing the outside in. However, whereas spring and summer seasonal trends have focused on plants and greenery, seasonal trends for autumn and winter are more focused on earthy tones like terracotta, brown, and charcoal. 
Ideal for wall colours or floor tiles, these earthy neutrals will create a chic, contemporary look that is still warm and inviting. Pair warm neutrals with dark wood and bronze or gold metal finishes for a rich, deep look. And when it comes to accessorising, use this seasonal trend to create a cohesive look by choosing real or artificial dried plants rather than colourful flowers — some pampas grass or a dried bouquet can bring an earthy, desert-inspired feel to a room.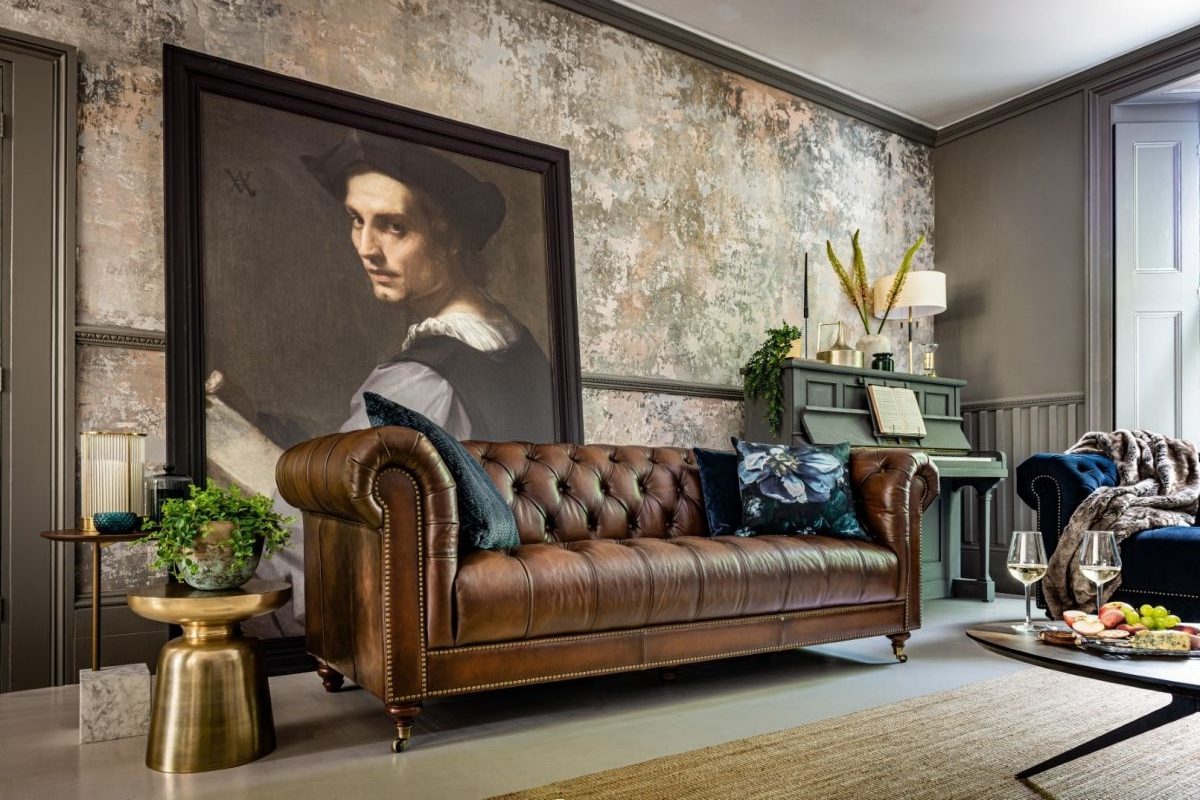 The warmly-hued leather of the Bologna Chesterfield Sofa pairs beautifully with the copper and peach tones of the wallpaper and the bronze metal side table in this gorgeous living room setup.
Show off your hobbies
Many of us picked up a new hobby during all the time spent at home, and one of the most whimsical and charming seasonal trends for this autumn and winter is to show off the fruits of your labour and let your new hobbies inspire your decor. Maybe you started painting during lockdown; naturally this is a perfect opportunity to hang up some of your art on the walls of your home. 
Or if your hobby isn't an art form, you can instead use it as inspiration — for example, if you have a newfound love for cooking, new storage containers that will put your favourite ingredients on display in your kitchen could be a lovely option. Incorporating your hobby into your decor gives your home an extra-personal feel with a touch of whimsy thanks to handmade details or non-traditional decor pieces. 
Ultra-soft textures
Comfort is the name of the game this year, especially as the nights get longer and the days get colder, and supersoft fabrics are a seasonal trend to match. Give any room a plush upgrade with a shag rug, add a luxurious throw to a sofa, or cushion hardwood dining chairs with seat pads. Choose tactile textures that are touchably soft and create lounge-ready comfort for every room.  
Natural fibres are a particularly strong component of this seasonal trend, with wool, cotton, and silk offering soft construction for everything from cushion covers to window treatments. And when it comes to rugs and carpet, look for high-pile options to really maximise the plush appeal of this trend.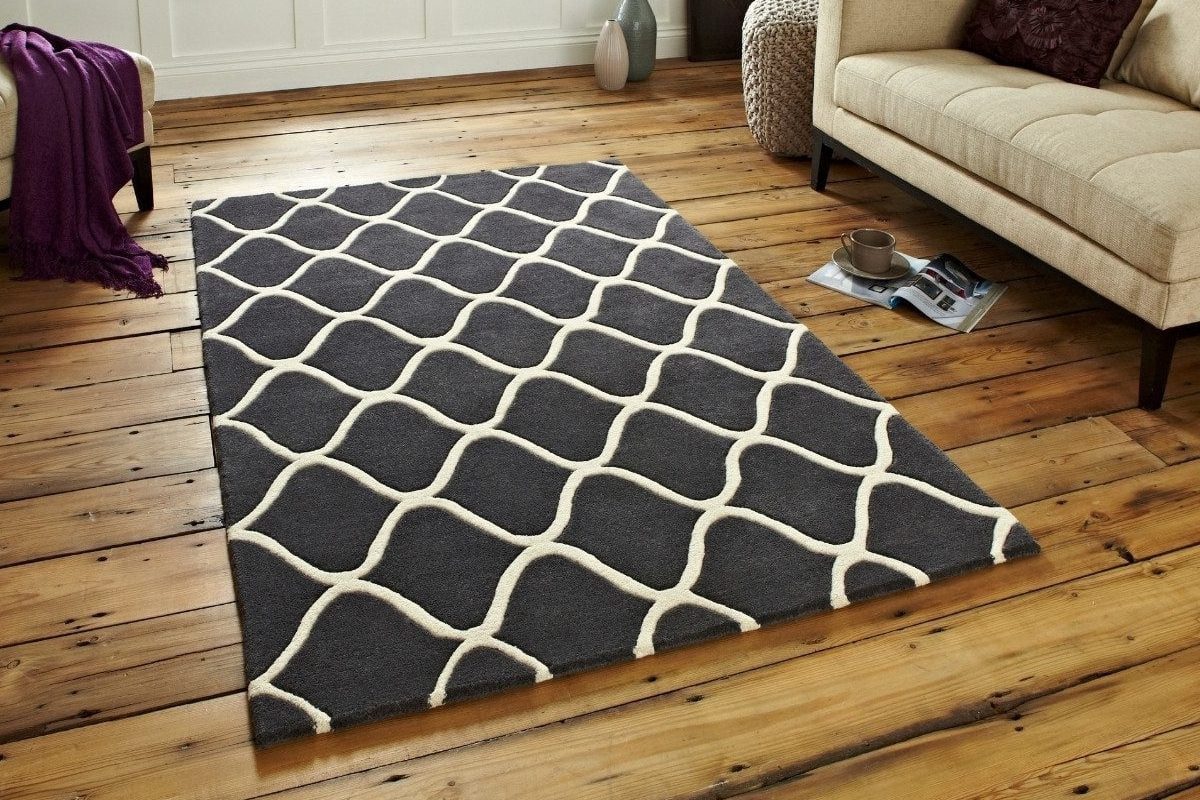 The Elements Grey Rug is 100% wool, offering a soft, natural feel that adds comfort and warmth to your floor. With a modern geometric design in a versatile neutral colour palette, it can upgrade any space with ease. 
Dividers and screens
The last year and a half has taught us the importance of multipurpose spaces, from guest bedrooms that double as home offices to dining tables that also serve as kids' study spaces. But this time has also taught us the importance of privacy and quiet space — when everyone was working from home or going to school through zoom, it was important to be able to have a few quiet moments to oneself. 
And even now that we're out and about again, many of us have learned to love our personal space, and dividers and screens can offer decorative appeal as well as split up a room to create cosy, private nooks. A privacy screen or room divider is a particularly good seasonal trend for parents of rambunctious kids; you can still keep an eye on the little ones because they don't fully close off a room like a door would, but everyone still has their own space. 
Layered bedrooms
Another cosy seasonal trend to enjoy for autumn and winter is the layered bedroom. If you're a maximalist, this is an opportunity for you to play with a mishmash of patterns, prints, and textures. Stack rugs on top of each other, and consider eclectic shapes or a variety of pile heights rather than just traditional low-pile rectangle rugs. Similarly, layer window treatments, pillows, or bedding with different colours and textures to create a varied look. 
However, even if you prefer a minimalist aesthetic, there are ways you can incorporate this seasonal trend into your room. Opt for a monochrome colour palette, using a variety of pieces but in shades of the same colour. Similarly, you can layer accessories made of the same material or similar textures and you'll still get the plush, layered look but without the maximalist styling.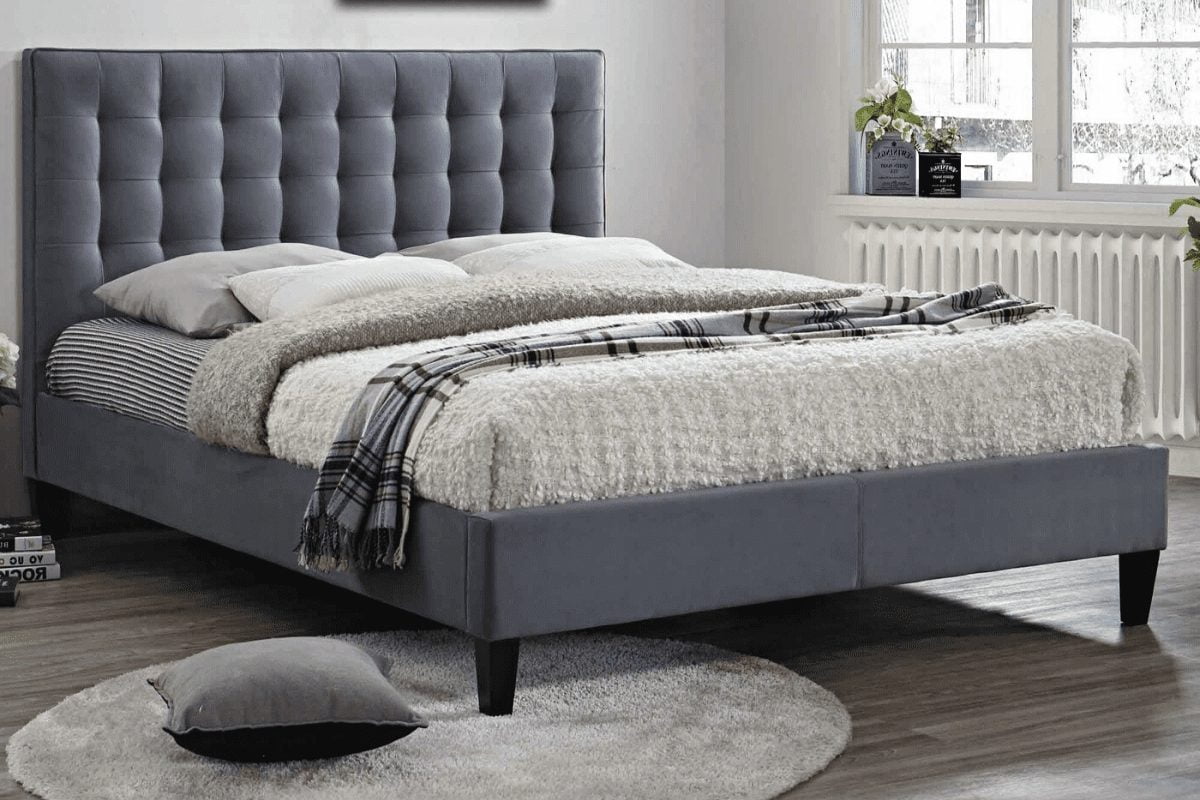 Stack throws and bedding in different textures and add a fluffy shag rug to get a layered look even in a minimalist, contemporary bedroom, as shown here with our Beatrice Tufted Bed. 
No matter the seasonal trend you want to bring into your home or the accessories you need to make it happen, at Corcoran's you can find furnishings to fit every style. Shop online now or talk to our home decor experts to find the best bits for layered bedrooms, hobby-inspired decorations, and more!