Our talented team of interior designers make it easy for you to live your style and love the home you live in. Whether you're updating one room at a time or looking to transform your whole house in one go, our interior designers are ready to help.
We don't just focus on furniture or accessories; we can also provide bespoke services such as made-to-measure curtains and blinds, as well as source the perfect carpets, flooring, tiles and stoves.
In recent times we have witnessed a large increase in requests for virtual or online interior consultation services. We are delighted to now offer this as a service via phone or video call from your own home. We're kicking off this service at an introductory offer of just €49.
So whether you want to collaborate in person, by phone, or online – it's your choice.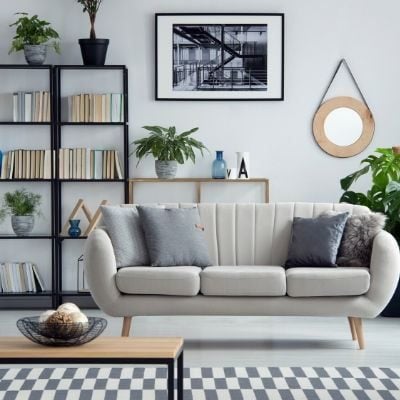 "A room should start a conversation, before people actually exchange words"
Book Your Interior Design Consultation Today
Please note our in-person interior design consultations are currently only available throughout Kerry. Customers outside Kerry can avail of our online interior design consultations with one of our in-house experts.
To book your appointment, simply select from the options below whether you want an in-person or online interior design consultation.
Please book a minimum of three days in advance to allow sufficient time for our interior design department to get back to you and confirm your appointment.
What does an interior designer do?
Interior designers use artistic elements to create living and working spaces that meet the needs of various clients. Though often perceived as a luxury out of reach for many, hiring an interior designer can actually save you more time, money and energy in the long run. They do this by helping you avoid costly mistakes and help you make design decisions that will increase the value of your home.
Why should I hire an interior designer from Corcoran's Furniture & Carpets?
With over 25 years experience in business, we are committed to forging long-term partnerships with our clients, creating robust and flexible design solutions. Our team will accompany you right through the project timeline, ensuring your vision is delivered to meet your expectations – on time and on budget.
How far do you travel for consultations?
We currently only travel within Kerry for domestic in-person projects. However, we are delighted to announce our new online interior design service for consultations further afield.
For commercial projects we cover the Munster area.
I live outside of the Kerry area, how can I avail of your service?
If you live outside of Kerry, you can book an online interior design consultation with us. This package will include a video or phone consultation, detailed quoting of furniture and accessories, bespoke design ideas including furniture selection, accessories, and paint, and lastly a brief to correspond with your budget, taste, and lifestyle.
How much do your interior design services cost?
Our interior design costs vary from brief to brief. For instance, the price would differ for clients requiring simply an at-home consultation with some guidance and advice on the best design solutions for your space versus a client who requires full on project management.
For clients on a budget or living further afield our online interior design services are currently offered at an introductory flat rate of €49 per consultation.
Do you offer free consultations?
While we do not offer free interior design consultations, we do offer free interior design and advice in all our stores.
How do I get started?
To get started, simply fill out the booking form above by selecting whether you want to book an online or in-person interior design consultation. Please note, we currently only offer in-person interior design services to customers in Kerry.
What happens at the first interior design consultation?
The initial consultation will be a discussion X