Enjoy generous discounts on everything from stylish beds to sleek dining sets.
Sumptuous upholstered headboards, elegant wood frames, and all the style and support you need for your best night's sleep ever
Munster's Best Home Furniture Stores
Sofas
Browse and shop from an extensive selection of carefully-curated
sofas
, suites, and seating at Corcoran's home furniture stores. Choose from classic to contemporary designs with a large variety of comfortable and affordable options. At Corcoran's, you will find a wide selection of seating in a range of materials (fabric, leather, velvet, etc.,) that will perfectly match a diverse range of interior design aspirations. Many sofa varieties are available including recliner sofas, corner sofas (L shaped, recliners and 2C2), right hand & left hand facing sofas, and even sofa beds! Whatever your sofa requirement, trust us to find the perfect solution as you explore the best sofas in Ireland.
Living Rooms
Create the perfect living room at Corcoran's with our
living room furniture
range. We have a massive selection of stylish, practical, hardwearing, and durable furniture, which will truly enhance your living room. We have built an extensive living rooms selection year-on-year and have developed relationships with leading manufacturers worldwide. Buy online or shop in-store at any of Corcoran's home furniture stores and buy perfect living room furniture matching your décor needs and available budget.
Select from bookcases, coffee tables, console tables, living room chairs, display cabinets, sideboards, drink trolleys, footstools, nest of tables, side tables, TV stands, wine racks and other products too.
Dining Rooms
Create a perfect dining room experience with Corcoran's
dining room furniture
range. Find precisely what you have been searching for when you browse and shop with us. Our dining room furniture collections have been sourced for over twenty years from leading manufacturers worldwide. Choose from dining chairs, dining tables, sideboards, bar stools, dining benches, display units, bar tables, blanket boxes,
drink trolleys
,
kitchen display cabinets
, and wine racks and other products too. We are confident when you search through our collection that you will find the perfect dining room furniture and accessories to suit your taste and budget.
Bedrooms
Create the perfect sanctuary with Corcoran's top-quality
bedroom furniture
range. Find precisely what you have been searching for when you browse and shop with us. Our bedroom furniture collections have been carefully sourced from leading manufacturers in Ireland and around the world. Choose from beds, chest of drawers, dressing tables, headboards, mattresses, mirrors, side tables, stools, storage furniture, wardrobes, and so much more. Choose from a variety of materials including fabrics, metal, wood, etc., Perhaps you are looking for classic, modern, rustic, vintage, or other styles? Whatever you need we are sure you will find it here!
Offices
Trust Corcoran's for a broad and competitively-priced range of specialist office furniture products. Choose from classic woods to modern metals to blend seamlessly with your interior décor scheme. Choose from chairs (recliners, armchairs — some with footstools — and more), desks (with or without storage), filing cabinets, and bookcases. Our range is not just for home offices as these furniture pieces will blend seamlessly into business offices, study rooms, gaming rooms, man caves, conservatories, and more – so think laterally!
Whatever your office furniture requirement, browse online or shop at Corcoran's home furniture stores for perfect solutions to create the best home offices in Ireland.
Number of variations: 3

€

699.00 –

€

899.00
Get €10 off your first online order of €150+
Join our email list to gain exclusive discounts, hear the latest news, and more!
A virtual tour of our Killarney showroom
Please note: pricing shown may not be current.
Our Most Recent Blog Posts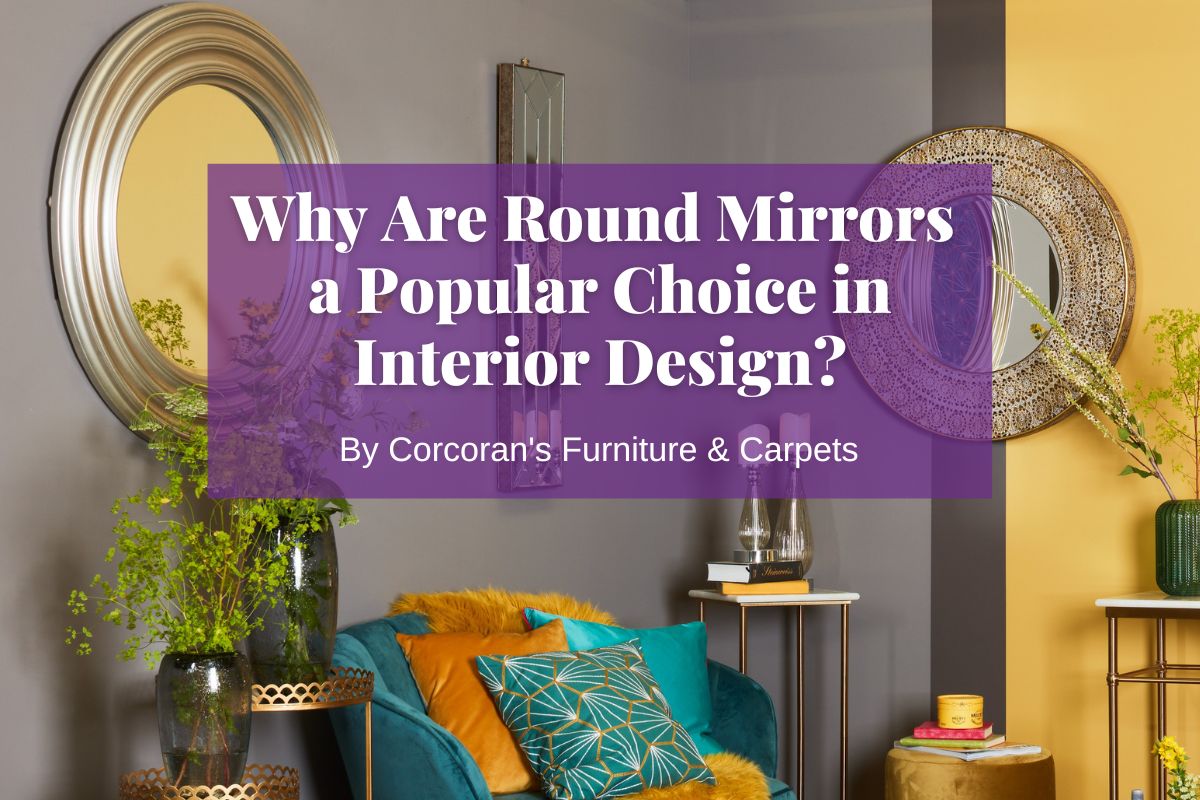 Why Are Round Mirrors a Popular Choice in Interior Design? Round mirrors are a major player when it comes to interior design. They are both versatile and functional, and they make a genuine impact on the overall look and feel of a room. Their simplicity of design and...
About Corcoran's Furniture & Carpets
Corcoran's Furniture & Carpets was founded in 1999 by Kieran Corcoran in Cahersiveen Town.
To this day, our home furniture stores have been run by family and provide a carefully-curated collection of dining room, living room, bedroom, bathroom, and office furniture ranges. In addition, we are delighted to provide an extensive sofa collection, as well as accessories, flooring, and specialist ranges for children and the garden.
Read more...
A brief history of Corcoran's, Munster's best home furniture store
We have now grown to five stores and have the following home furniture stores located throughout Kerry and Limerick:
Killarney: (064) 669 1112
Tralee: (066) 718 0541
Cahersiveen: (066) 947 3026
Newcastle West: (069) 66777
Tralee Rock Street (outlet store): (066) 712 6779
Since opening our Cahersiveen Town store back in 1999, we have worked hard to carefully source top-quality furniture, furnishings, and accessories from suppliers in Ireland and around the world. Whatever you need for your home, Corcoran's home furniture stores have you covered with a vast range of contemporary and traditional interior design options to suit all styles and budgets.
As quoted by House and Home, Ireland:
"Each shop is jam-packed with hidden gems, all beautifully displayed to truly unleash your hidden interior designer."
Corcoran's website
Additionally, we have a thriving online presence with our website (https://corcoransfurniture.ie) growing rapidly in recent years. On our website, you can browse and select from 20,000+ products across hundreds of distinct categories and securely buy your home furniture products online.
We are adding new products and categories all the time and we encourage you to join our mailing list at this link to receive the latest news and offers directly from Corcoran's Furniture & Carpets.
Our expertise
As a specialist home furniture retailer group with over fifty employees, we bring you everything you need for a satisfying customer experience. Many of our team are long-standing employees and have considerable experience in areas such as interior design, flooring, gardens, carpets, and much more!
Let our experts help you to find everything you need for your home or office, no matter your style requirements, space constraints, and budgetary limits. We promise unrivalled, friendly customer service from start to finish when you choose Corcoran's whether you buy in-store or online.
Delivery options
Goods can be ordered within our home furniture store, or online and available for nationwide delivery (Monday – Friday), with our friendly delivery team providing high-quality, professional service. We also offer a furniture assembly service for customers wishing to receive product assembly from our experts.
Social media
If you enjoy social media then find Corcoran's latest messages at these links – Facebook, Instagram, LinkedIn, Pinterest, Tik Tok, and Twitter. Why not get in touch? We would love to hear from you. Also, here is what Corcoran's customers say when you visit our customer reviews page.
Managing Director and Founder quote
"Our aim is to deliver high Quality products to our customers at the best possible price whilst providing a very high standard of customer service. Our customers come in as acquaintances and leave as friends. Call today and experience it for yourselves."
Kieran Corcoran, Managing Director and Founder