Christmas Furniture Ideas & Arranging Your Living Room
With less than two weeks to Christmas, if you haven't already decorated your home, then now's the time! Set up your space to celebrate the season, with Christmas furniture and home decor that will put you in the holiday mood. 
We have a couple of blog posts about decorating for winter that you might want to check out: 
However, arranging your living room for the holidays isn't as simple as adding your favourite cushions and throws to your sitting room seating. 
Your Christmas furniture has to take into account the fact that you will likely have more people than usual in your space — when you have family and other visitors to your home for the holidays, you want everyone to feel comfortable and not cramped. You will also have to accommodate your most important seasonal decoration: your Christmas tree!
Read on for our best advice on Christmas furniture ideas and holiday home decor that will create a warm and welcoming space to celebrate the season.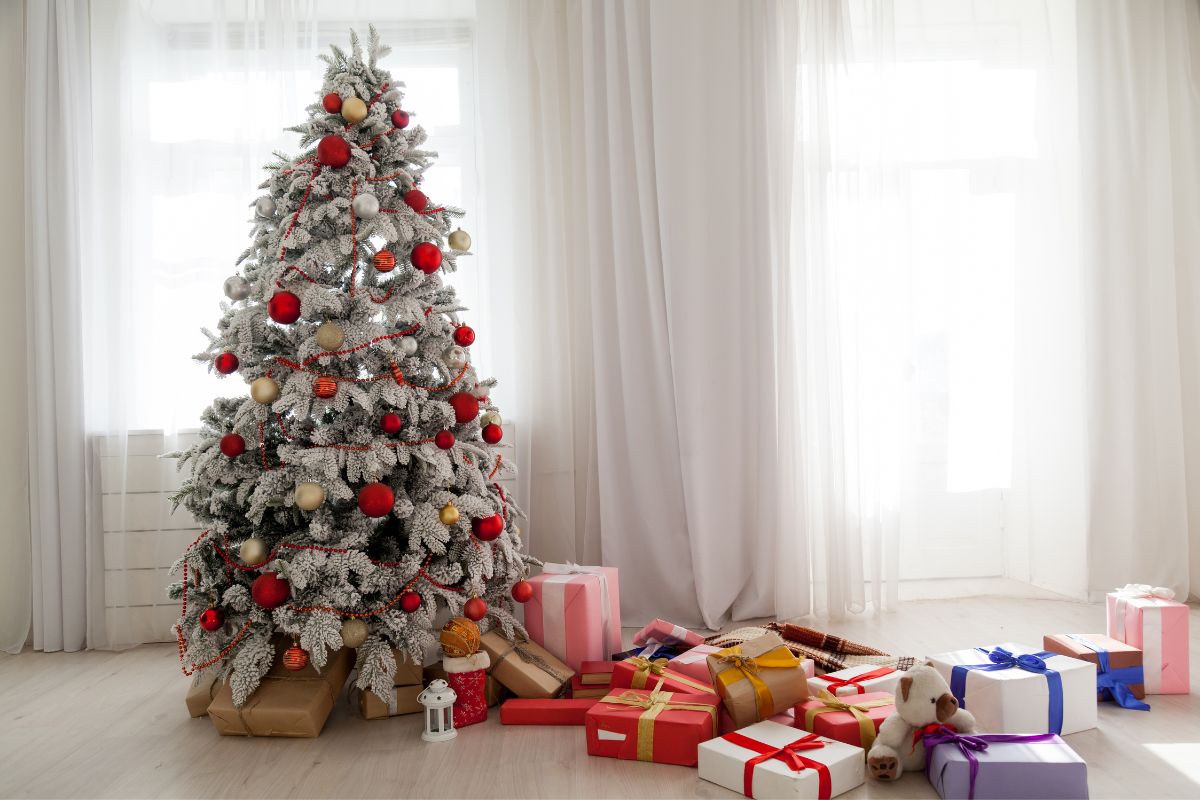 Think about your space when you choose your tree
Your Christmas tree is the centrepiece of your holiday decorating. You need space not only for the tree itself, but also around it to place gifts. Whether you opt for a real or artificial Christmas tree, you will have various options for sizes to suit your space. 
While getting the biggest and most impressive tree possible may be tempting, it is better to choose a tree that fits well in your space and looks good in terms of proportions. 
One thing to keep in mind is that a taller tree will also have a larger circumference, so if you want a tree that reaches toward your ceiling, you will also need more room on your floor to accommodate. If you're short on space but you want a tall tree, you could place a smaller tree on a table or box to raise it up. 
The location of your tree is also important. If your living room is at the front of your home, you will probably want to place your tree in view of the windows to brighten up your home from the inside out. Your Christmas furniture arrangements should be chosen with this in mind as well, as you may need to move sofas or end tables from their usual positions to allow you to put your tree where you want it. 
Create a cosy place for guests to gather
Christmas furniture choices are all about making a warm and welcoming space for family and friends to gather. From opening gifts in the morning to after-dinner naps in the afternoon, to drinking cups of tea and hot whiskeys by the fire in the evening, 
There are a number of ways you may want or need to adjust your space to suit the season. If your design and decorating aesthetic leans towards minimalism, you may want to cosy-up a room with cushions, throws, and other snug elements for the sake of your guests' comfort. 
Hosting a crowd? Make sure you have enough seating in your Christmas furniture setup so that everyone has a place to kick back and relax. If your living room doesn't have enough space for extra sofas or armchairs, why not consider compact and quirky seating options like pouffes or bean bags that can be arranged as needed and stored away easily when not in use? 
As you arrange your furniture for the holidays, you should also think about the focal point of the room. Whether it's the Christmas tree for giving gifts, the fireplace or stove burning warm and bright, or the television where you watch your favourite Christmas films, you should ensure that all seating is positioned so that everyone in the room gets a good view, and also so that nobody will get left out of conversations. 
Shop Christmas furniture and seasonal decor at Corcoran's
There's still time to create the perfect Christmas furniture setup for your living room. Shop in-stock items in-store and online at Corcoran's and transform your space for the occasion! Plus, find a fabulous array of seasonal accessories and decor that will bring holiday spirit to your home.
Home decor and accessories can also make great Christmas gifts if you're still looking to check a few loved ones off your list. Chat with our team and our furniture specialists can help you find the perfect gift for family, friends, and anyone else you're shopping for, and assist you in choosing items that can be collected in-store or be delivered in time for the holidays. 
Or if you're looking for a quick and convenient way to give them what they want most this Christmas, a Digital Gift Voucher offers the gift of choice! Purchase in store or buy online for instant delivery via email — an ideal last-minute gift!