Glossary of Terms – Office Furniture
Is a better home office setup on your to-do list for the new year? If your goal is to choose the right office furniture that will help you be more comfortable and productive when you're working from home, then understanding all the different styles and features available will help you in finding the right pieces to suit your space and workplace needs. Read on for our glossary of office furniture terms: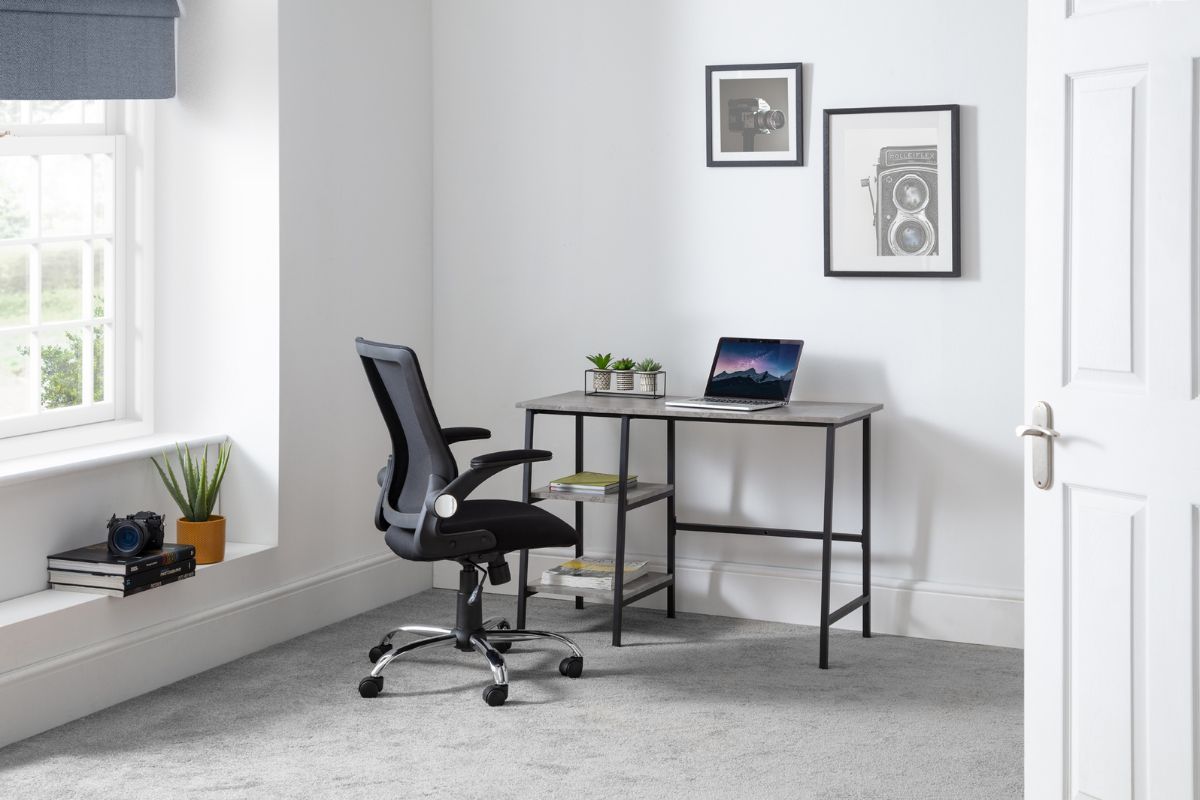 Adjustable arms – Many office chairs have adjustable arms, allowing you to change the height or width to give your arms a comfortable resting position. 
Back height adjustment – Use a lever to change the height of your chair back. This will help to correctly position lumbar support and protect your posture. 
Back pitch – This refers to the angle of a chair back in relation to the back of the seat, ensuring good posture and lumbar support. 
Bow front worktop – A bow front desk is curved to give a little more surface space, ideal for multi-screen setups and collaboration. 
C-leg – Some desks have side legs that form a c-shape, offering plenty of support but also giving extra leg room while you work. 
Caster – Often found on office chairs and sometimes on desks, casters are wheels that allow you to move easily and smoothly. 
Computer desk – Large and practical, computer desks have room for monitors, printers, and more. They're ideal for most home office setups. 
Double pedestal desk – This desk configuration features a pedestal on either side of the desk, often with built-in storage, leaving plenty of leg space in the middle. 
Ergonomic – Ergonomic features keep you feeling comfortable and supported while you work, promoting good posture and minimising stress and strain. 
Executive chair – This stately office chair type features a high back and plush cushioning to pair comfort with sophisticated style. 
Lumbar support – One of the most important ergonomic features of office chairs, this is cushioning at the small of your back that helps maintain the natural curve of your spine while you sit. 
Mesh back – Office chairs with mesh backs are breathable and ensure good temperature regulation throughout a long work day. 
Posture control – Most office chairs feature mechanisms that allow you to adjust the height, seat, and arms, to support your body and promote good posture. 
Seat depth adjustment – Move the chair forward or back with a lever to customise the depth of your seat for comfort to suit your seating style. 
Soft-close drawers – An anti-rebound feature that keeps a drawer from recoiling or springing back out when closed. 
Swivel – When your office chair has a swivel base, you can turn easily and reach everything on your desk without stretching or straining. 
Tension control – This knob under your chair changes the amount of resistance the chair back offers, making it easier or more difficult to move when you lean back. 
Tilt lock – Sometimes you may want your office chair to recline, but other times you want it to stay in place. A tilt-lock mechanism allows you to toggle between both options. 
Wire management – Also known as cord management, this is a feature (usually a cutout at the rear of a desk or drawer) that lets you feed wires through to keep them organised and prevent them from tangling.
Office furniture to upgrade your work routine
Whether you work remotely full time or just need an occasional space to set down your laptop or notebook, a new and improved home office workspace will change the way you work from home. And at Corcoran's Furniture, you can find all the essential office furniture — desks, chairs, storage, and more — as well as flooring, accessories, lighting, and everything you need for a more comfortable and productive setup. 
Shop office furniture online now or visit your nearest Corcoran's store to find the right pieces to upgrade your home office. And if you have any questions about the best ergonomic features, storage solutions, or anything else, our team is always happy to help. 
Plus, we've got heaps more office inspiration on our blog — check out these other posts!