Mid-Century Modern Style
If all you know about mid-century modern style is that it refers to the post-World War period of the mid-1940s to late 1960s, you might picture it as a relic of a bygone era. You might imagine something dated and out-of-touch. But there's a reason that mid-century modern style remains popular to this day. The style is all about clean, sophisticated lines and lovely natural tones (plus a few playful pops of colour). Basically an interior design dream. 
Today we'll talk about how to bring gorgeous mid-century modern detail to your home, and about the distinguishing features of this enduring favourite style. 
What is mid-century modern style?
Mid-century modern style originally drew inspiration from earlier modernist styles like the Bauhaus movement. After World War II, new technologies and industrialisation, particularly in the United States, led to the rise of new furniture types to kit out newly-built homes. 
Mid-century modern style emphasizes function and simplicity, offering beautiful, practical pieces that focus on clean lines without excessive ornamentation. This minimalist look, similar to the Scandinavian style, is one reason why mid-century pieces can still look modern and retain their popularity today. 
Mid-century modern style uses both traditional materials like wood and non-traditional materials including glass, plywood, and vinyl. The colour palette ranges from neutrals with a natural feel like taupe, off white, and olive green, to bolder hues such as burnt orange, chartreuse, and teal. 
Mid-century modern style bedrooms
The bedroom is a perfect place to incorporate some mid-century modern style into your home. A nightstand or chest of drawers that relies on straight lines, raised legs, and simple hardware is an ideal way to inject a dose of mid-century modern appeal. 
If you want to make mid-century modern style a centrepiece of the bedroom, there are plenty of options for stylish mid-century beds. If you're all about Scandi style, look for a simple wood bed with few embellishments. If you want a bed with upholstery, opt for something that offers neutral hues and perhaps a simply tufted headboard. Light and mid-tone woods are a favourite pick of this decor style, or go for soft painted finishes in off white or light grey. 
In terms of accessorising, geometric shapes, decorative wall clocks, and wood-framed mirrors are a perfect way to adorn your walls in mid-century modern style. Throw pillows are a good opportunity to bring texture to your space and contrast with the sleek lines of your furniture; choose pillows with tufting, colour blocks, and tweed to create the look. 
You can also give your bedroom a mid-century modern look with curtains—look for those with back-tab or pinch pleat designs to create a pleated rather than scrunched look that suits the mid-century style.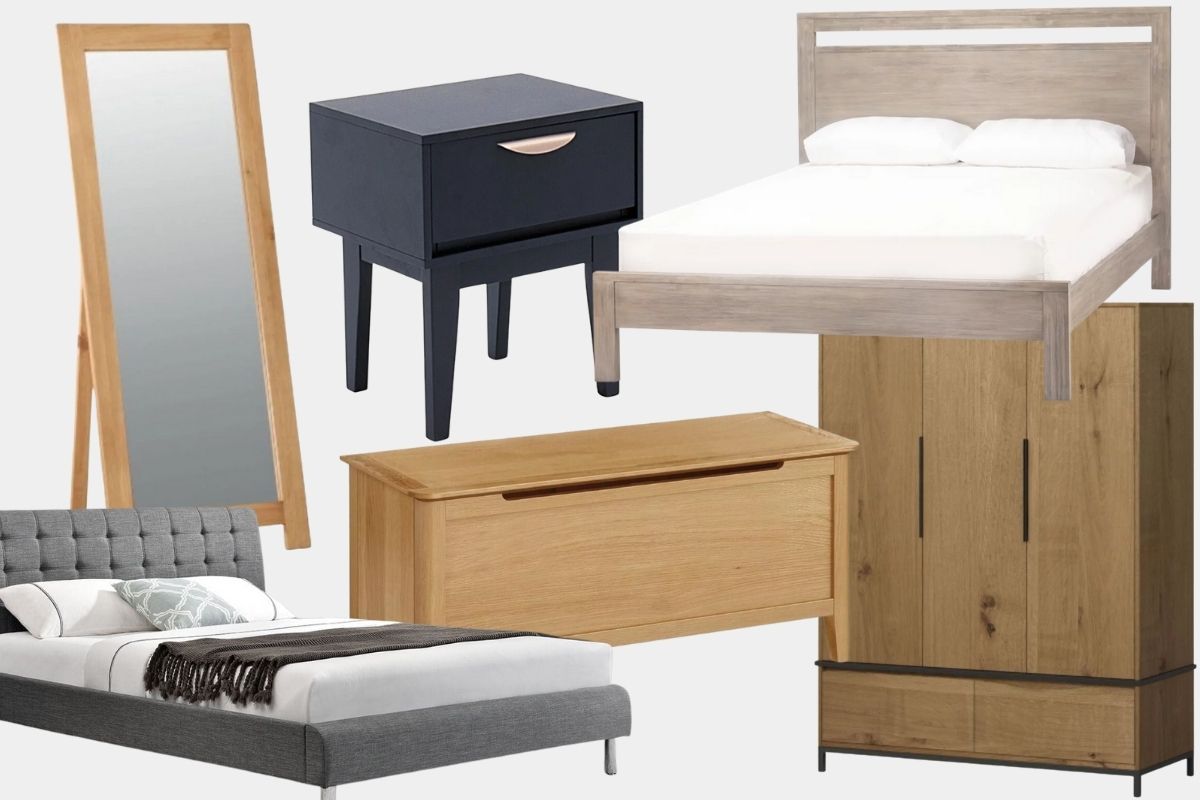 Featured: Sonia Cheval Mirror, Leonel Night Table, Maxwell Bed, Heatherfield Triple Wardrobe, Barnett Blanket Box, Laune Bed
Mid-century modern style living 
One of the biggest appeals of mid-century modern style is its light, natural feel. Whether used in a small room to offer the feeling of space or in a larger one to give an airy vibe, this decorating aesthetic eschews heavy-looking furniture, overly-detailed accents, and exaggerated proportions. 
As in the bedroom, small pieces are a simple way to evoke mid-century modern styling in your sitting room. A sleek light wood end table topped with a black metal table lamp makes for a perfect pair. 
When you're choosing the perfect sofa for your mid-century modern home, some key features to look for are tight upholstery (the cushions don't have to be connected to the seat back, although many are, but they shouldn't be overly squashy), visible, angled legs, and smooth fabrics or leathers. Many mid-century modern style sofas have tufted backs and curved arms, while plenty of others opt for straight edges and un-textured upholsteries, so whatever your personal preference you're sure to find something that fits in this style. 
The 'Eames chair' is probably the most famous individual piece of furniture from mid-century modern style, and you can get the look of this iconic lounger with a reclining chair and matching footstool in a neutral hue that make an ideal set to add extra seating to your living room.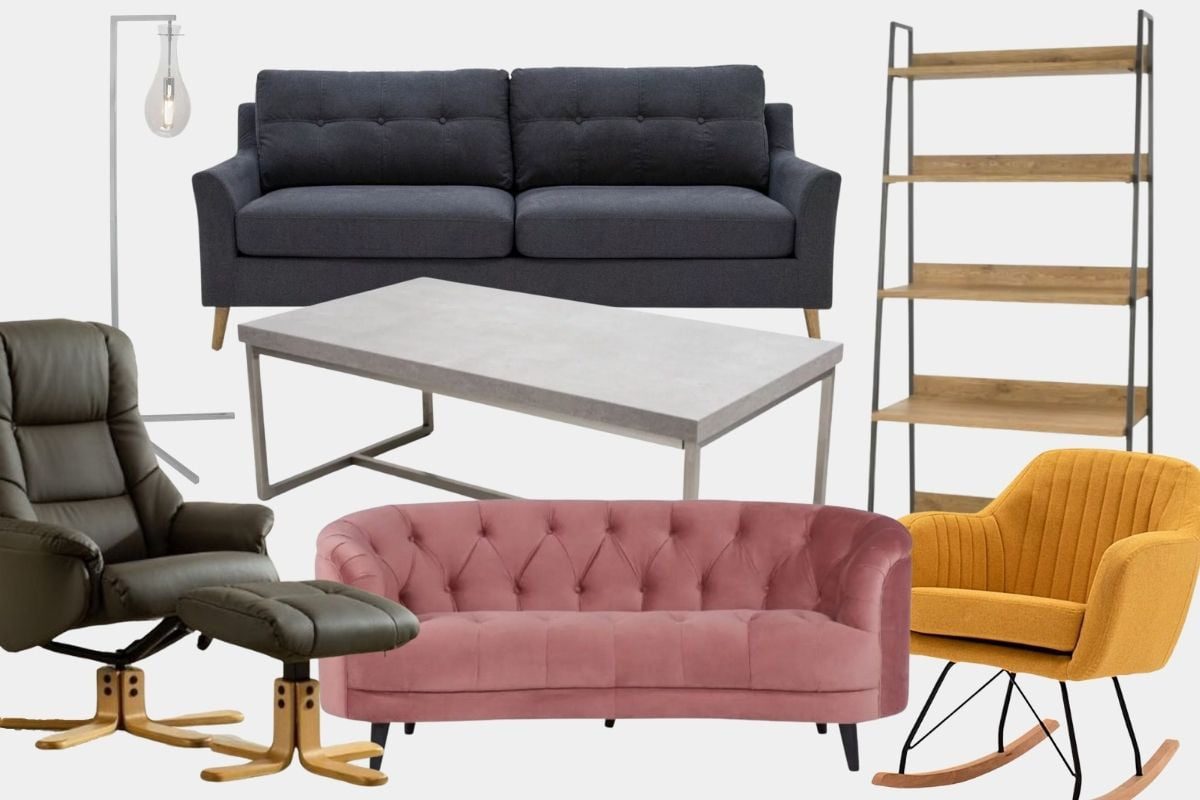 Featured: Telford Lamp, Olivia 3 Seater Sofa, Inishmore Open Display Unit, Kate Rocking Chair, Skyla 2 Seater Sofa, Freda Swivel Recliner and Footstool, Denny Concrete Effect Coffee Table
Mid-century modern dining
Now let's turn our attention to the dining area. Mid-century modern style loves natural finishes, curvy shapes, and pieces that pair wood and metal, so it's a perfect choice for dining room decor. 
For a trend-right dining table and chairs, look for a table with a centre column or slim legs with a wood or glass top, paired with chairs that feature curvy barrel backs and lightly padded seats. Tables of all shapes—round, square, or rectangular—fit the look, and if you want a table that extends for extra seating space, opt for one that uses removable leaves that can be stored out of site to keep the lightweight design. 
Pair these pieces with a simple sideboard made of wood or add a bar cart to bring a 'Mad Men'-inspired vibe to your space. Metal bar carts are popular, but opt for brass or bronze over gold or silver to suit the aesthetic. In terms of accessorising, you can go industrial with metal sculptures, elegant with glass decanters, or rustic with wooden trays. Keep it simple, but there are plenty of possibilities for a personalised look. 
Geometric pendant lights and industrial-inspired wall sconces let you illuminate your dining area with mid-century modern style. If you want something bolder, a starburst chandelier makes a statement while maintaining the atmosphere you're after.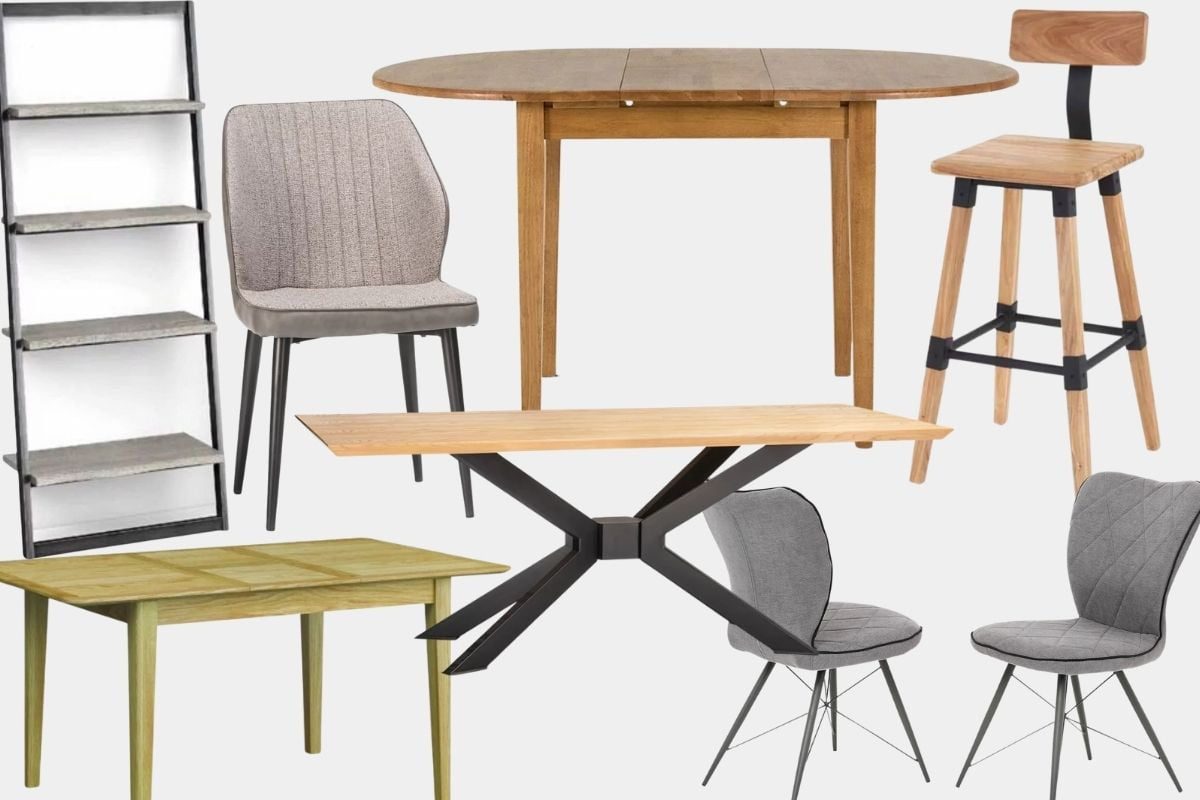 Featured: Brody Bookcase, Brentwood Dining Chair, Ciara Dining Table, Hansen Bar Stool, Evan Dining Chairs, Spector Dining Table, Barnett Dining Table
Mid-century modern style in your home
Mid-century modern style's popularity means that it's simple to find furniture that will help bring the look to your decor, and at Corcoran's we have a huge array of options to match this trend. It's an aesthetic that is sure to last, so it's well worth investing in stylish pieces that are well suited to your home. Contact us today or browse our range to make your mid-century modern dreams a stylish home furnishing reality.