What Types of Modern Lamps and Lighting are Trending in 2022?
Did you know that at Corcoran's Furniture, we stock a fantastic range of lamps and lighting in store and online? From desk and table lamps to provide task lighting and create ambiance, to floor lamps,  wall and ceiling-mounted lights that brighten up any room, you can shop our collection of lamps and lighting now to give your home the perfect welcoming atmosphere. 
As with all types of furniture and accessories, there are trends in modern lamps that you may want to know about when you're creating an of-the-moment look for a living room, bedroom, or anywhere else in your home. If you're searching for contemporary design that will light up your home in style, read on for our guide to modern lamps and lighting trends. 
Shine a light on playful shapes
You can never go wrong with a traditional lamp shape featuring a round, bulb-shaped base and an angled fabric shade. The classics never go out of style, and if you're looking for lamps that will complement any interior decorating aesthetic, then there are plenty of traditional options available. 
However, one of our favourite trends in lighting at the moment is creative shapes for modern lamps. Opting for lamps and lighting with intriguing shapes and structures will bring bold style to your space. When you choose a lamp with an eye-catching shape, it will draw attention even when it is turned off, making it a piece of art that accents a room. 
Many of the popular shapes in modern lighting trends draw inspiration from vintage design. Mushroom lamps, with rounded shades and bulbous bases are a huge trend in modern lamps, taking style from another era and bringing it into contemporary design. We particularly love mushroom lamps with coloured glass that offers that extra touch of ambiance for your room. 
There are an array of other shapes for lamps that are popular at the moment as well, also taking their cues from vintage lighting styles. Bell lamps and cage lamps are two options that will offer that old-style look and feel, while still fitting perfectly into a contemporary decor aesthetic.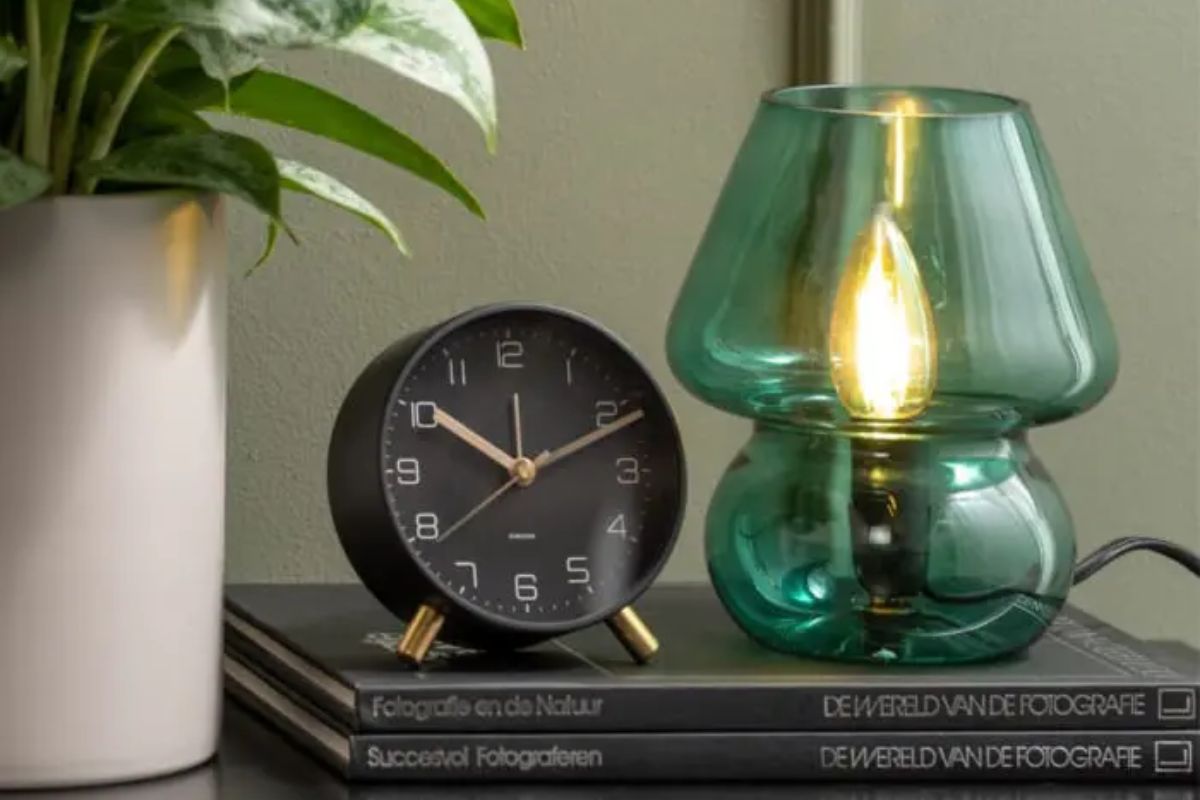 Place modern lamps in symmetrical style
What's better than one lamp? Two lamps! There's no such thing as too much lighting in a room, especially when you combine different types of lamps and lights to serve different purposes. 
You can read more about the various functions of lighting that your lamps and light fixtures need to serve, and how best to incorporate them, in our guide to lighting a modern bedroom, but in essence, you should have lights that brighten the whole room, lights that are suited for specific tasks, and accent lights to add an extra dash of ambiance to your space. 
Naturally, some lights need specific placements in a room to serve those functions. Overhead lights and larger floor lamps will be ideal for all-around brightness, and a desk or table lamp close at hand will provide adequate lighting for reading or work. 
But what about those lamps that mainly offer stylish appeal? You have a lot more leeway in terms of placement, and a symmetrical setup is something we're loving right now. Try setting a lamp on either side of a mirror or a piece of wall art, and create an instantly balanced look that immediately makes your room look clean and well-organised. 
Get cosy with candlelight 
One popular lighting trend at the moment isn't focused on lamps or electric light fixtures at all. This year's decor styles have been all about making your home as comfy and cosy as possible, and that's especially true as winter approaches. In addition to your lamps and lighting, use candles to really up the warm and welcoming ambiance of your space. 
Pillar candles can make a gorgeous addition to a coffee table or mantle decor setup, and adding a pair of candle holders to your dining table will turn every mealtime into a special occasion. The flickering of candlelight is perfect for adding a soft glow to a room that offers snug style for your space. 
Obviously, you shouldn't leave a room unattended when you are using lit candles, and if you have small children or pets then real candles may not be appropriate for your home. However, there are lovely alternatives in the form of LED lights that look like candles that will help you evoke the desired look in a safer and lower-maintenance way. 
Find the best modern lamps and lighting at Corcoran's
Now that you know the best current trends for lighting throughout your home, shop the Corcoran's range and find a stunning selection of lamps and lighting to suit every decor style and all your lighting needs. 
Looking for more inspiration? Read these other blog posts for more lighting ideas: