The Ultimate Seating Comfort: A Guide to Buying Recliner Armchairs
Recliner armchairs are one of the most comfortable pieces of furniture you can add to your living room. With ample cushioning and a motorised or manual mechanism that allows you to lie back and relax with ease, there's no nicer place to chill out at the end of the day or on a lazy afternoon. Plus, recliner armchairs are perfectly sized so that you don't have to share. 
When you're choosing the ideal armchair for your living room, you have plenty of options to consider, so read on for our guide to buying the best recliner armchairs for ultimate comfort and style. 
What types of recliner armchairs are there? 
There are a few subcategories of recliner armchairs that you may be looking at for your home. A traditional armchair features a two-position design. The reclining mechanism both tilts the back of the chair and releases the footrest. 
There are also chairs with a push-back design in which only the chair back moves. With these chairs, you will want a separate ottoman or pouffe to serve as a footrest. 
If you have additional mobility needs, a riser recliner or lift and rise chair is another option to consider. These chairs not only feature the traditional chair back and footrest reclining design, but they also rise up to meet you as you go from standing to sitting, and they lift you back up when you're ready to stand again.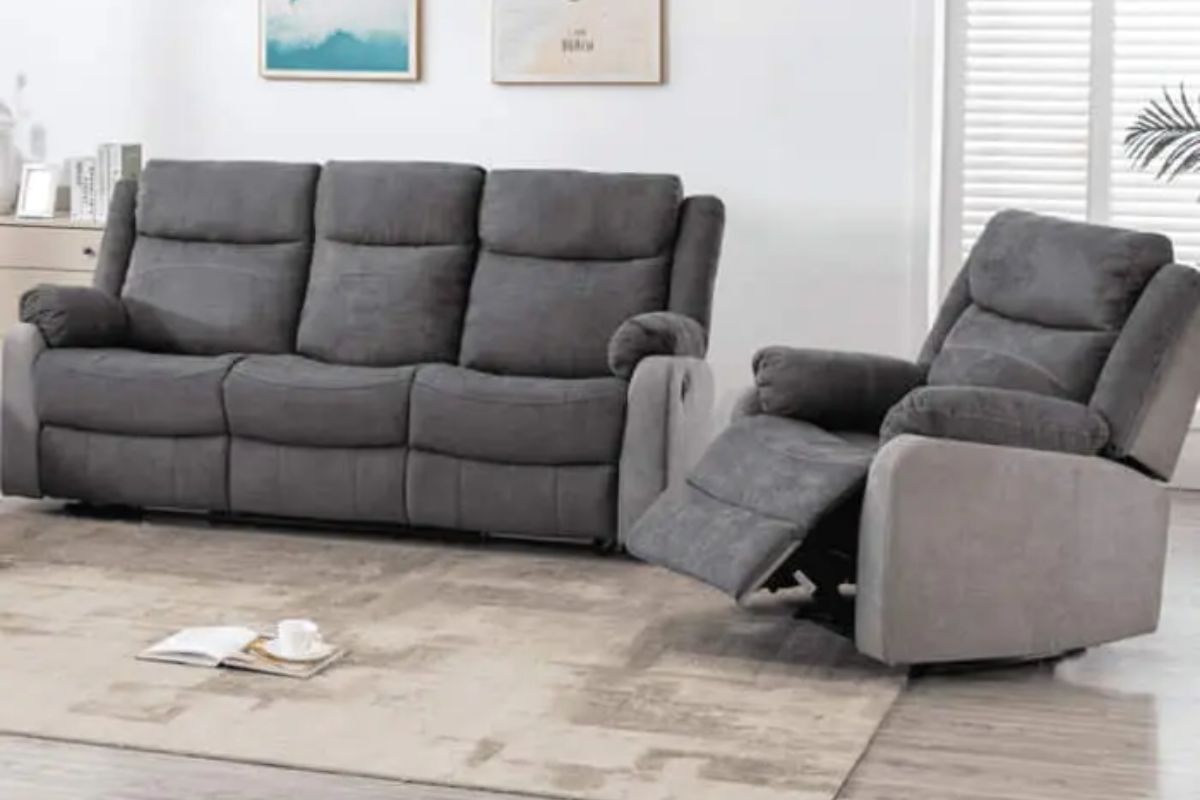 What are the mechanisms for recliner armchairs? 
Recliner armchairs can feature manual or powered recliner mechanisms. A manual recliner mechanism is generally a small lever that you pull in order to change the position of the chair back and footstool. With a powered recliner, the process is even easier; you can lie back and put your feet up with just the touch of a button. 
The decision between manual recliners and powered recliners comes down to a few factors. Some recliners are available as either manual or powered variations, but in other instances only one configuration is on offer, so the look of the recliner and the design you want may be the main consideration. 
Budget is also something to think about, as powered recliners generally require a larger investment than manual recliners. 
Where you want to place the recliner will also help to determine which type you should buy. While there are powered recliners that are operated with batteries, they generally need to be plugged in and therefore need to be positioned near an outlet, whereas manual recliners can be anywhere in the room.
That said, don't let the need for a power source put you off motorised recliners; the lead can be easily hidden or covered and you can enjoy the convenience without sacrificing style. 
What else should I think about when buying recliner armchairs? 
When you're buying any type of furniture, one of the first things you need to do is measure your space and make sure that your intended purchase will fit in the room where you want it. 
For recliner armchairs it is particularly important that you consider the right measurements. You will need to keep in mind the size of the chair in both its upright and reclined positions, as well as making certain to leave space around it for a clear walking path. 
Naturally, you'll want to choose a recliner that matches the style of your sitting room. For the most part, recliner armchairs tend to prioritise comfort. The majority of recliners feature certain comfort-focused hallmarks such as plush cushioning and rounded shapes. 
However, you still have a variety of options in terms of looks — leather versus fabric upholstery, colour choices, etc. 
Most recliner armchairs have a fixed base. That said, you can also find recliners that swivel, offering additional versatility and movement if that fits your seating needs. 
A final element you will want to consider when buying armchairs is what other seating you want for your living room. Many recliner armchairs are available as part of sofa and seating collections that also feature loveseats, larger sofas, L-shaped couches, and more. If you want a matching set, you certainly will want to shop from these ranges. 
Buying recliner armchairs from Corcoran's
For many of us, the best way to choose the perfect recliner armchair is to try them out in person. You can visit your nearest Corcoran's store in Kerry or Limerick and test out an array of comfortable and stylish recliner armchairs to find the one that's perfect for your home. 
However, buying furniture online is also a fantastic option and at Corcoran's you can be sure that you'll find comfortable recliners to suit all styles and budgets when you shop with us online as well. Because we source only high-quality pieces from top suppliers in Ireland and around the world, you can feel confident when shopping for recliner armchairs and more on the Corcoran's website. 
Looking for more seating inspiration? Read a few of our favourite blogs: