Small Living Room Ideas
When you're looking for small living room ideas to decorate your compact space, you may need to go beyond your typical interior design resources. From Pinterest to the most popular home decor blogs and Instagram accounts, so many pages offer advice for designing homes the size of mansions — huge and spacious open plan houses filled with large and numerous pieces of furniture that you might feel would make your small sitting room look cluttered and cramped.
However, there are plenty of lovely small living room ideas that will make your home feel snug and cosy rather than small and confined. Read on for some of our favourite tips on making the most of your small sitting room and letting your personal style shine through as you maximise your space.
Go bold with big rugs and bright colours
You may think that a compact space means you have to stick to neutral hues so as not to overwhelm the room, but one of our favourite small living room ideas is actually to go in the other direction. While in open-plan rooms you'll want to use a series of small rugs to break up the space, in a small room a large rug that doesn't divide the floor can actually make your room appear bigger.
And when it comes to colour, you don't have to feel confined to light, neutral hues, even though traditional advice is that bright whites and soft creams can make a small room appear larger. Instead, choose the opposite, and use dark, rich tones to give your room a 'jewel box' feel.
Raise the roof with a gallery wall
When you're working with a room that's short on space, you may feel like you need to carefully curate your art so the walls don't look too 'busy.' However, you can actually use your wall art to make low ceilings look higher and walls look larger. One of the best small living room ideas for accessorising is to create a gallery wall that extends from eye level all the way to the ceiling.
When you're arranging a gallery wall for a large room, you'll want to work horizontally, expanding out to the left and right of a centre statement art piece. However, in a smaller room, design vertically instead, and use similarly-sized wall art in a simple layout like a grid that will draw the eye upward and not overwhelm the wall.
Use footstools as a unique coffee table
When it comes to small living room ideas, opting for multifunctional furniture is a classic solution. From sofa beds that can be used day or night to console tables that can double as a home office desk when needed, dual-purpose furniture is ideal when you don't have the extra rooms for dedicated spaces like an office or a guest bedroom. But another small sitting room idea we love is to use footstools or ottomans to replace a traditional coffee table.
One of the benefits of using footstools as a coffee table is that you can repurpose them as needed. If you have nothing to set down but you want to kick your feet up, simply pull the footstool over and relax with ease. And when you need the surface space, top them with a tray or butcher block to create a sturdy table for teacups and tableware.
Choose blinds over curtains and embrace natural light
Curtains are perfect for a stately sitting room, but when space is at a premium you may find that opting for blinds instead is better when it comes to small living room ideas. Curtains can look bulky and can block too much light from a compact space, whereas roller blinds or venetian blinds will offer a more subtle accent for your room.
Maximising natural light is also key to enjoying a small sitting room. Sheer or semi-sheer shades may not be ideal for bedrooms because they will let in any light that's outside at night, but in your living room you don't need to worry about blacking out a space, so choosing lightweight, airy blinds will brighten any room and make it feel bigger.
Design with symmetry to create clean lines
Straight lines and symmetrical details can keep a small sitting room from looking cluttered, and there are a lot of great small living room ideas that can help you incorporate symmetry into your space. An obvious one is to look for straight-back sofas and chairs rather than those with curved tops or rounded edges. Similarly, setting matching chairs on either side of the room, rather than an asymmetrical seating look, can bring balance to the space.
When it comes to storage, keeping things neat and tidy also creates a symmetrical effect for a small room. Use a storage box or TV unit with closed cabinets to tidy away plugs and leads and make the area appear more open. You can also add matching accessories like figurines or bookends to create coordination on either side of a shelf or cabinet. And if there's a built-in architectural feature like a fireplace or window around which you can build the room, make it a central point and add symmetrical details on each side.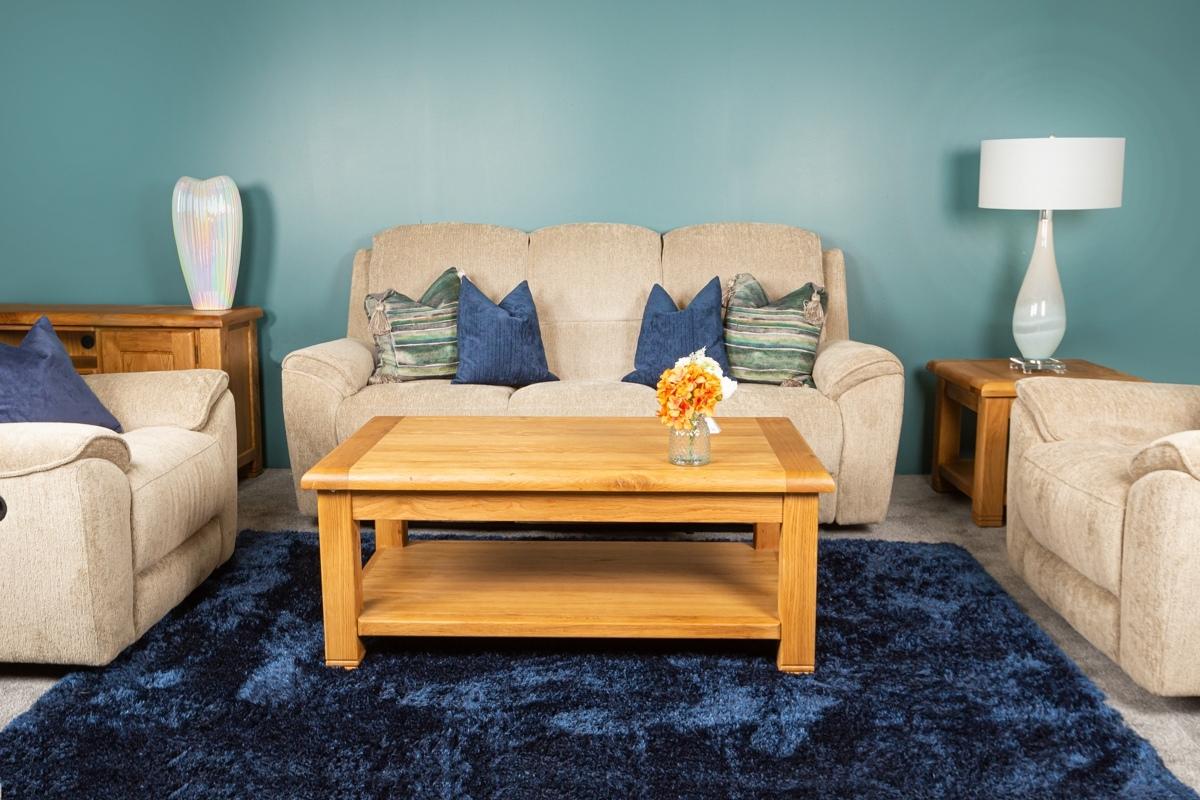 Find inspiration in furniture stores
The last of our small living room ideas is to take an out of the box look at your local Corcoran's store to inspire your space. Now, it's obvious that the room setups in furniture shops are meant to help you visualise a piece of furniture in your home, but go beyond this and think about the scale of these curated rooms. Even with the significant floor space our showrooms offer, our interior designers create compact room setups that are designed to maximise the number of pieces of furniture we can display.
What this also means is that they are an ideal source of inspiration for small sitting rooms, as they show off ways to maximise your space with furniture pieces of every size and style. If you can't visit a Corcoran's store in person, you can also take a virtual tour on our homepage that will offer fabulous small living room ideas for your own home.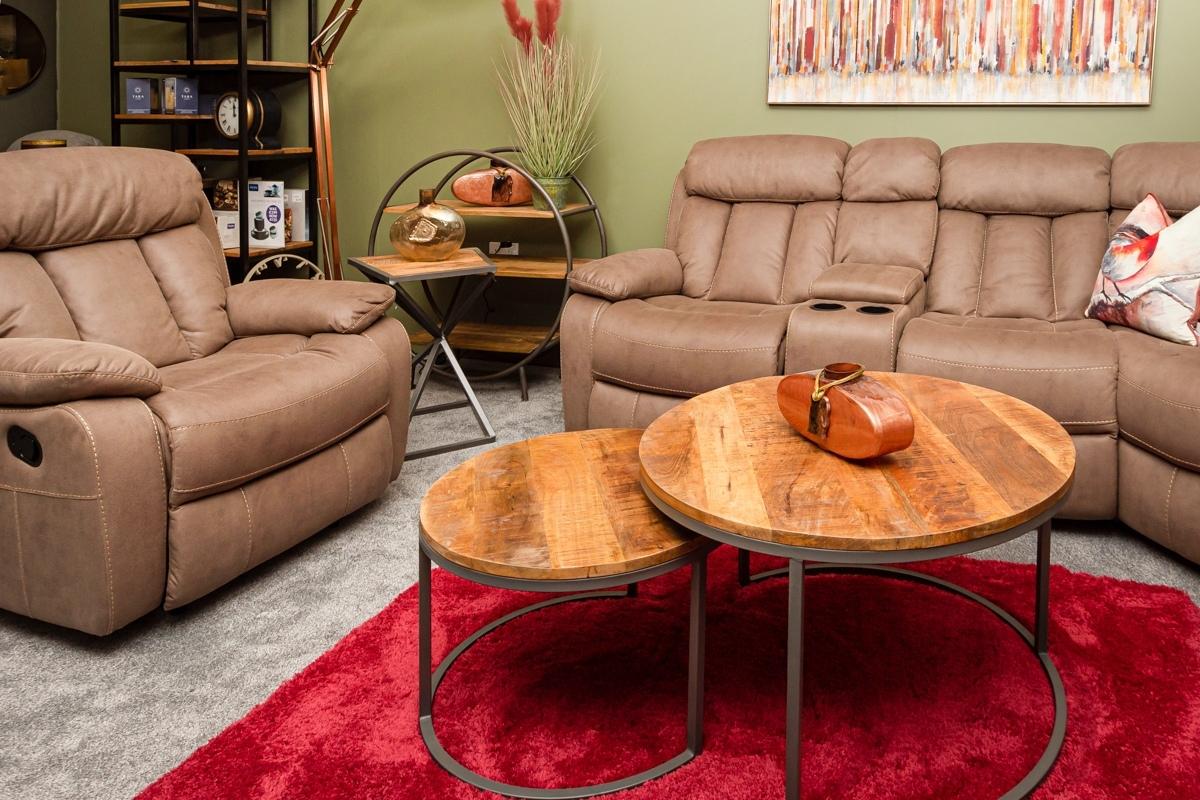 Shop small living room ideas and more at Corcoran's
No matter what size of sitting room you have to work with, you don't have to sacrifice style when it comes to furnishing your space and curating its decor. From compact cabinets to footstools perfect to double as coffee tables to small corner sofas designed to fit effortlessly into any floorplan, you'll find a perfect array of small living room furniture at Corcoran's.
Shop in store or online, or talk to our team about the best furniture and accessories to enhance your home. Plus, don't forget to follow us on Instagram for more small space inspiration and home decorating tips.
Once you've set up your small living room, read our 10 Tips for Small Bedrooms blog and add extra cosy style to your home.