Vintage inspired home decor — classic trends for contemporary homes
Last week we talked about avoiding dated interior design trends to keep your house looking fresh and of-the-moment. But trends being from the past don't automatically mean that they're out of touch. There's plenty of vintage inspired home decor that you can easily incorporate into a contemporary home. 
Here are a few of our favourite vintage details that can complement a modern space, and how best to use them in your home: 
Add an artistic element to any space with mosaic-style tile flooring 
There are some obvious hallmarks that give a retro room its signature style. In a kitchen, bathroom, or entryway, one of these elements is patterned tile. Patterned tiles of all types are common in vintage inspired home decor, and whether you add them to your walls or floors, you can use the bold designs of patterned tiles to add retro appeal to any room. 
To ensure a modern look for this retro trend, opt for large-format tiles or contemporary colour palettes. In our tile range, we have plenty of patterned options that will bring contemporary appeal to a vintage inspired trend. Check out our Bathroom, Tile & Stove Centre to find the perfect tiles for any room.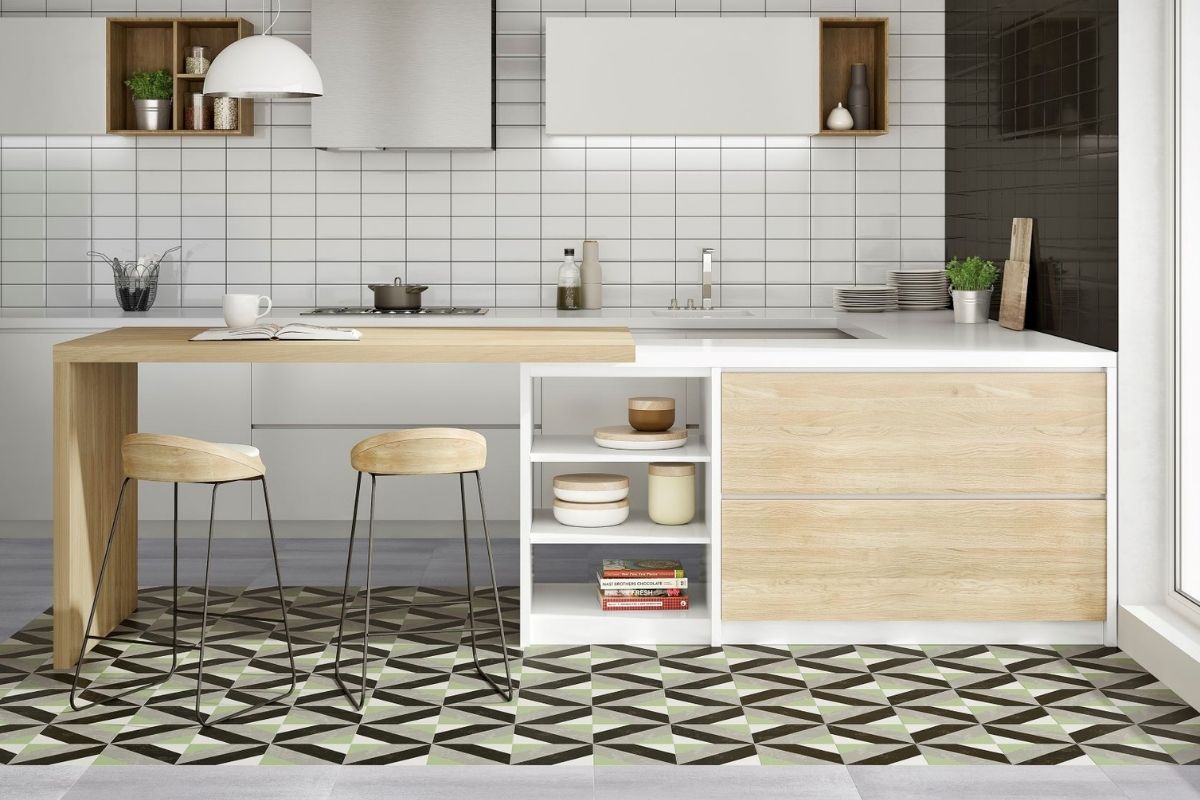 Turn your home into a desert dream with an earth-tone colour palette
Earth tones are the 70s-inspired trend that can elevate your space into a retro oasis of comfort and style. Choose a colour palette of warm neutrals like terra cotta and dusky pink, or go for bolder options like brick red and golden yellow, and give your room the feel of a desert hideaway. 
How do you elevate this earthy colour palette from 70s has-been to contemporary cool? Pair richer tones with softer neutrals to create a pleasant contrast that modernises a classic look. Consider linen bedding or window treatments; linen textiles in colours like cream and ivory offer a perfect complement to red clay hues or sunny marigold shades.
Choose curvilinear shapes for an appealing vintage silhouette 
Curved furniture is one of our favourite interiors trends for 2022, but this futuristic furniture style is actually a throwback trend. Unlike the ultra-modern straight lines and sharp edges that have been on-trend of late, curved furniture draws inspiration from the softer shapes of 60s and 70s furniture. And this type of furniture is coming back into style, seen everywhere from sofas and chairs to tables and TV units. 
As with all vintage inspired home decor trends, the best way to incorporate curvilinear furniture is to do it sparingly. Choose a few items of curved furniture or rounded accessories and pair them with pieces that have sharper edges to create appealing contrast. 
Use traditional elements in unexpected ways for a modern look
If you love vintage inspired home decor but you're also keen on an ultra-modern interior design upgrade, there are plenty of ways to combine traditional details and contemporary styling that will create a timeless yet trendy look. One of our favourite methods for doing this is to use ultra-traditional elements, but in upgraded, modern, unexpected ways. 
For example, if you want to incorporate very traditional, Victorian-inspired wallpaper in your bedroom, add it somewhere other than your walls. A wallpapered ceiling creates a bold, artistic look that brings modern detail to classic decor. Or, pair a classic wallpaper pattern with vibrantly painted moulding in a colour like black that will add contemporary high contrast to the look. 
Match a barely-there table with striking seating to balance your space
Ornate seating, like stately dining chairs or sumptuous grandfather chairs, are a hallmark of traditional styling. At the same time, other eras of furniture trend toward elements like hairpin legs and clear glass or acrylic tabletops that offer a light, minimalist look. For modern homes, you can pair these two options together and create a bold yet balanced look.
 A large, comfortable sofa that's ready for relaxation can be a key piece for your living room, and when you match it to a minimalist coffee table you get a setup that is well-proportioned, particularly in smaller spaces. Likewise, add a few intricately-detailed dining chairs to a simple table and bring a statement-making element to a minimalist dining room. 
Vintage inspired home decor and more at Corcoran's
Whether your home decor tastes are naturally traditional or you prefer contemporary styling with a retro twist, you can find vintage inspired home decor, accessories, and interior design essentials at Corcoran's that will bring throwback style to your home while still offering modern appeal.
Shop flooring, furniture, and more, and create a chic and comfortable space with trends that never go out of style. Visit us in store, or shop online now to find fabulous furnishings across all categories. And if you have any questions about vintage style or modern decor, get in touch! Our expert sales team is here to answer all your questions.