Why Are Round Mirrors a Popular Choice in Interior Design?
Round mirrors are a major player when it comes to interior design. They are both versatile and functional, and they make a genuine impact on the overall look and feel of a room. Their simplicity of design and eye-catching elegance make them an ideal choice if you are looking to create a modern space or if you are aiming to highlight a particular area in the home.
There has been a surge in the popularity of round mirrors in recent years, and this growing trend has been embraced by homeowners and interior decorators alike. They work well in any space as they reflect light, therefore creating the illusion of a larger space, and they are stunning to look at, with many vintage and contemporary designs available to suit a variety of homes.
Round mirrors are making a notable comeback as a design trend across many public amenities, such as hotels, restaurants, and offices, where they are often displayed as a 'retro-cool' and slick accessory option. The versatile round mirror has also been adapted as a classy design feature in furniture and can be found as tables, hostess trolleys, and serving trays, so you can't go wrong when adding one to your home.
In this blog post, we will explore the reasons why round mirrors are so popular with interior designers and offer tips on how you can effectively incorporate them into your home.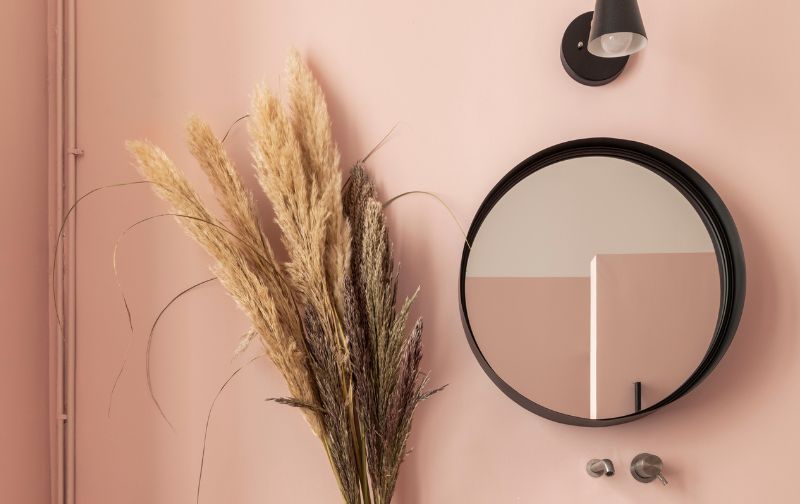 Why choose a round mirror?
Round mirrors offer balance and symmetry
One of the reasons interior designers love round mirrors is that they create a sense of balance and symmetry within a space. In contrast to square or rectangular mirrors, the circular shape presents a softer, more organic feature, which works well against the angular shapes and straight lines present in the furniture fittings in most rooms.
The use of round mirrors will also help to break up the monotony of a space and add harmony and balance to the overall design flow of your home. They will make the room more visually interesting, and they help to create a more engaging and dynamic aesthetic.
Round mirrors present a classic, timeless appeal
There is no doubt that round mirrors possess a timeless quality, as they have outlived many fleeting design trends. Their classic appeal is mainly due to their circular design. In mythology, a circle is a universal symbol that depicts integrity, infinity, and eternity. And the timeless appeal of the circular shape has meant that round mirrors have always been a popular choice. Their appeal is also heightened by the fact that they complement a variety of design styles, from traditional to contemporary, and from quirky to sleek.
Round mirrors create an illusion of space
A well-placed round mirror will make the room appear larger and brighter as the curved edges of the mirror will reflect light around the room, therefore revitalising the energy of the space. A cleverly placed round mirror will add an element of charm and elegance to your home, creating a sense of a vibrant and inviting atmosphere.
Round mirrors will work extremely well if you are tight on space, such as box rooms, narrow corridors, alcoves, bathrooms, and entryways. They will also add an instant pop of light and energy when placed in a dark corner. Additionally, if you have no natural sunlight in the room, place your round mirror next to a lamp or a hanging chandelier, and it will play off that light beautifully, therefore transforming the ambience of the room.
A well-chosen round mirror will also serve to highlight the favourite feature items in your space, such as artwork, pictures, sculptures, or a beautiful bunch of flowers. Therefore, make sure to stage your mirror well, and you will truly reap the benefits of this popular design piece.
Use round mirrors as a focal point in your room
Round mirrors are eye-catching and draw your attention, and they serve as a stunning focal point in any space throughout your house. There are so many beautiful round mirror designs to choose from that you will have no problem finding the perfect one to suit your taste.
A round mirror can be used as a bold design statement or to simply add an elegant touch to a minimalist space. Depending on the style of your home, you can select one that matches your design scheme perfectly. Both contemporary and classic round mirror designs will serve as fabulous features in any bedroom, hallway, living room, or dining room.
Endless styling options
Round mirrors are available in a wide array of materials, styles, and sizes. From simple, frameless designs to ornate, antique-inspired frames, you will find the ideal round mirror to suit your individual taste and budget.
You can also experiment with how you wish to style your round mirror; for example, you can group several smaller round mirrors together to create a slick, contemporary feel, or you can stage a large round mirror to enlarge your space with a dramatic effect. Either way, you will have lots of fun tapping into your creativity and individuality, so let your personality shine.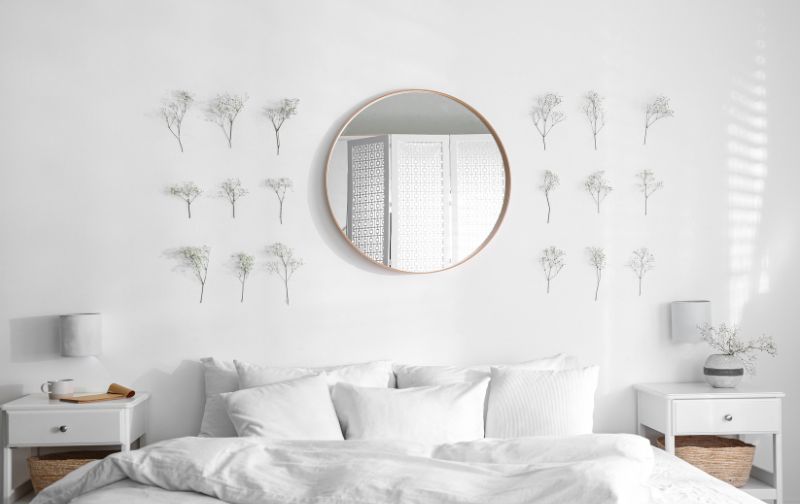 Tips for incorporating round mirrors into your design
When selecting the perfect round mirror for your space, it is important to consider a few key elements:
Size: Consider the size of the mirror in relation to your room. A smaller mirror can be used to add a subtle feature, or to showcase and complement other design elements. A larger mirror will serve as the focal point of the room and make a dramatic statement.
Mix and Match: Feel free to think outside of the box when it comes to mixing and matching different designs within your home. Remember, a round mirror is compatible with lots of different types of décor styles. Combining various styles and décor will create an engaging and eclectic space.
Placement of round mirrors: Don't be afraid to experiment with the placement of your round mirrors. Placing them at an unexpected angle or an unconventional location will add depth to your overall design features.
Frame: Select a frame that speaks to you, as the frame of your round mirror can have a real impact on the atmosphere it generates.
By selecting a round mirror, you are investing in a long-lasting piece that will serve you well for many years to come. It will never go out of style, and it will make a significant impact in any room in your home. For these reasons, make sure to choose one that you love. After all, you will be reflecting in it for the foreseeable future.
We stock a large selection of round mirrors of all sizes for every room in the home in each of our stores. Call into your nearest store in Killarney, Tralee, or Cahersiveen or if you're based in Limerick, you'll find us in Newcastle West.