5 Expert Tips on Choosing the Perfect Dresser for Your Space
If you are looking for an ideal storage solution that's both functional and fabulous, with a splash of 'fashionista' thrown in for good measure, then you need to look no further than a chic and hardworking bedroom dresser.
Whether you are aiming to ditch or disguise the clutter or simply have a designated spot to put your personal belongings, a dresser, or chest of drawers, as it's commonly known, provides a stylish, effective solution.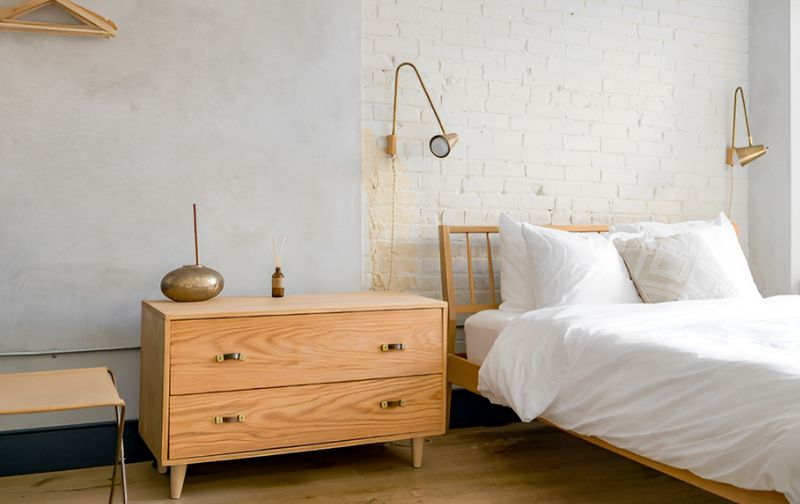 Depending on your taste and style, this piece of furniture can fit seamlessly into the overall décor of your space. Or alternatively, you might choose a standout artistic feature in your room.
Regardless, we can say without hesitation that a chest is a worthwhile investment for any home and one that will serve you well time and time again for many years to come.
With so many dressers to choose from, you would be forgiven for feeling a little overwhelmed. Never fear; we are here to provide you with five expert tips on how to choose the perfect chest of drawers for your space.
Want to dive deeper? Delve into our Ultimate Chest of Drawers Buying Guide. From materials to sizes, it's brimming with all the insights you need on dressers.
1. Determine your storage needs
Understanding your storage requirements is the first step in choosing the right dresser for your bedroom. Every home is unique, with its own set of needs for organising and keeping things.
Whether you have a growing collection of clothes, a plethora of accessories, or just require a dedicated area for linens and everyday items, determining what you need to keep and how much room it requires can make a world of difference.
By taking the time to examine these needs, you will guarantee that the bedroom dresser you pick not only fits effortlessly into your house but also accomplishes its purpose efficiently and effectively.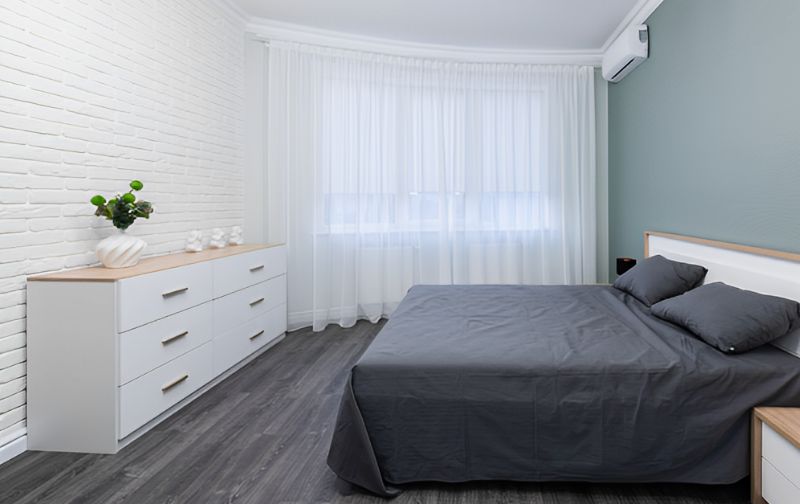 2. Consider placement and determine size
Dresser placement
Think about where your chest of drawers will be placed in your bedroom so you can gain a better understanding of what size will work best for you.
While there's no "one-size-fits-all" when it comes to placement, ideally, you should place it so that it does not obscure paths or natural light sources. Many find that positioning it opposite the bed, under a window, or along the longest free wall works best.
Remember that the goal is to have simple access to your items while keeping the room feeling open and welcoming. It's worth putting some time into figuring out the sweet spot that makes your room both functional and lovely!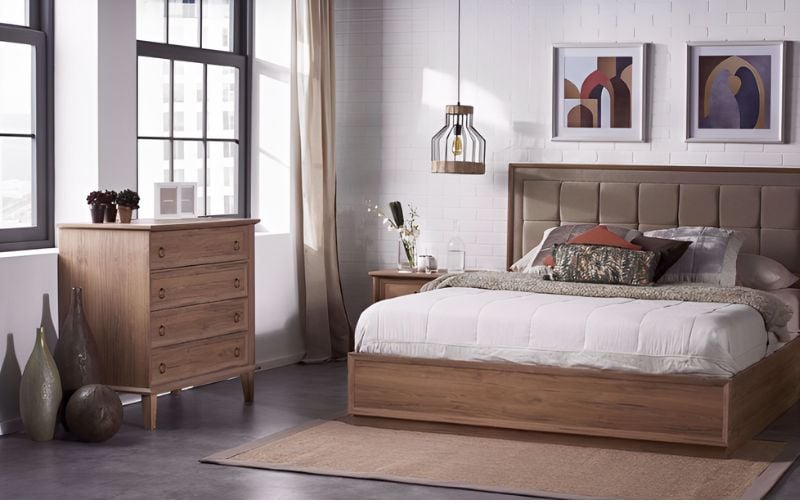 Chest of drawer sizes
Thankfully, bedroom dressers exist in a variety of shapes and sizes to meet our needs, just like we have different clothing for different occasions.
Do you want a traditional 5-drawer chest? It's the tried-and-true option that fits snugly in most places. If you're looking for a little personality, the 3 over 4 chests provide a curious mix of spacious and tiny drawers.
Wide and low chests, on the other hand, are like a pleasant buffet spread–there's room for everything! And don't forget about our tall, skinny friends, the tallboy chests, which are ideal for individuals who enjoy reaching for the stars (or who just have limited floor space!).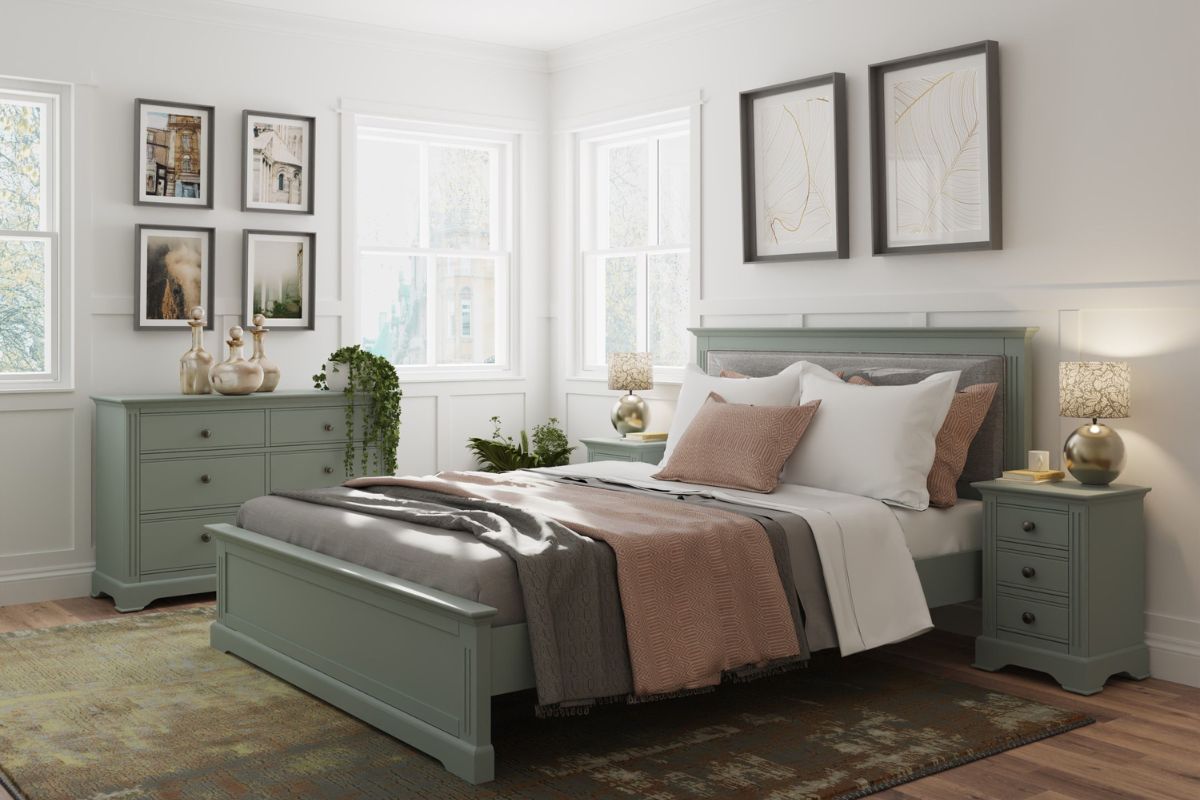 Measure up
Also, make sure to measure the area, including the length, width, and height of the room. After all, you don't want your chest of drawers to arrive only to find out that they are too large or too small for your space.
Bear in mind that you'll need your new chest to be able to fit between doors and hallways as you position it in the perfect spot in your bedroom.
And don't forget that the drawers need to have ample pull-out space when they are open. Allow for enough room to open the drawers without causing obstruction; this will ensure that the flow of the room is intact.
You should be able to move freely throughout the space, whether the drawers are open or closed, and the size of your room will determine what size dresser will work best for the room.
3. Define your dresser style
When it comes to the layout of your space, style and functionality are everything. Your individual style will heavily influence your choice of bedroom dresser. No matter what type you choose, it should work in harmony with the other furniture in the room.
This is true whether you are going for a set of drawers that matches your décor or a standout statement piece. Remember, no matter what you decide on, the overall theme of the space should remain the same.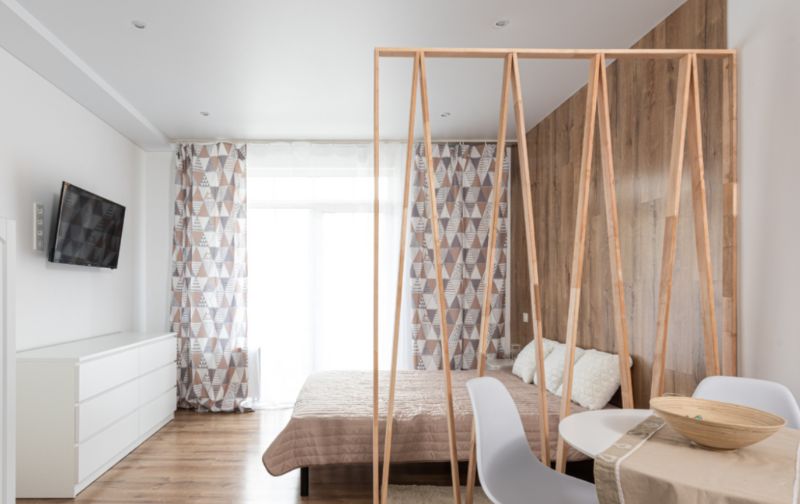 Popular chest of drawer styles
Traditional: Traditional bedroom dressers can be found in an array of homes as they fit in with a range of décor styles. Usually made of wood, their features can include anything from carvings to curved legs to more subtle designs exuding a classic, homely warmth. They add a timeless appeal to any bedroom environment, whether ornate or simple.
Contemporary: Contemporary-style chests feature designs with clean lines, and some are made with metal hardware for a chic look and feel. They are found in modern homes with a light, airy feel.
Minimalist: Minimalist-styled dressers are all about clearing the clutter! Their paired-back silhouettes make them a popular choice for bedrooms focusing on simplicity and neutral colour palettes. They often feature materials such as glass and metal.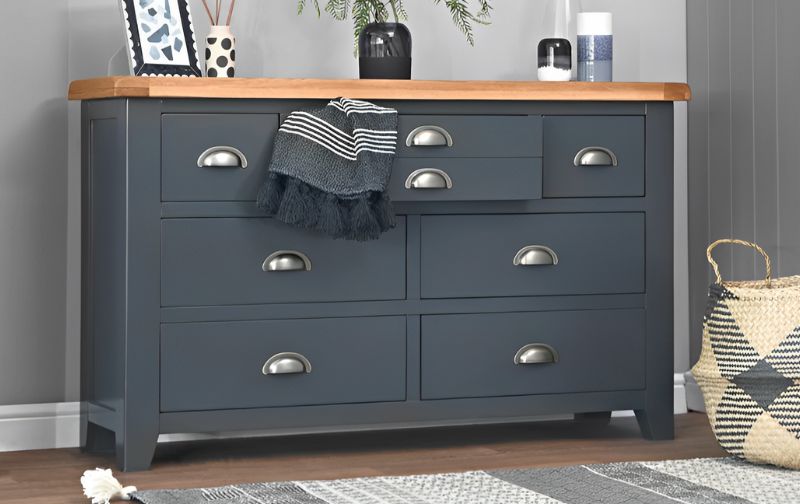 Mid-century modern and industrial chests of drawers are also popular choices, Whether you opt for a chest with clean, minimalist lines or a more traditional and ornate set of drawers, ensure that your choice resonates with your décor style.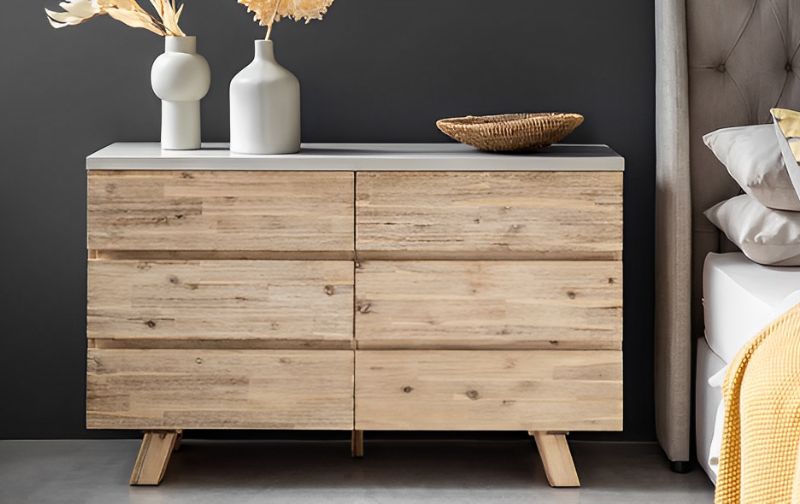 4. Quality is your friend
There is no doubt about it: quality trumps quantity every time. By investing in the highest-quality dresser your budget allows, you are investing in longevity.
The materials a chest of drawers is made from, along with the craftsmanship, will determine the quality of the product. A high-quality dresser will save you money in the long run, so splash out if your budget allows.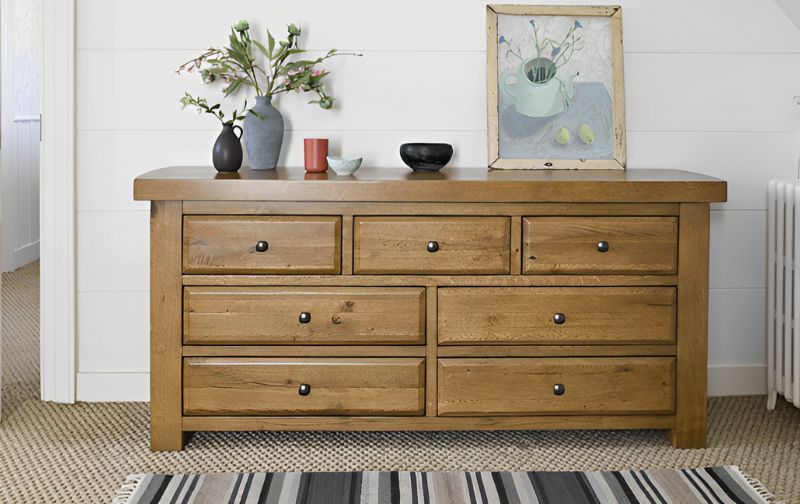 Be sure to pick a set of drawers that don't sway or creak and that allow you to open and close the drawers freely. Some bedroom dressers come with gliding mechanisms that prevent them from being pulled out all the way; this will ensure that they won't break as easily.
Quality materials
Some of the most popular materials used in the crafting of bedroom dressers include:
Wood: Wooden chests are hugely popular. There are lots of options available, including oak, cherry, maple, mahogany, walnut, and pine, amongst others, and there are a plethora of finishes to choose from, such as painted, varnished, and distressed options. Wooden chests are sturdy and durable, and they will last for several years.
Engineered wood: Engineered wood provides a budget-friendly choice for those looking for a durable and long-lasting wood with a great price tag. They usually include materials like plywood, particle board, and medium-density fibreboard (MDF).
Metal: Metal chests look slick and modern and are made from metals such as steel or aluminium. They are a great option if you like to alternate your furniture layout occasionally, as they are lightweight and versatile. They are perfectly at home in a modern or contemporary boudoir.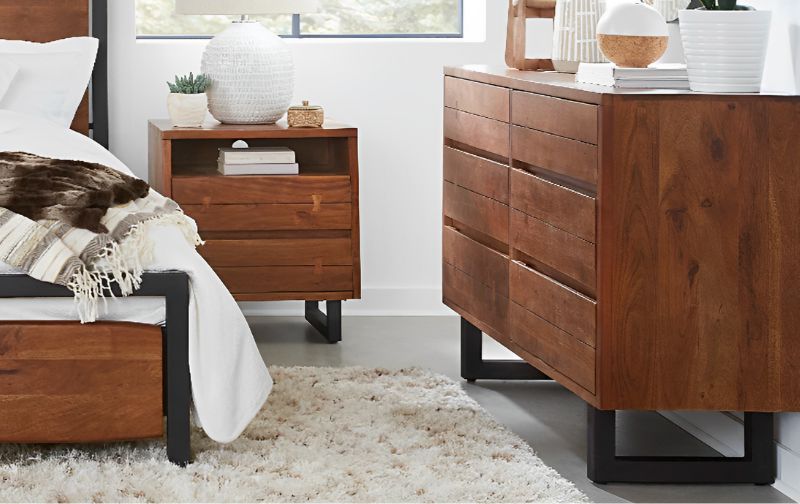 5. Plan your budget for chest of drawers shopping
Your budget is of prime importance, as it will determine how much you are able to spend on your ideal bedroom dresser.
With so many options on the market, you will have plenty of choice when choosing the perfect chest within your budget.
Keep in mind that finding the correct balance between quality and cost is vital. Don't fall into the trap of sacrificing functionality and durability for a lower price. The chances are that you will have to replace cheaper options more often, so aim as high as you can within your budget limit.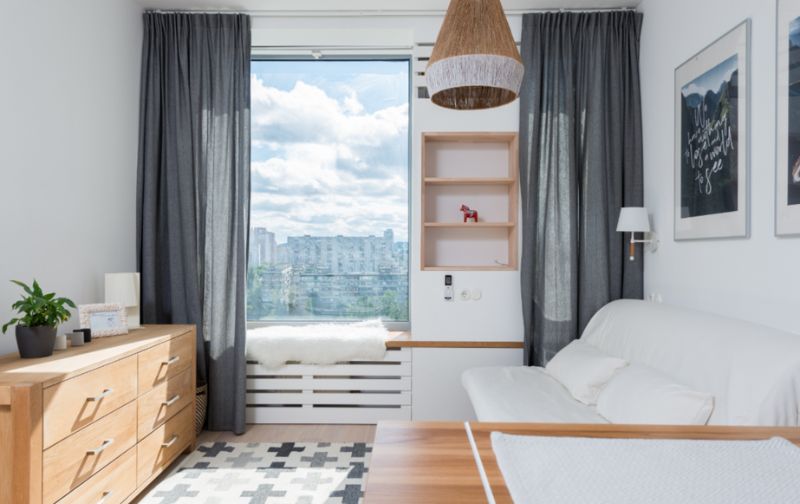 A great way to get the best value for your bedroom dresser is to look out for seasonal sales and promotions. Also factor in any additional costs when planning your budget, such as delivery and assembly fees.
To sum up: when buying the perfect chest of drawers for your home, assess your storage needs, space, style, budget, and the quality of this invaluable piece of furniture.
By considering these five key factors, you can rest assured that you will choose the ultimate chest of drawers for your home and lifestyle. One that will meet all your needs.