Unlock Your Storage Potential: The Ultimate Guide to Chest of Drawers Selection
A trusty chest of drawers is one of the most versatile and functional pieces of furniture you can purchase for your home.
From clothes to jewellery it can accommodate so many of your treasured belongings with such efforless grace. It will also complement the overall aesthetic of your bedroom, tying together its design elements with a touch of elegance.
This guide delves deep into the benefits of investing in a chest of drawers. We explore the advantages of investing in one, and also take a look at the different sizes and styles, helping you choose the ideal dresser for your space.
Benefits of having a chest of drawers
Considered a staple piece of furniture, a chest of drawers is a must-have for any boudoir. Regardless of what aesthetic you prefer, the right set of drawers will add a touch of elegance to any space that they adorn.
It is a timeless furniture option, and if chosen correctly, it will serve you well for many years to come.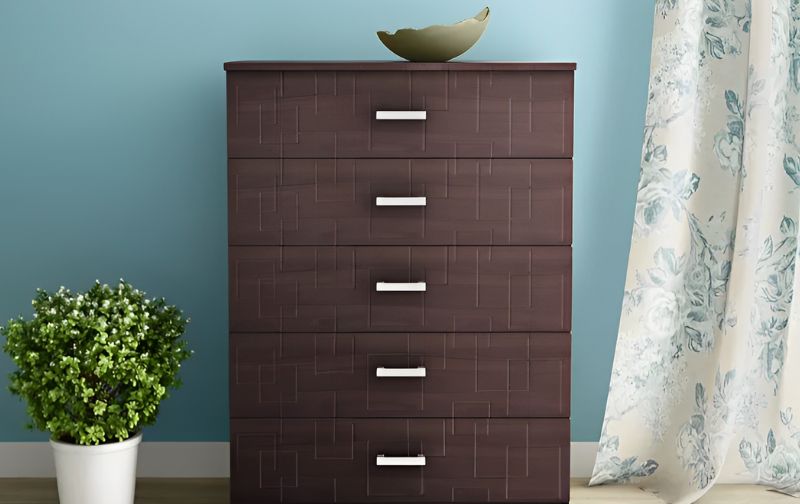 There are many benefits to owning a chest of drawers. Let's take a look at a few of the more popular ones:
1. Efficient storage
If you are looking for a way to declutter your space and to organise your belongings, then a chest of drawers provides the ideal solution.
There are a variety of different chests on the market that offer drawers of different sizes, allowing you to keep items neatly organised for easy access. Clothes, accessories, bed linens, towels, and other belongings can be stowed away, keeping clutter at bay.
2. Versatility
There are few furniture pieces in the home that are as versatile as a chest of drawers. It adds a touch of class to any room and can be found in the bedroom, kitchen, dining room, playroom, hallways, and offices, to name a few.
3. Enhanced aesthetics
Depending on your décor style, a chest of drawers can blend in or make a statement. There are countless styles, colours, shapes, and finishes available, and you may choose one that fits the entire theme of your home, or one that acts as a standout feature in a particular room.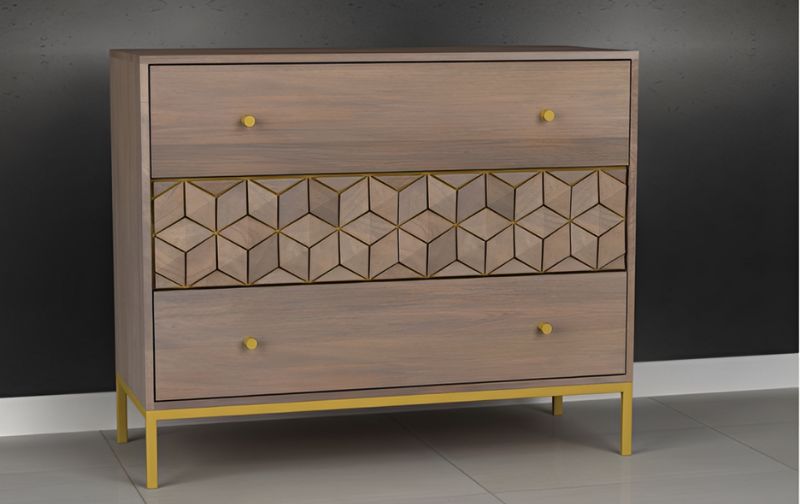 When you choose the right one, it will elevate the décor of your space. And it will allow you to showcase your personal style.
4. Saving space
A tidy environment does wonders for the soul as well as for the aura of the home! A chest of drawers will make a huge difference if you are trying to find a place to store random items, or if you are aiming to keep your space organised, clean, and tidy.
Where to place your chest of drawers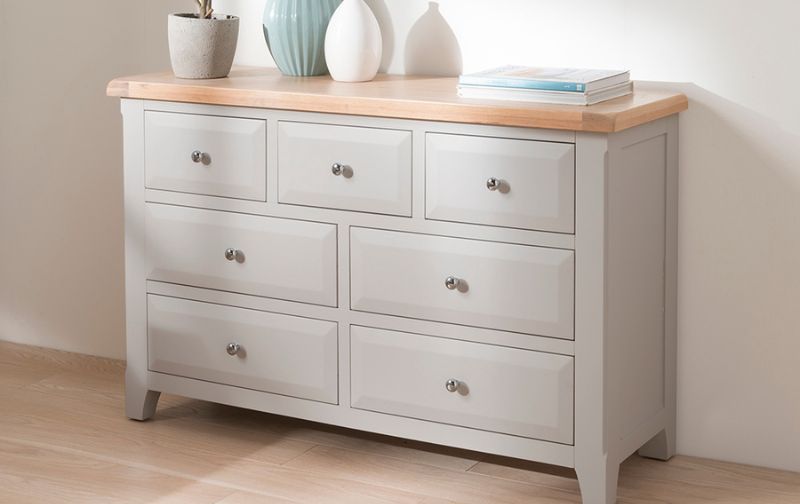 The placement of your chest of drawers in your bedroom can have a considerable impact on the room's practicality and visual appeal. This piece of furniture should ideally be placed in a location that complements the flow of the space, ensuring ease of access while also emphasising the design features of the bedroom.
A classic location is beside a window; natural light can accentuate the design of the chest, and if you have decorative things or plants on top, they can benefit from the sunlight. However, if the chest has a delicate finish that may fade, avoid direct sunlight.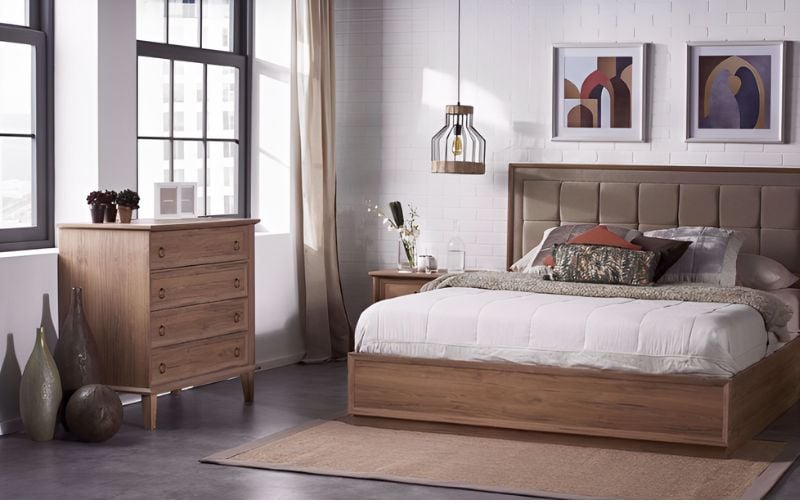 Another good location is opposite or next to the bed. This generates an aesthetic balance in the room and establishes the chest as a focal point, particularly if it is embellished with mirrors, artwork, or other artistic embellishments.
Consider placing the chest of drawers near a wardrobe in homes with limited space. This not only saves floor space but also centralises your clothing and accessories, making dressing easier.
Remember that the ultimate goal is to combine functionality and style, ensuring that the chest enhances the bedroom's environment while efficiently serving its storage purpose.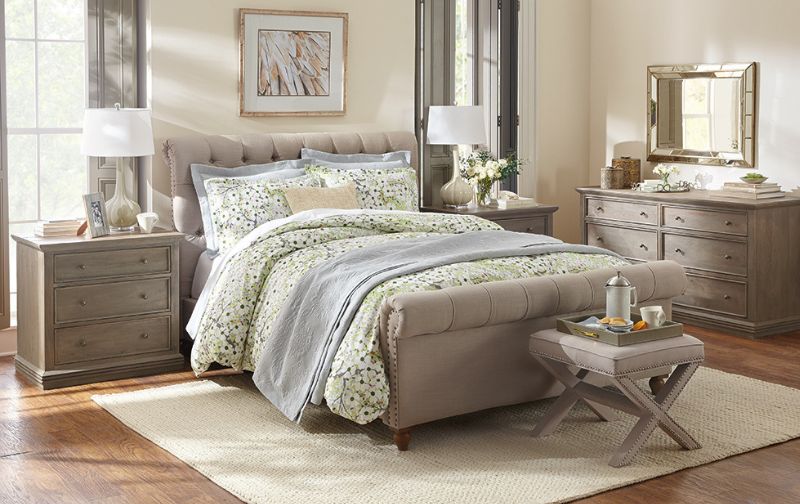 Discovering styles: the many faces of chest of drawers
From classic to modern, contemporary to rustic, a myriad of chests of drawers await to cater to every aesthetic preference.
Embracing classics: the timeless warmth of traditional design
If your heart finds solace in the familiar comfort of traditional designs, then you might be inclined to choose a chest that exudes warmth. Think of rich wooden finishes or antique-inspired designs replete with intricate detailing, ornate handles, and perhaps a touch of handcrafted artistry.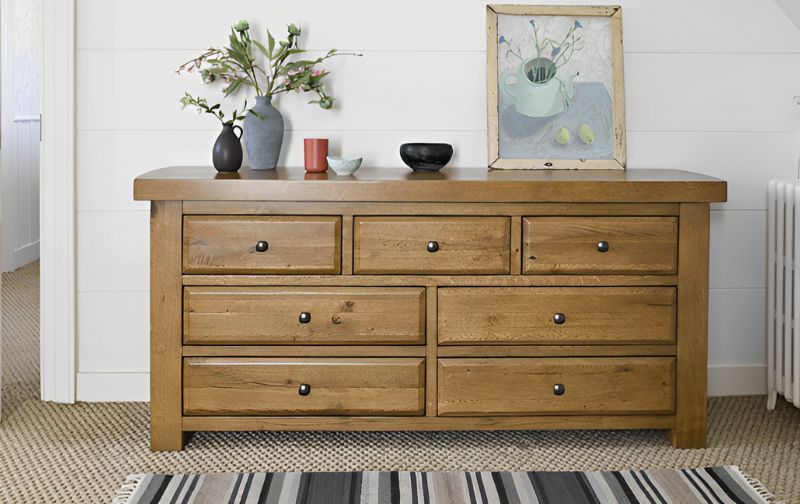 Modern allure: sleek, glossy, and elegantly minimalistic
Alternatively, for those whose tastes resonate with the essence of modern minimalism, there's a world of choices beckoning. Imagine chests of drawers that boast a high-gloss sheen, are characterised by sleek lines, understated elegance, and a philosophy of "less is more."
These pieces radiate a contemporary charm, effortlessly blending into modern spaces.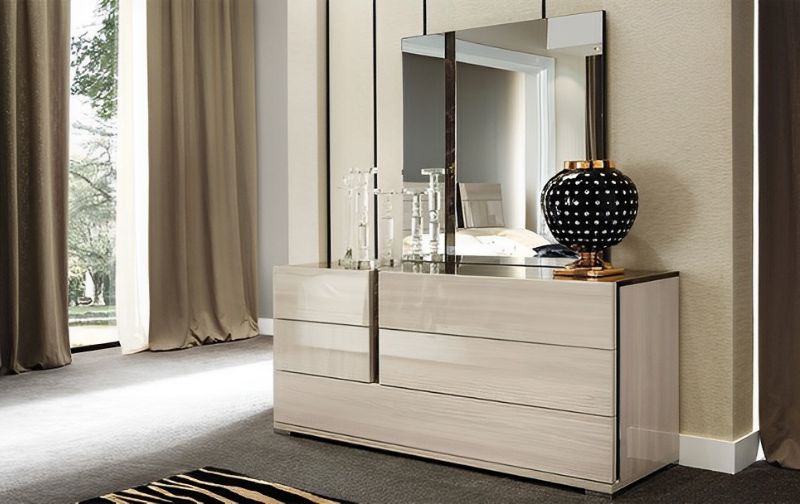 Bohemian bliss: Where exotic tales meet artistic craftsmanship
For those enchanted by the whispers of faraway lands, bohemian-style chests of drawers are a perfect fit. Boho-inspired chests often feature a mingling of cultures, patterns, and colours.
They may be made of a patchwork of exotic woods, or they could be embellished with handcrafted, hand-painted designs echoing tales from distant places.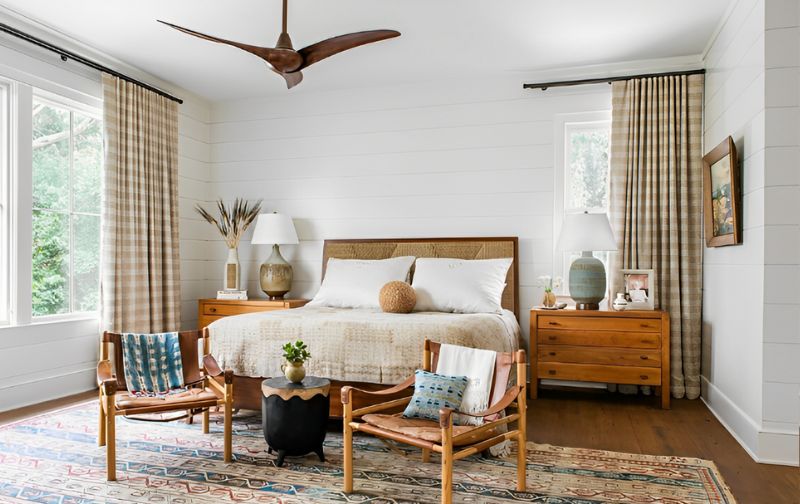 Chromatic charm: from subtle hues to statement shades in room design
But as we navigate the world of interior design, let's not forget the transformative power of colour. A modest or dramatic change in shade can completely transform the mood of your retreat. The addition of a painted chest of drawers not only serves a functional purpose but also raises the room's aesthetic value.
A fresh, white chest, for example, might act as a canvas, magnifying natural light and imparting a tranquil, airy vibe. If you're feeling brave, why not venture into the spectrum's bright end? A vibrant, eye-catching colour may transform your chest of drawers into a stunning statement piece, reflecting your daring personality and setting the tone for the entire space. Our blog post on the best bedroom colours can provide some further guidance here.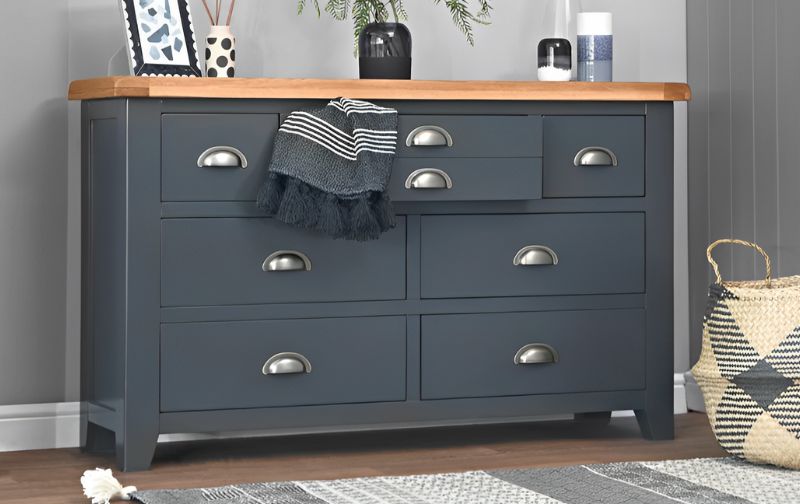 Material matters: Picking the perfect blend for durability and design
The material you choose for your chest of drawers reflects your unique style and functional needs. Wood, for example, has always been a popular choice, evoking warmth, tradition, and versatility. From the rustic appeal of pine or oak to the rich sophistication of mahogany or walnut, you'll have plenty of choice.
Metal mastery: the robust elegance of steel and style
A metal chest of drawers, on the other hand, combines durability with contemporary elegance. Its sleek appearance and powerful personality make it an attractive alternative to more traditional options. And not just a storage solution; it's a distinctive addition that adds an industrial-chic edge to any boudoir.
Reflective radiance: amplifying space with mirrored magic
A mirrored chest of drawers can transform a small, or dimly lit room. It magnifies the light, making the room appear larger and brighter. Reflective surfaces bounce light around the room, giving the impression of space and grandeur.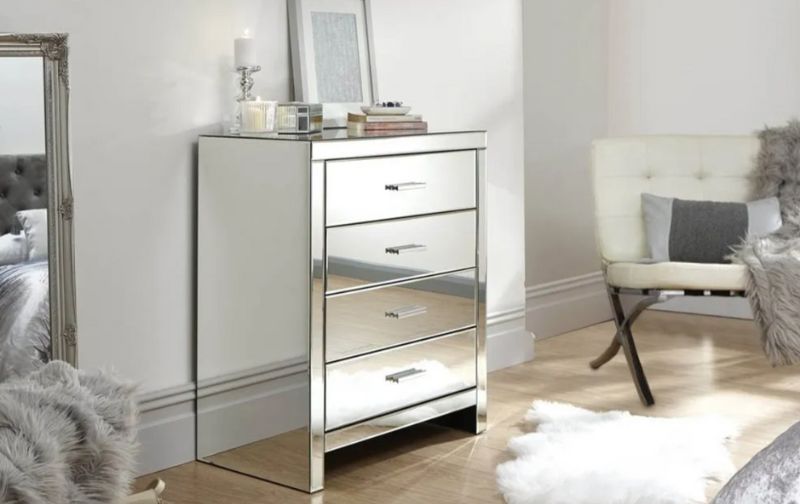 Ornate allure: when artistry meets storage
And for individuals who appreciate artistic craftsmanship and detail, an elegant decoratives chest becomes more than just furniture. It evolves into a conversation starter, a compelling centrepiece that adds an array of interest, ideal for making a place a focal point.
Chest of drawer sizes and types to fit your needs
The size of the chest of drawers you choose will largely depend on the space available to you as well as your storage needs.
Tall and narrow chests, often referred to as 'tallboys', will work well in smaller rooms with limited storage space, and larger rooms will provide the ideal space for seven or eight-drawer chests.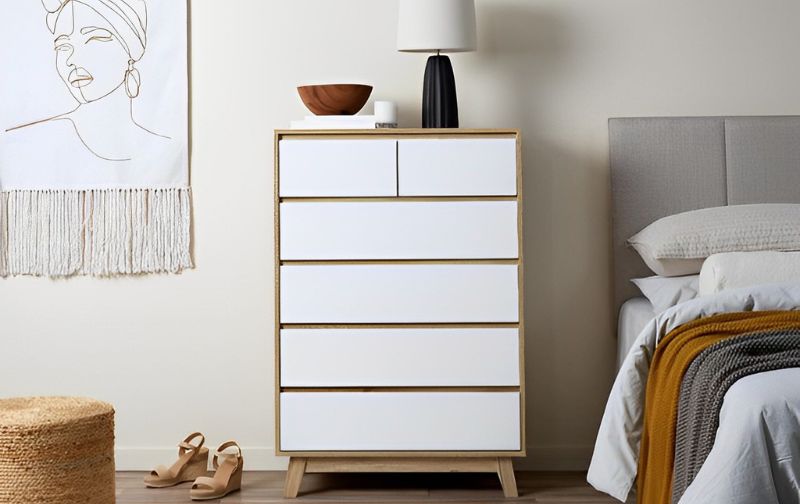 Depending on the dimensions of your room and the amount of floor space available to you, you can choose from the following in your quest for finding the perfect chest of drawers to suit your space.
3-drawer chest: Perfect for smaller rooms with minimal space. Or for those who do not require as much storage.
4-drawer chest: Provides an ideal solution to saving space while providing storage.
5-drawer chest: A tall 5-drawer chest is an excellent way to store items while not taking up too much floor space. It also provides a good perch for a lampshade.
6-drawer chest: If you have a larger bedroom or if you own a lot of clothes, then this may be the ideal option for you.
Wide and low chest: A wide and low chest of drawers is ideal if you have a larger room and if you like a modern design. They provide additional storage, and the top surface can be used as a vanity station or for holding items such as photos, books, candles, ornaments, grooming items, or your favourite lighting feature.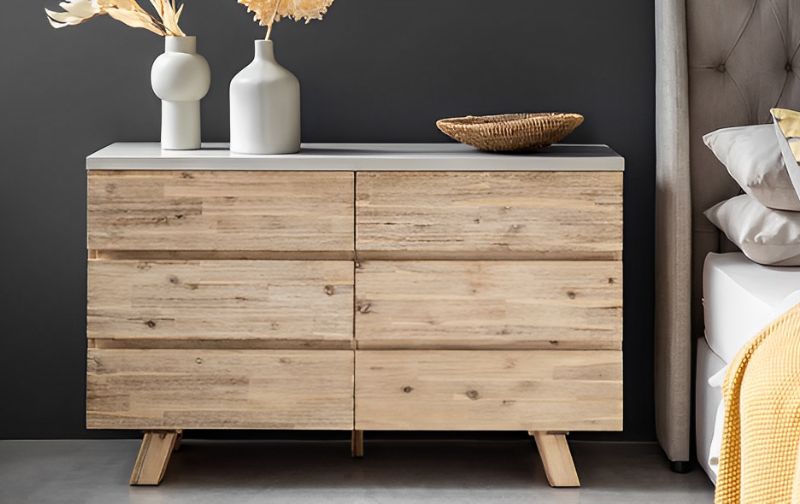 Assess your needs
Consider what you want from your chest of drawers: is this a purely functional piece of furniture or do you want it to make a statement? Do you have a lot of clothes? Are you limited on space? What style do you want to choose?
Measure your space
Before you start shopping for your ideal chest of drawers, measure the space available to you. You can map out the size of the floor space with masking tape. This will give you an idea of what size chest of drawers will work best for you.
Make sure to measure the width and height of the doors, as well as the hallways and staircases. This will ensure that the chest will be able to fit through the doorways upon delivery.
Complement your décor
Whether you choose a minimalist chest or a Mid Century modern version, make sure to opt for one that complements your décor and is one that you love, as it will be a key furniture piece in your room.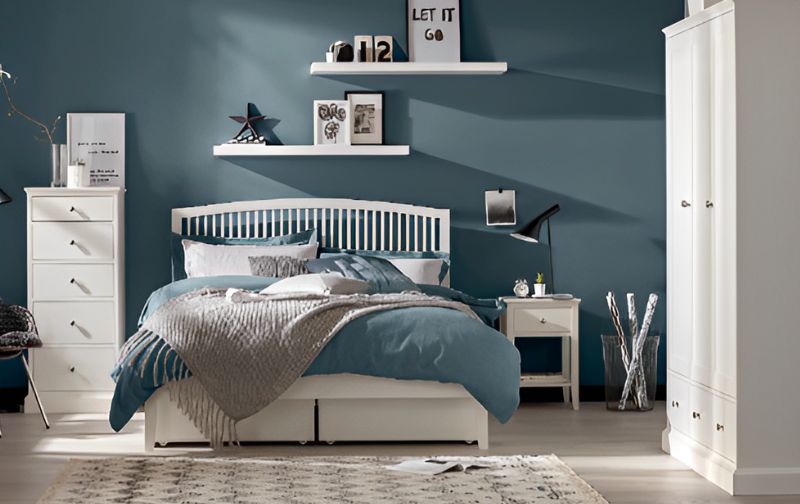 Quality and durability
Go for the highest-quality chest of drawers within your budget, as it will stand the test of time.
Avoid chests that wobble, sway, or creak, as these are signs of poor quality. Drawers should open smoothly, and the construction of the chest should be sturdy and durable.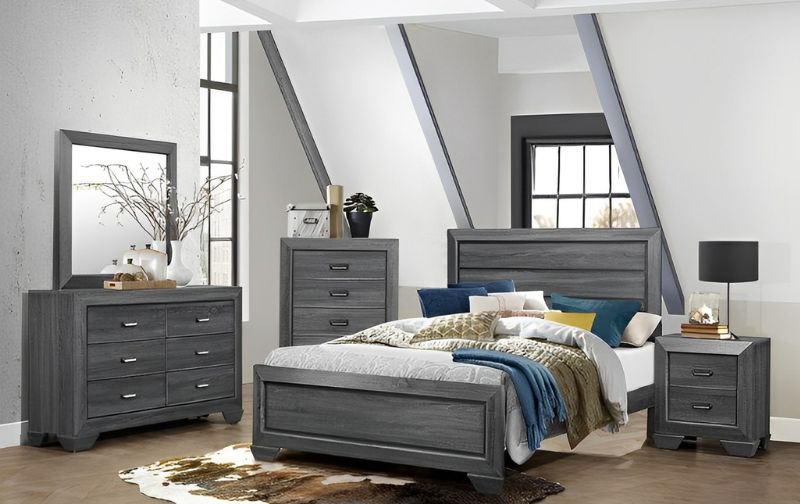 When choosing the perfect chest of drawers for your home, it is important to consider your space, its functionality, and the size and style of this invaluable piece of furniture.
A chest of drawers will provide an ideal feature piece in your home, while also providing the ultimate storage facility.
Consider the size of the space available to you, and don't hesitate to experiment with different heights and shapes to enhance the overall décor of your room.
Most importantly, select a chest of drawers that speaks to you. After all, you will be using this multifunctional piece of furniture daily for many years to come.
Below is just a small sample of some of the drawer chests we have for sale. You can check out our full selection by hitting the button below. Shopping for your whole bedroom? Make sure and check out our bedroom furniture guide, jam-packed with advice to help you find the perfect chest of drawers for your needs.