Dining Tables & Dining Room Colours
When you're looking to revamp your dining area, there are two ways to begin.
Your dining table is your most important piece of furniture for mealtimes, whether you have it in your kitchen or in a separate dining area, so you can start by selecting the perfect table to suit your style and size needs—read our dining set buying guide to learn about all your options.
You can also go the route of choosing a colour palette and overall vibe for the room, then letting your dining room colours dictate the style of dining table you select. 
Either way, you can't go wrong, but ideally you want to create a cohesive vibe across your space, offering an atmosphere that welcomes you to lunch or dinner and provides a pleasant environment while you eat. 
Read on for our advice on choosing the ideal dining room colours and dining table pairings, featuring some of our favourite dining tables from our collection as well as our range of Little Greene paints. 
Farmhouse Traditional dining room colours featuring the Dunloe Dining Table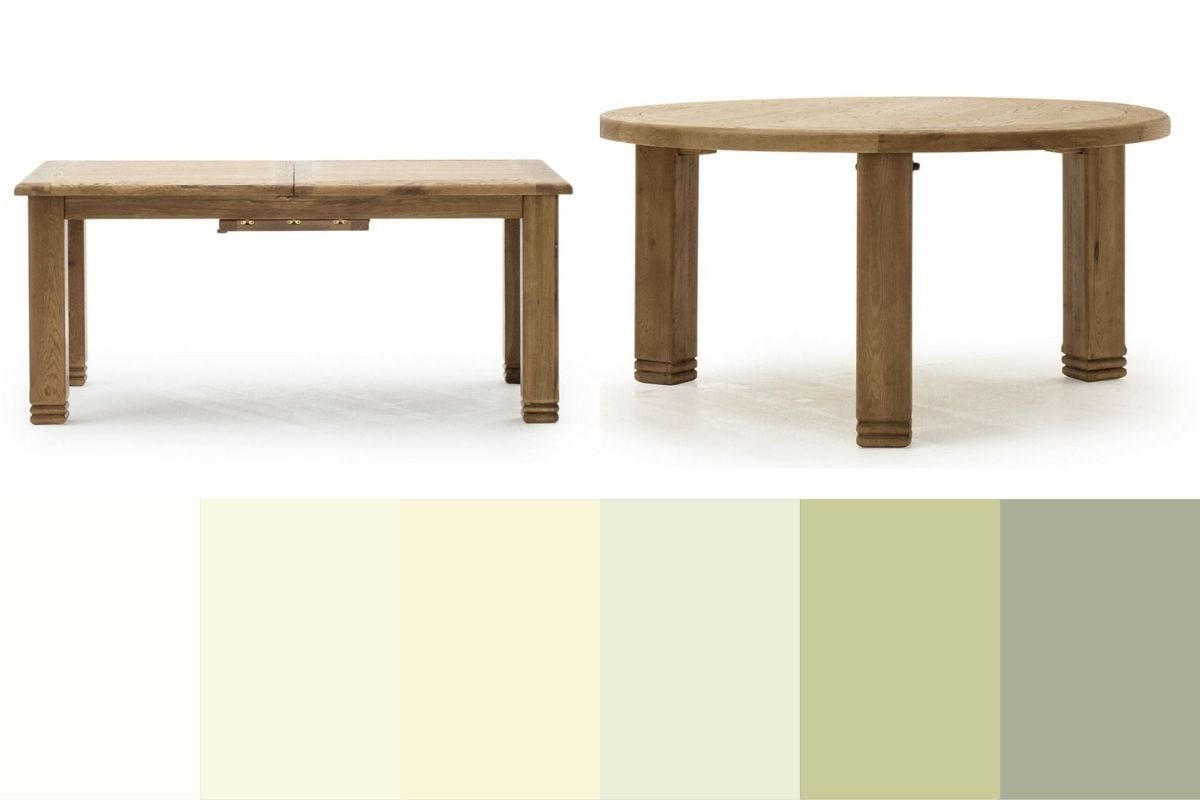 Paint colours: Loft White, White Lead, First Light, Acorn Mid, Boringdon Green, Kitchen Green
Let's start things off with a super classic look for your kitchen or dining room. Our Dunloe Dining Table is a lovely traditional piece that features semi-solid oak construction and a rustic, natural finish, available in a round, fixed design or an extendable rectangular option. A traditional, farmhouse-style table like this needs light, cheerful colours with a hint of natural appeal. 
Yellow tones that are sunny but not too vibrant are the perfect base for your dining room colours. Meanwhile, green is a huge dining room colour trend especially for those areas that share space with the kitchen, so add this lush favourite to your decor and enjoy nature-inspired style with trend-right appeal. 
Traditional with a twist dining room colours featuring the Charlie Oak & Charcoal Dining Table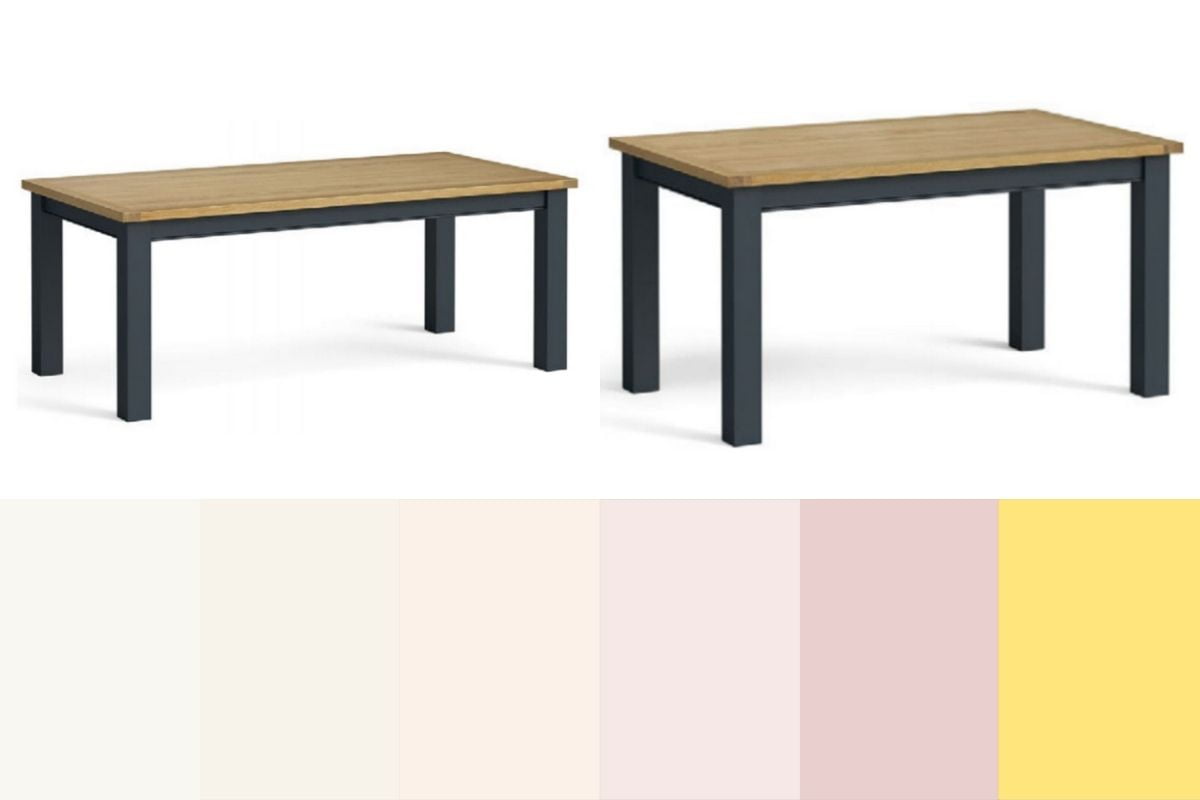 Paint colours: Flint, Slaked Lime, Ferdinand, Portland Stone Light, Confetti, Carys
Our Charlie Oak and Charcoal Dining Table takes a classic dining table design with a traditional lacquered oak top, and gives it a contemporary upgrade thanks to the painted charcoal frame and legs. A transitional table like this needs dining room colours that are timeless, but with a hint of that  of-the-moment style. 
You may think of pink as being a colour that is best suited to children's nurseries and feminine bedrooms, but pink is actually a lovely dining room colour as long as you opt for more muted shades, and especially when you pair it with the Charlie's grey painted finish. Add a few cheery yellow accents to energise the space. 
Rustic minimalist dining room colours featuring the Barnett Dining Table
Paint colours: Gauze, Green Stone Light, Hammock, Book Room Green, Rolling Fog Dark, James
For the ultimate in charming simplicity, our Barnett Dining Table, available in flip-top and extending leaf variations, is a perfect pick. With oak and oak veneer construction and a natural lacquer finish, it will slot effortlessly into Scandi-inspired minimalist style, mid-century modern dining areas, and more. 
A modest yet beautiful dining table like the Barnett needs modest yet beautiful dining room colours to match, and an earthy, mostly-neutral colour palette is well suited to this simple, minimalist piece. Cool blue tones, either on the super-light end of the spectrum as a neutral base or as an accent colour in a darker shade, pair well with the Barnett's light oak design. 
Refined traditional dining room colours featuring the Mikey Dining Table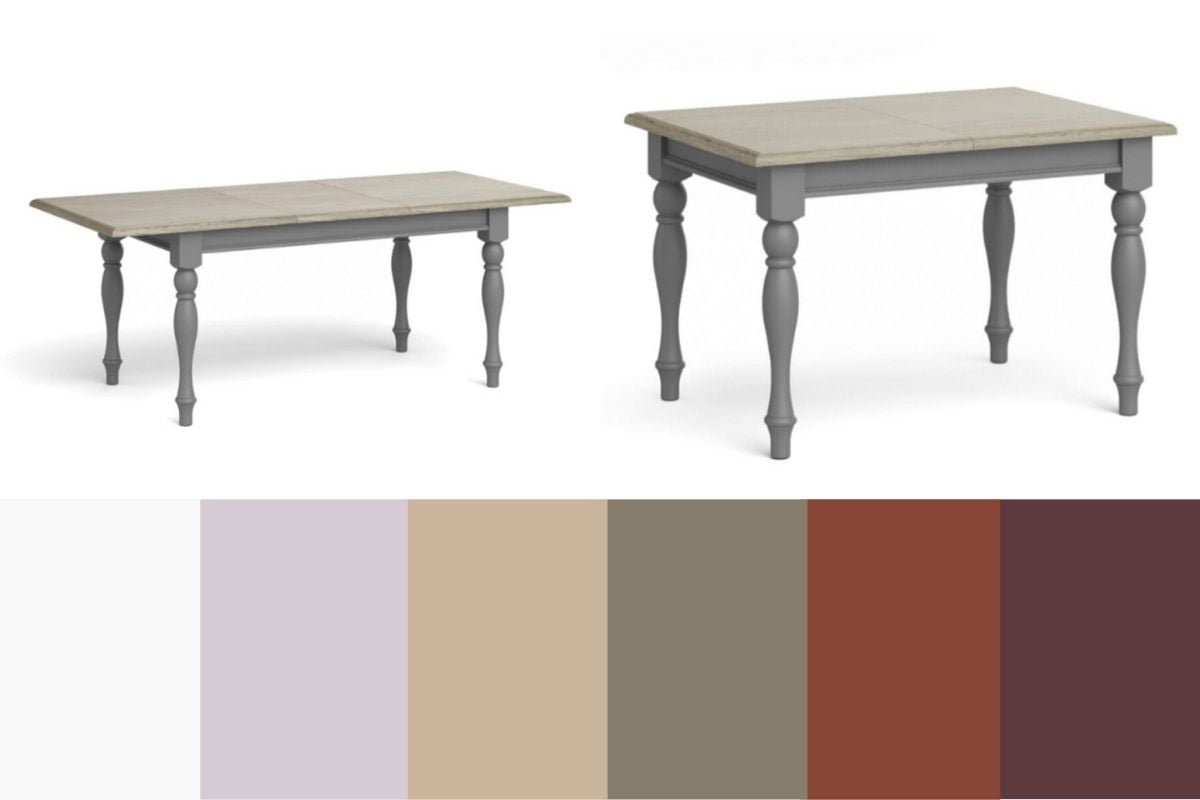 Paint colours: Shirting, Lute, Hortense, Silt, Tuscan Red, Adventurer
If you're after a timeless look that's a bit more sophisticated than traditional farmhouse style, the Mikey Dining Table is an elegant option with carved legs and French neo-classic details. An extendable design lets you accommodate extra guests, ideal for hosting a dinner party in a stately dining space. 
For your dining room colours, this is the perfect opportunity to go richer and darker in your palette. Purple is the traditional colour of royalty; choose a lighter hue for all-over colour or a darker tone to make an impact. Red walls look beautiful by candlelight, and red is also said to increase appetite, so it's a great pick for a space where you want your guests to eat, drink, and be merry! 
Warm industrial dining room colours featuring the Vita Dining Table
Paint colours: Shallows, Mono, Whistle, Stone Dark Warm, Elysian Ground, Invisible Green
The Vita Dining Table is a favourite for both classic and contemporary dining room style thanks to its industrial design that pairs powder-coated metal legs with a solid acacia wood top. A chevron pattern adds visual interest to the top, bringing artistic detail to the industrial look. 
When you picture industrial styling, you may imagine an empty loft, sparsely furnished and painted with crisp whitewash and black accents. But there's room for warm tones in industrial dining room colour choices as well. Greige hues that mix cool tones (greys) with warm ones (beiges) are ideal neutrals, and for darker colours you can opt for earthy browns that complement the wood tabletop of the Vita. 
Cool industrial dining room colours featuring the Aurelius Concrete Top Dining Table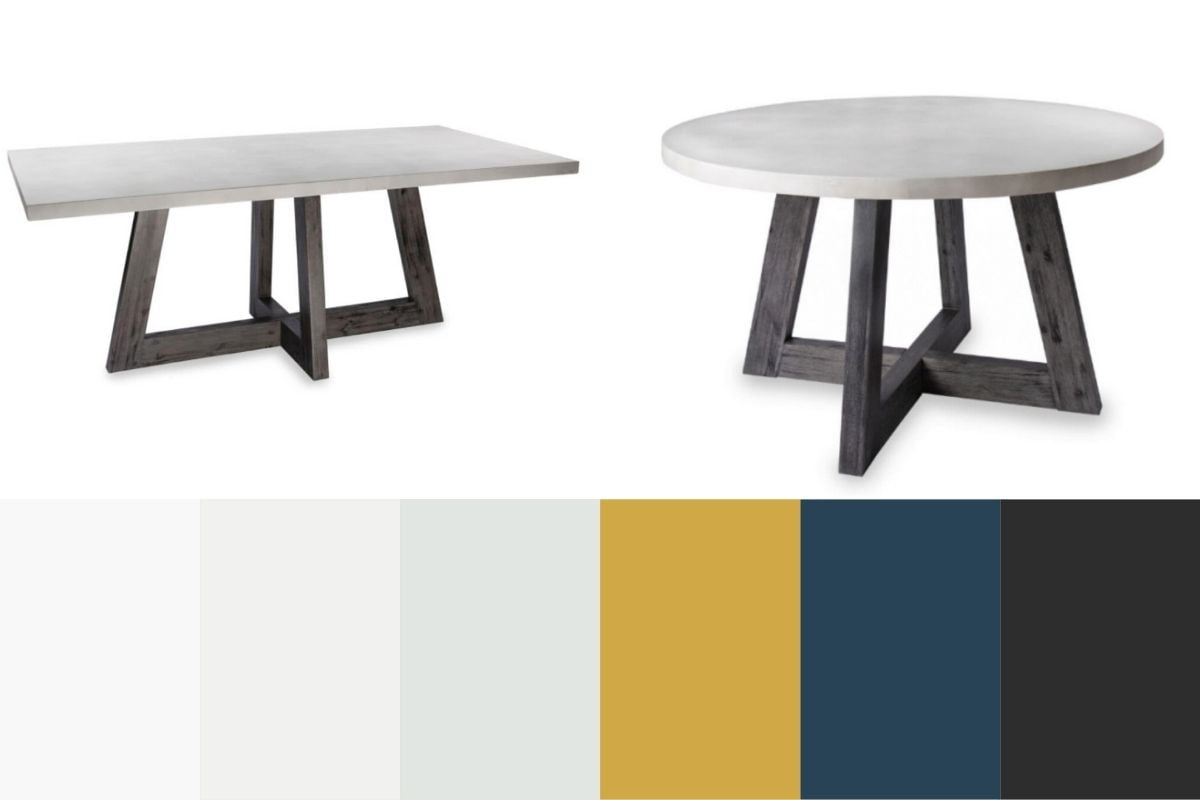 Paint colours: Shirting, Shallows, Bone China Blue Pale, Light Gold, Royal Navy, Lamp Black
If a cooler colour palette is more your style but you still want that industrial look, start with the Aurelius Dining Table. Pairing a distressed wood base with a concrete top, this mixed-material design is available in round or rectangular and is perfect for an industrial-inspired space, with an array of cool grey tones to match. 
For your dining room colours, you can utilise the full spectrum of light, bright white to darkest black to create appealing contrast. A dark, inky blue creates a moody atmosphere. You don't want to use only cool colours to avoid overwhelming a space, so adding in a warm accent colour like golden yellow creates balance and keeps the room from feeling too icy and cold.
Sleek modern dining room colours featuring the Brentwood Dining Table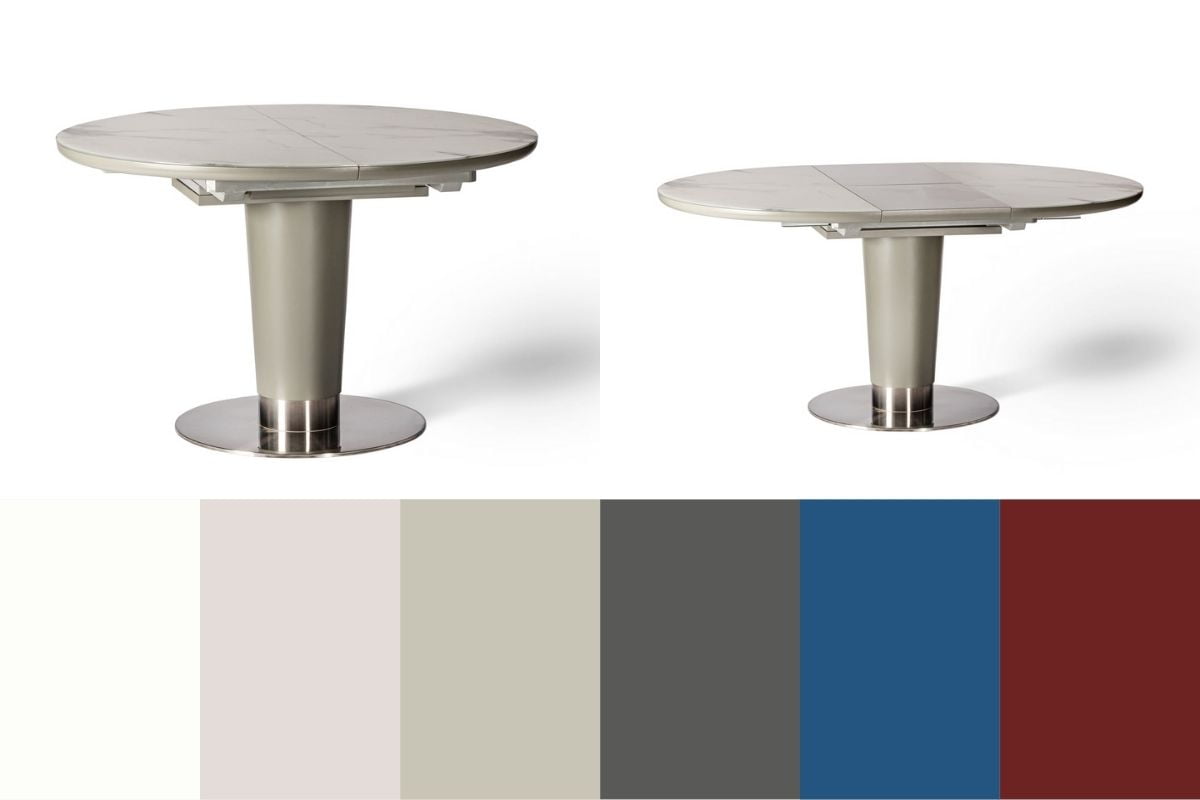 Paint colours: Loft White, Welcome, French Grey, Scree, Mazarine Blue, Bronze Red
For a modern dining table that offers chic style and plenty of space for entertaining, the Brentwood Round Dining Table is a favourite. With a sleek, chromed base and a top that extends thanks to a folding leaf insert, you can host a group in contemporary style and then turn it into a more compact option for every day.
The modern dining room colour palette can go in many directions, but we love a mostly neutral space with a few dramatic pops of primary colours. Light and dark grey tones match the Brentwood's design, and darker shades of blue and red keep these colours looking sophisticated and modern rather than playful and childish when you use them to accent the space. 
Bold modern dining room colours featuring the Duggan Ceramic Top Dining Table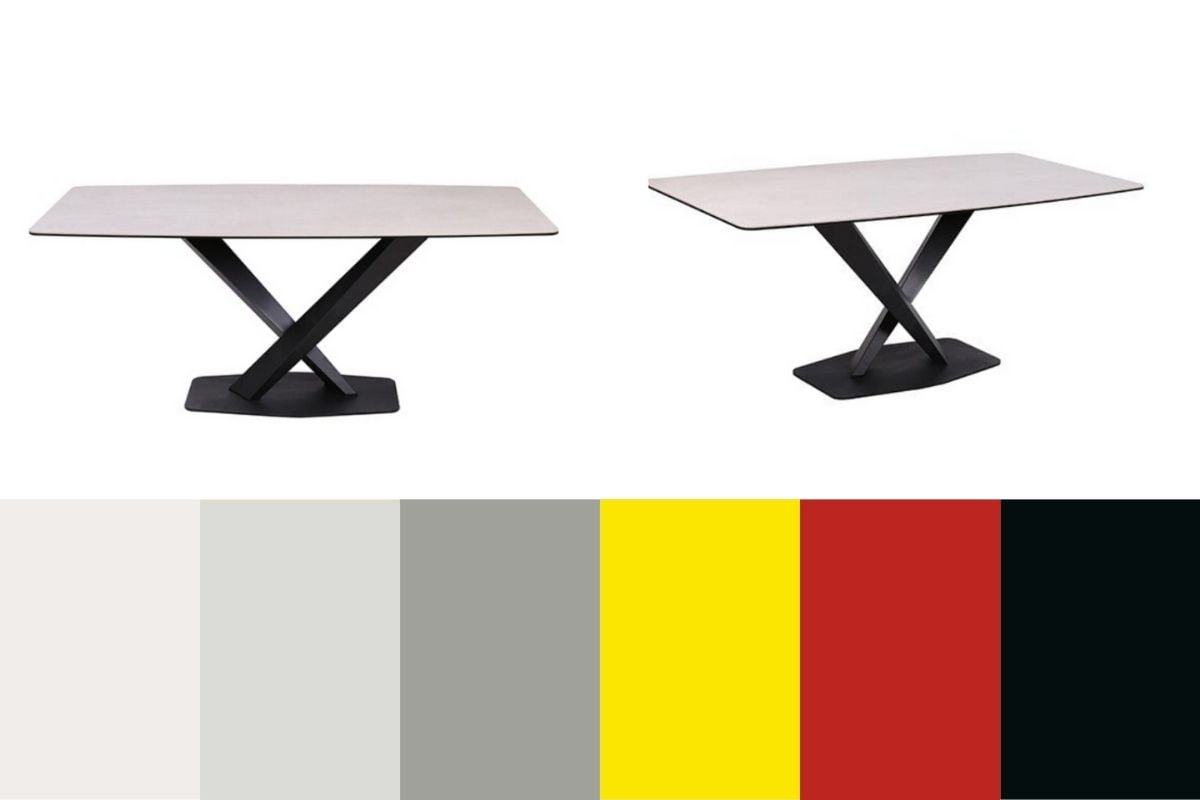 Paint colours: Welcome Pale, Knox, Urbane Grey, Trumpet, Atomic Red, Jack Black 
The Duggan Dining Table is your chance to go big with a modern dining room look. Featuring a smooth ceramic top on a metal base that takes on the sculptural look of an art piece, this dining table is a definite statement-maker. The white tabletop and black base offer strong contrast, and your dining room colours should do the same. Unlike most colour palettes, this isn't one where you should try to use all the colours. Begin with a neutral colour palette — whites and greys are great for this to really make the more vibrant colours pop. Then add energizing, ultra-modern details in hues like bright yellow or vibrant red. Pure black can also enhance the striking styling. 
You can shop our range of stunning dining tables on our website, or visit our stores to see even more gorgeous options that are sure to suit your home. And for our range of Little Green paints, perfect for choosing your dining room colours, get in touch today and let our team help you find the perfect colour palette to refresh your space and create a perfect mealtime atmosphere for your dining room or kitchen.