Creating a Relaxing Oasis: How to Style a Chaise Longue in Your Living Room
When you think of a chaise longue, opulence and decadence instantly spring to mind. This luxe piece of furniture complements any living space, elevating the look and feel of your home instantly.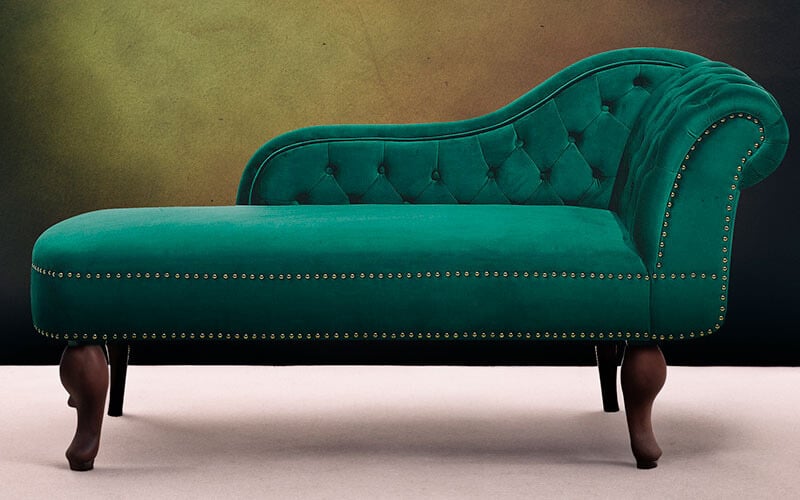 As the heart of the home, the living room is an ideal place to relax, unwind, chat, and socialise, and it is here that a chaise lounge comes into its own.
It acts as a design feature, giving a pop of character to your room while adding a touch of luxury and stylish comfort at the same time.
This blog delves into the world of the coveted chaise longue, providing insights and advice on how to style the ideal one for your living room, ensuring you enjoy your perfect perch for many years to come.
Looking to know everything there is from A to Z on picking the perfect sofa? Make sure you don't miss our ultimate sofa buying guide. With that being said, let's get started.
Why buy a chaise longue?
Sometimes known as a chaise lounge, the chaise longue is the ultimate symbol of relaxation and luxury in a living space. It is a type of seating that can help transform a tired space into a deluxe oasis, and it provides you with the perfect place to lounge, stretch out, take a nap, or curl up with your favourite read.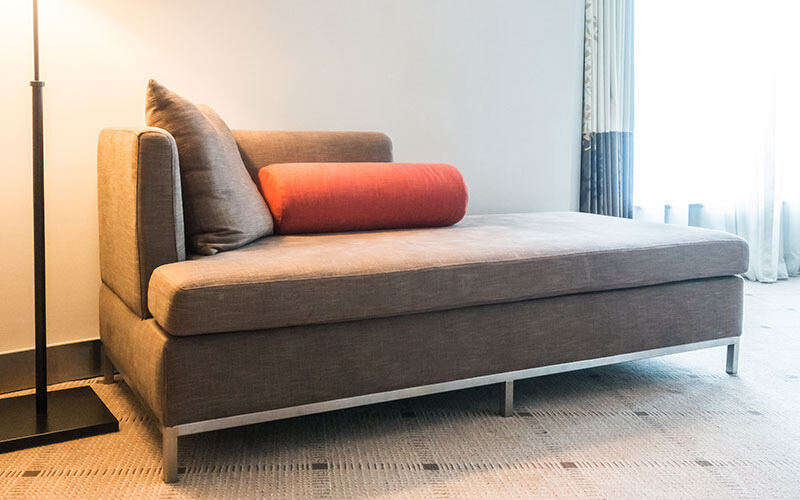 Chaise longue means 'long chair', and simply put, it is a versatile piece of furniture that provides the comfort of a bed with the functionality of a chair. But it does all this while exuding a sense of extravagant charm.
In traditional styling, this piece is known for its graceful contours, exuding a sense of old-world luxury. But in contemporary times, chaises have evolved beyond just traditional forms.
Whether you're drawn to the classics or seek modern twists, discovering the perfect piece that captures your unique flair becomes a delightful journey, given the array of design and fabric options available.
Positioning your chaise longue is key
Before buying a chaise, think about its desired location in your living room to ensure harmony and functionality.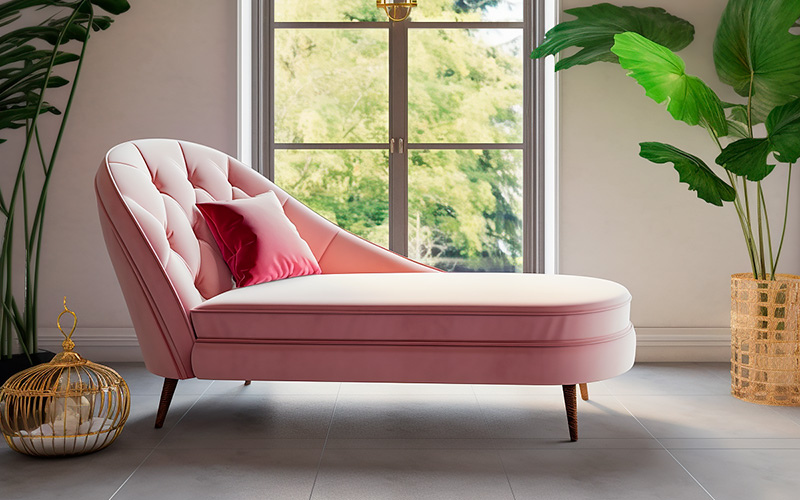 Place your chaise in a corner
A chaise longue looks great when placed in the corner of a living room, creating a stylish zen space ideal for relaxing and unwinding after a long day. If you have a smaller living space, placing your chaise in the corner is also a great way to maximise the limited space you have.
Adding a reading lamp behind the chaise can help create a cosy, inviting atmosphere, which also doubles up as a perfect reading nook!
Windowed chaise longue elegance
For nature enthusiasts seeking an exquisite longing experience, there's naturally no better spot for your chaise lounge than by a large window.
This setting ensures you indulge in unparalleled comfort, enveloped in the warmth of natural sunlight as you appreciate the nice views outside your window. It's the perfect haven for daydreaming, reflection, or simply admiring all that Mother Nature has to offer. It also provides a great spot to simply stretch out and read a book.
Divide with style
If you have a larger living room with plenty of space, then a chaise acts as an ideal room divider. It seamlessly breaks up the space and enhances the design flow of the room. This can also work in smaller spaces, but pay attention to the size of your chaise. A chaise that's too lengthy might crowd the space, while one that's too short may not effectively section off the area.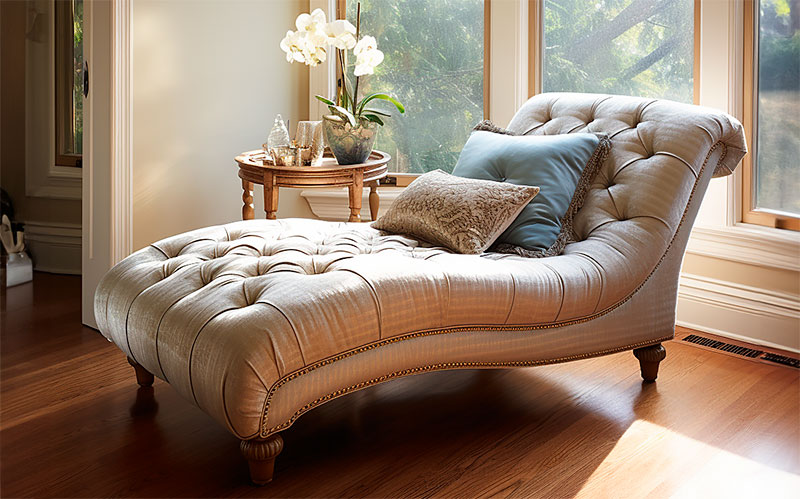 Fill an empty space with your chaise
Some rooms have unusual angles or oblong shapes, which can become dominant focal points if not addressed correctly. A chaise complements even the most awkward of spaces, as it draws the eye towards its grandeur and magnificence. This takes the focus away from any structural distractions.
A chaise longue as a centrepiece
A chaise works wonderfully as a statement piece in your living room. Its sweeping structures and instantly recognisable design features allow it to stand out and hold its own in any space.
Choosing the right upholstery for your chaise longue
When it comes to furniture, the choice of upholstery dramatically changes the look and feel of a room. Thankfully, the versatile chaise lounge works effortlessly with a wide range of fabric choices. The right choice will instantly elevate the style quotient of your space.
Velvet chaise
Long known for its sumptuous and stylish qualities, velvet is a great choice for a chaise lounge. It's got a distinctively soft feel and is rich in design, making it a popular choice for laid-back lounging.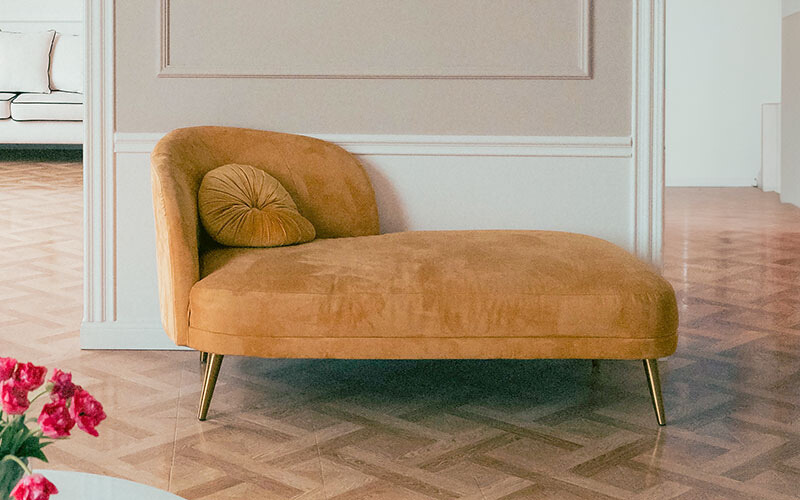 Leather chaise
Leather is an ideal option if you live in a busy home with lots of footfall. It's easy to clean and relatively low maintenance. It looks great in contemporary spaces, particularly if you are looking to convey an industrial vibe. And, as leather wears well, it's a great choice if you are looking for longevity in your chaise.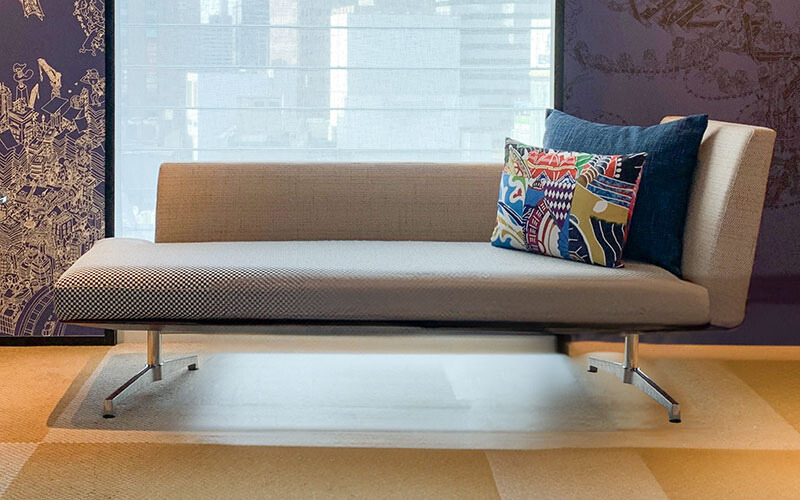 Patterned fabric chaise
If you want to add a touch of pizzazz to your living room, it can easily be achieved by opting for a patterned chaise lounge.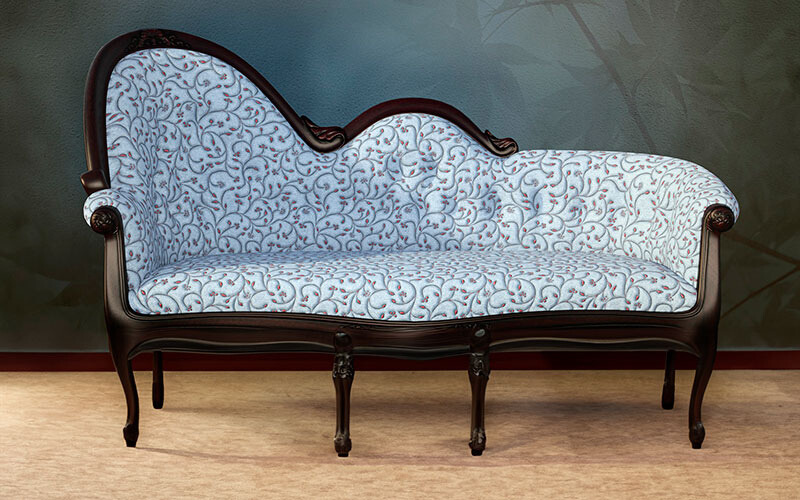 A patterned fabric chaise instantly adds a splash of personality to a room, and you can express your design style with ease through the fabric that you choose. Not only that, but patterned fabric is a great choice for its ability to discreetly conceal little imperfections like minor marks and stains over time. Patterned fabric also tends to age with a refined grace that adds character to your sofa.
Consider patterns that match the main colour palette of your room, and enjoy getting creative through your choice of stripes, florals, bold colours, or jewel-toned fabrics.
Along with the fabric choice you make, consider the texture of the material you choose. Remember, plush fabrics will create a sense of richness in design, and cooler textures will lend an air of minimalism to the space.
Layer your space
Once you have chosen your ideal chaise lounge and positioned it in your living room, the fun part begins!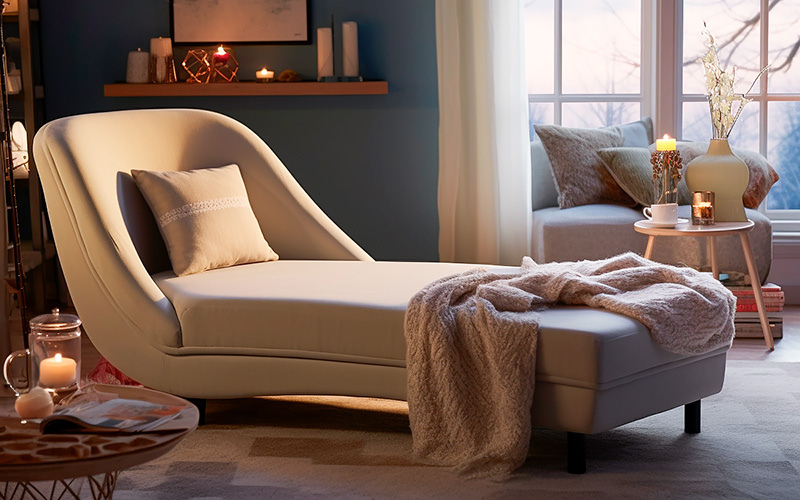 You can really let your design style flow and showcase your individuality through the addition of accessories, such as cushions, pillows, throws, lamps, and rugs. This layering of props, as it were, also helps to add depth and an inviting cosiness to your space.
Cushions
Cushions are a great way to enhance cosiness in any area. With a vast array of shapes and sizes available, you can opt for cushions that tie in with the colour of the chaise or pick ones that pop and make a bold statement.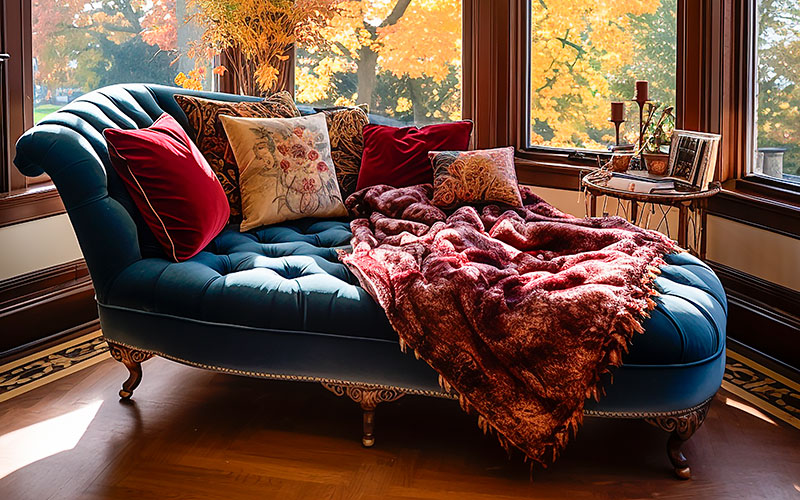 Throws
Who doesn't love a throw when lounging on a couch? Snuggling up with a cosy throw is the ultimate treat when relaxing on a chaise lounge, curled up with a read.
Throws can be used as an accessory to complement the chaise, creating an inviting atmosphere within the room. It also provides a functional, comforting solution if you are feeling a bit of a chill. Whether loosely draped at the side of a chaise or folded at the foot, a throw is sure to heighten the sophisticated appeal of your chaise.
Complement your chaise lounge with soft furnishings
You can further style your chaise lounge through the clever placement of accessories and soft furnishings.
Lamps
Light creates ambience and a sense of space. Placing a tall lamp behind a chaise lounge instantly creates an idyllic spot for relaxation.
If you don't have any natural light in the room, consider placing a mirror next to a lamp behind your chaise, as this reflects light around the room, casting a warm glow over your luxurious lounger.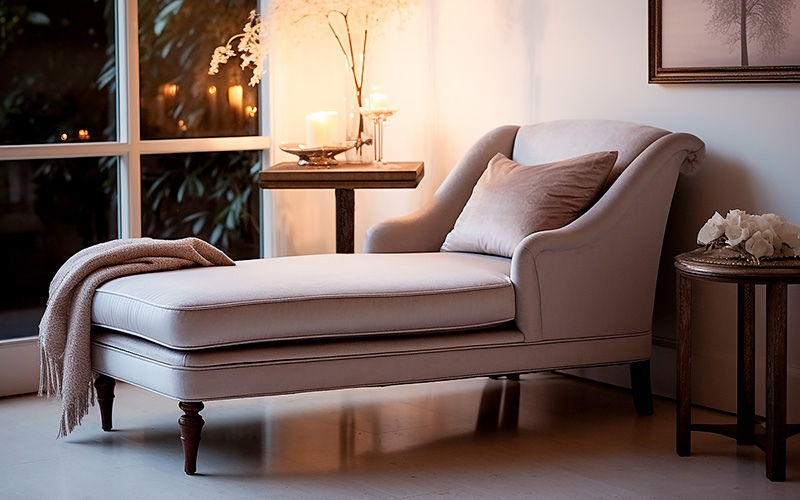 Side tables
A chaise lounge conjures images of indulgent lounging. That's why placing a side table next to your chaise makes perfect sense, giving you easy access to items such as drinks, books, and any other personal items you want to have close-to-hand. After all, the last thing you want to do is get up to fetch something when you're sprawled across your chaise longue!
Rugs
A rug adds an extra layer of comfort to your space. When placed in front of or behind a chaise lounge, it helps to define the area, enhancing your lounging experience.
It's also a lovely feeling to sink your feet into a cosy rug when getting up from your chaise during the cooler months.
Personalise your space
There are many ways that you can personalise the space around your chaise longue to suit your needs and preferences.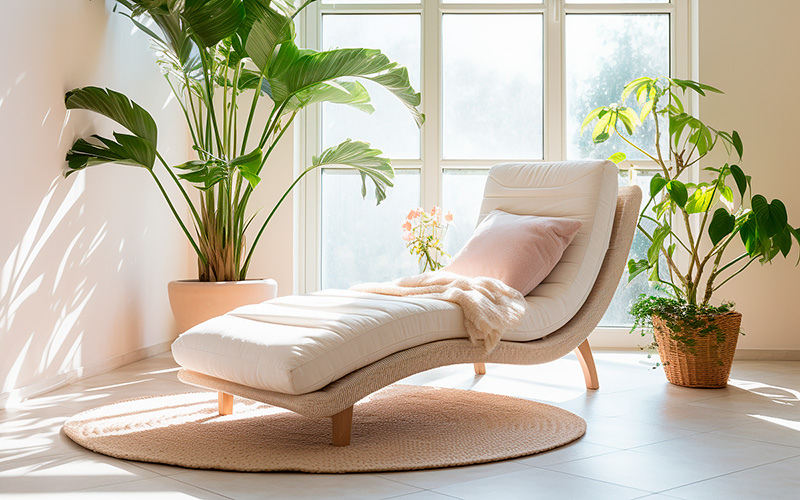 If you want to bring the outdoors in, consider adding a fresh and calming touch to your living room by adding indoor plants or by hanging greenery in the space. A tall, freestanding plant at the end of your chaise, for example, can provide an attractive viewpoint.
Beauty is in the eye of the beholder, and art is subjective, but if you have a particular piece of art or a sculpture that you love, then place it somewhere you can see it clearly from the comfort of your chaise. Keep in mind that the art should be proportional to the chaise lounge and the wall space available to you.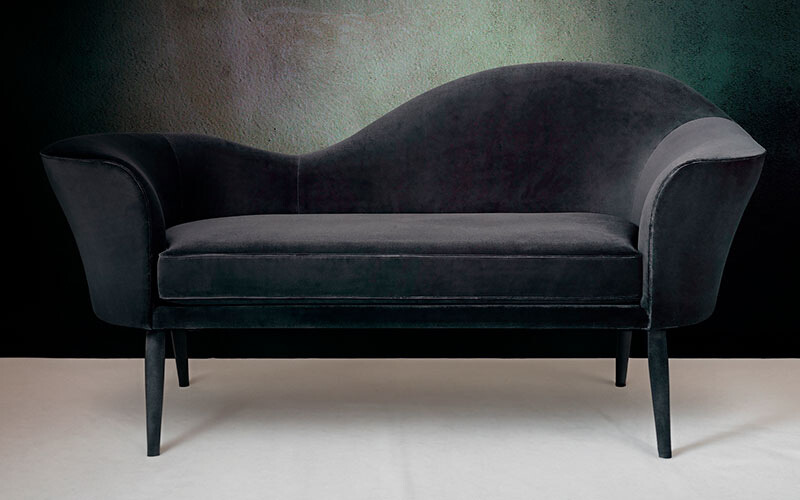 Investing in a stylish and comfortable chaise longue is a worthwhile choice to add a touch of opulence to your space. No matter what your design style is, you will be certain of finding one that suits your space perfectly, thanks to the vast array of options available in numerous styles.
Styling a chaise lounge is a personal process and offers a great way to express your individuality. It allows you to create a space that is peaceful and inviting, one that reflects your original style and personality.
As day-to-day life gets increasingly stressful, it is important to take a moment for yourself and to create a space that you love, be it for reflection or relaxation.
By creating a space that blends functionality and style, you will be well on your way to establishing your favourite lounging area in your home. Then all that is left is to lie back, relax, take a deep breath, and indulge in the decadence of your chosen chaise longue while someone feeds you grapes. Enjoy!
Get started on your chaise hunting with Corcoran's sofa collection here.