Top 10 – Space Saving Furniture Pieces to Buy in Your Home
Furnishing a small room is a delicate balance of including all of the pieces you need without overcrowding your room with too much furniture. It can be difficult to decide on the most important items to add to a small living room, dining room, or bedroom. 
To make it a bit simpler, we've picked out 10 of our favourite pieces that will make a small room as fabulous as it is functional. Find space saving furniture at Corcoran's across all categories, styles, and budgets, and amp up your small space with ease.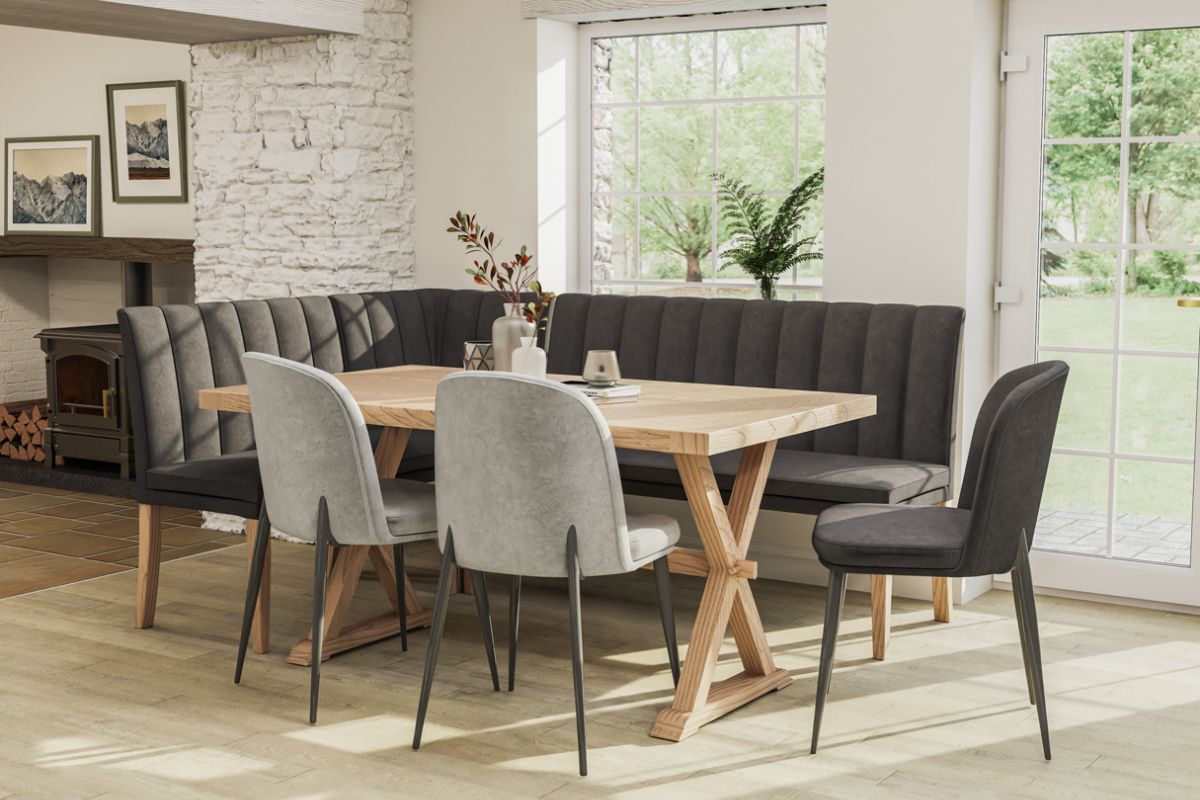 The Valentia corner dining bench is part of the lovely Valentia collection, and it starts our list because it's such a fabulous addition to a compact dining setup. Create a cosy breakfast nook or slot an eating space into a corner with the help of this bench piece.
Featuring a strong, solid wood frame and a lovely cushioned upholstery seat and back, you can pair this corner piece with other dining bench sizes, as well as backless options and dining chairs, to create a space saving furniture setup that is perfectly suited to your home's mealtime space. 
A home office is a common area that those with small homes struggle to find a place for. Often, folks who work from home need to pare down their workspaces to the bare essentials and slot an office setup into a guest bedroom or another multipurpose space. If you're looking to make the most of a dual-function room, then the Estella ladder bookshelf desk should certainly be a consideration.
This gorgeous grey and gold piece will not only serve as a comfortable work desk thanks to its sturdy mango wood design, but the upper shelves can either keep your office supplies out of the way when the room is in use as a guest room, or you can outfit it with trinkets or other personal touches that add style to the space.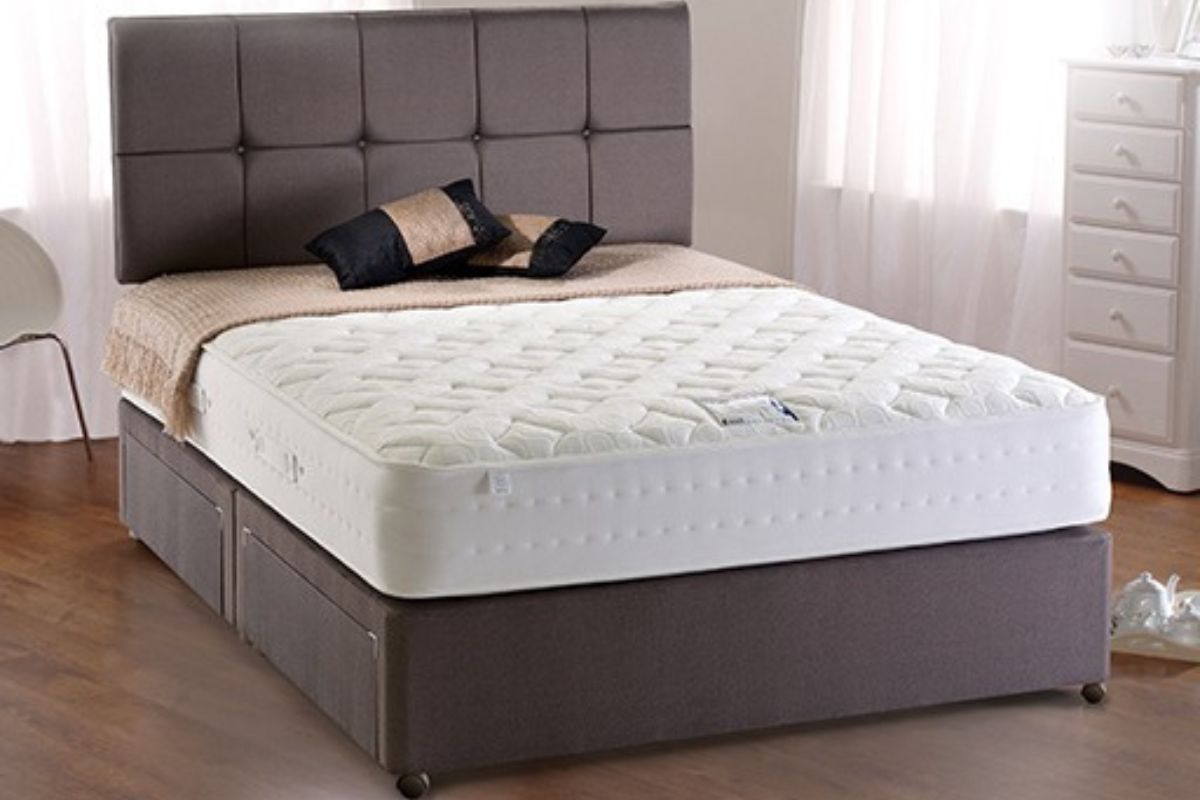 Obviously when it comes to space saving furniture, built-in storage on pieces that aren't traditionally designed for storage is sure to be an appealing pick. And the Desire divan bed base with drawers is no exception. Pairing simple, timeless style and convenient storage, the Desire can stand alone or be paired with a headboard to create a complete look with ease. 
This classic divan base comes in all size options and a choice of one, two, or four drawers (one or two drawers for 3ft base), ensuring you'll have a place for all your extra bedding, seasonal clothing, and more. 
When it comes to space saving furniture, not everything has to serve multiple functions. Some great pieces are simply compact, comfortable additions to fit a smaller room. The Natasha velvet swivel chair is a cosy seating option with big impact and a small footprint.
Featuring a snug, round shape and a pillow back that's perfect for lounging, this chair also sits on a swivel base so it turns easily, ideal for a small space. A soft velvet upholstery finish adds plenty of style to a compact piece.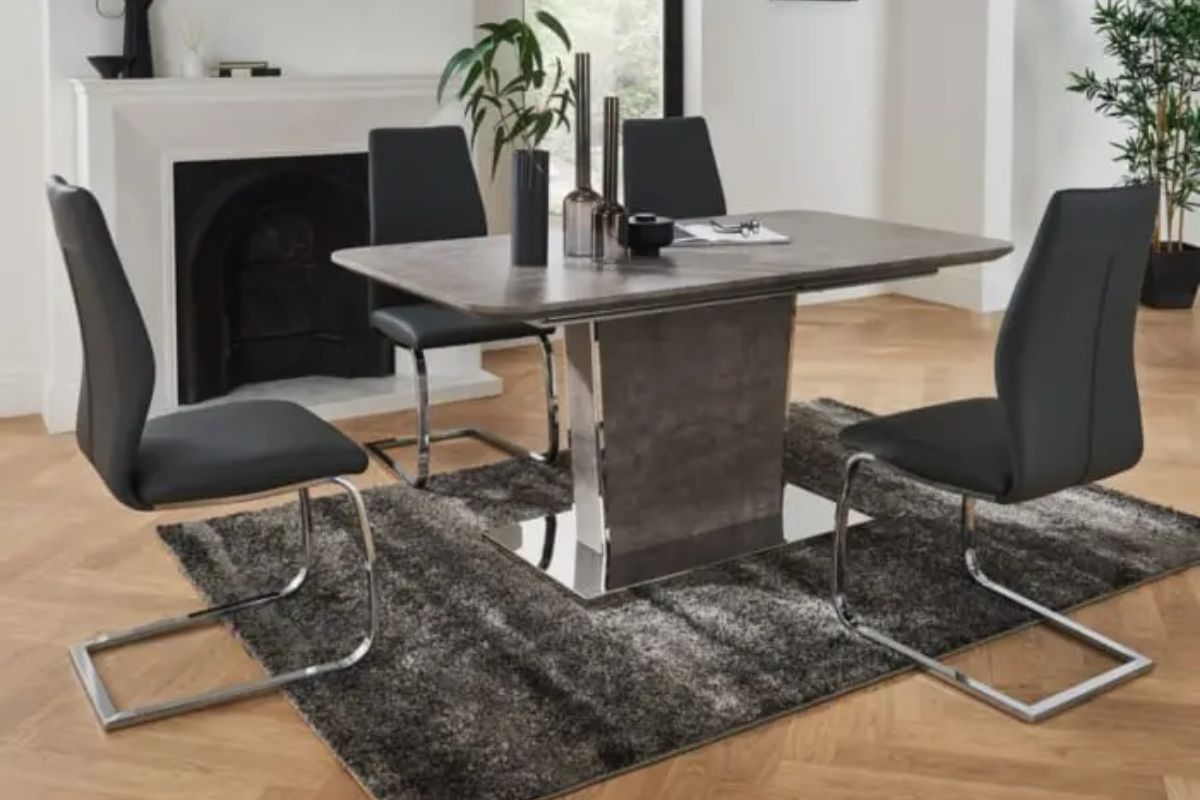 An extendable dining table is a key piece of space saving furniture that offers the perfect blend of style and function. When you need to accommodate a larger group, it can do so with ease, but for your day-to-day mealtime setup it won't take up too much space. 
The Burton dining table is a chic, modern table that uses a convenient butterfly leaf mechanism to extend from 1.6 to 2 M. Durable melamine gives the Burton the look of concrete while providing scratch-, heat-, and stain-resistant reliability that will serve you breakfast, lunch, and dinner for years to come. 
Staying organised is important when you have a small home — there's no space for clutter to build up without it taking over completely. To keep track of all your entertainment essentials from consoles to remotes, a TV unit with shelves or drawers is a great option, and we love the Gallo champagne mirrored TV cabinet. 
The Gallo is wide enough to set a television on, but also looks fabulous with a wall-mounted alternative. With two drawers and two shelves, you can stay organised with ease, and the elegant design brings sophistication to any living room.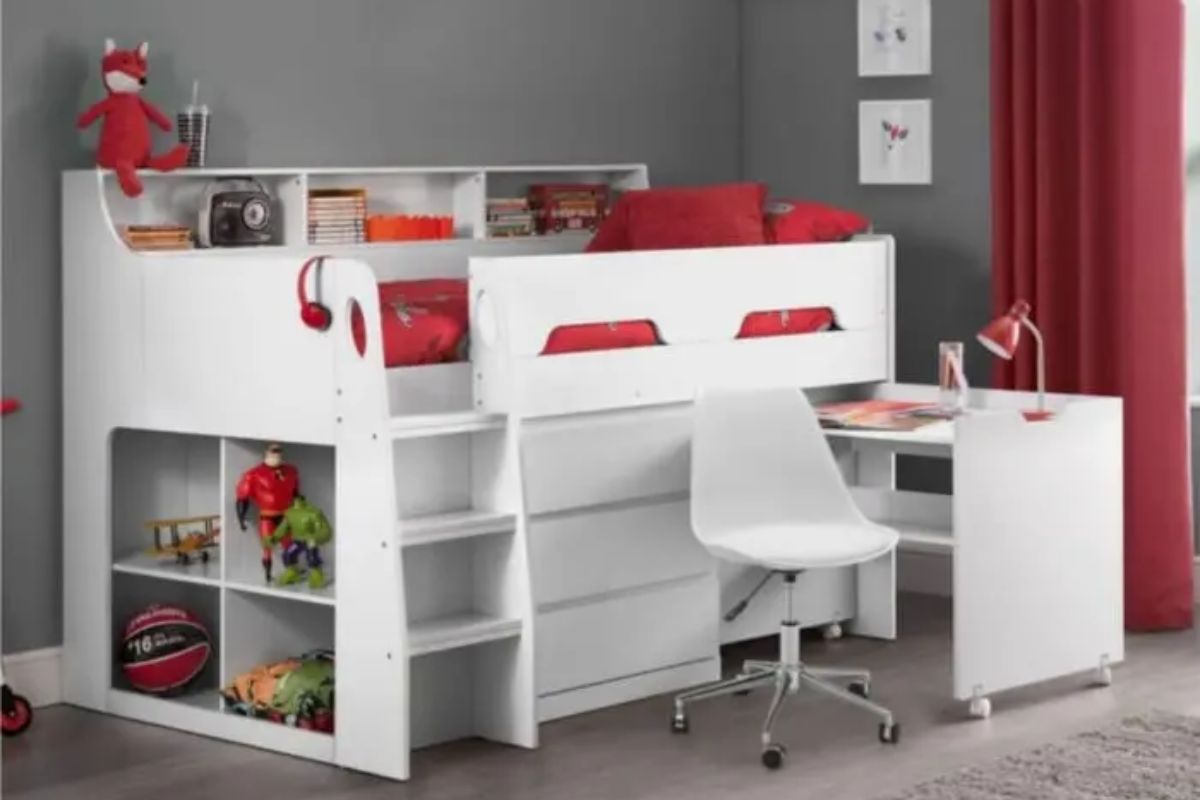 Kids' bedrooms are a place where space saving furniture really shines. Kids have so much stuff to keep organised, from schoolbooks to playthings, and their rooms tend to be smaller than other bedrooms of the house. A multifunctional piece of furniture like the Jolie mid sleeper bed is a definite winner when you're looking to make the most of your child's room. 
The Jolie bed is an all-in-one favourite with a comfy bed, plenty of shelving and drawers for storage, and even a pull-out desk that makes for a great study space or worktop for crafts and more. Plus, it's got a fun design that kids are sure to love.
When you're furnishing a small room, your gut instinct may be to minimise the amount of furniture you include for fear of overfilling the space. However, there are plenty of narrow and compact options that you can squeeze into a room without making it look cluttered. The ultra-thin design of the Aurelius console table lets it slot in easily to any space. 
Featuring a modern, industrial-inspired design, the Aurelius console table can showcase trinkets, hold a table lamp, or just sit alongside a dining table or sofa to add extra style to the room.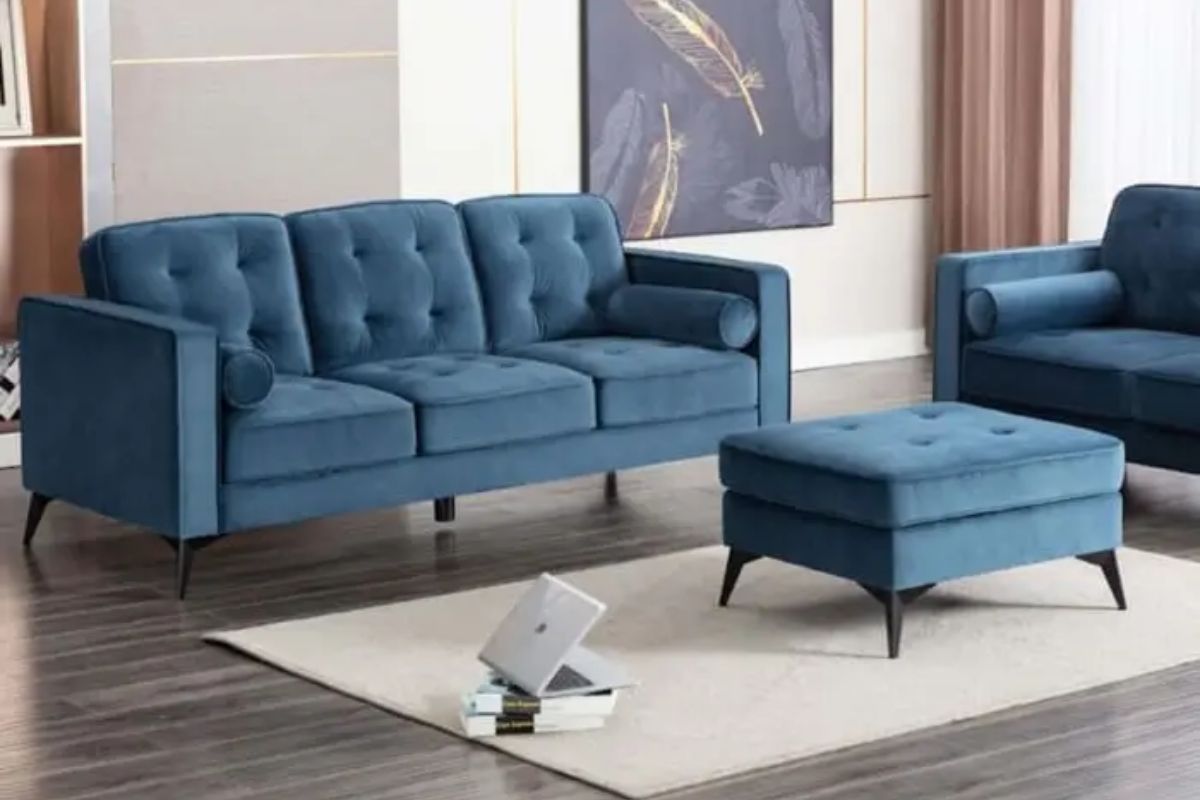 One of our favourite small living room ideas is to replace your coffee table with an ottoman. In a small sitting room, a footstool that doubles as a coffee table means that you have a place to set your tea as well as a comfy way to kick back and put your feet up. 
The Lafayette blue velvet ottoman is a great candidate to serve both roles thanks to its flat and spacious top that offers plenty of room to act as coffee table and footstool, even at the same time! And the beautiful blue upholstery brings sophistication with a touch of Scandi-inspired style.  
Another piece of furniture that is ideal for double-duty appeal is a dressing table that can also serve as a desk. In your guest bedroom/home office, kids' room, or even your own bedroom, a vanity table that offers space for a laptop or notebook, as well as your cosmetics or skincare, is a convenient pick for a small space. 
The Becky 6 drawer dressing table is an ideal option for doubling as an office-ready piece thanks to the spacious drawers on either side. A high-quality, budget-friendly piece, the Becky dressing table is ready for morning, evening, and your 9 to 5.