Green home decor: natural beauty for your interiors
Green is undoubtedly one of the biggest colour trends of the year in home decor and interior design. A number of paint companies have chosen shades of green as their colour of the year, earthy green accents imbue the most stylish spaces, and 2023 is destined to be another year in which we embrace bringing the outdoors in with nature-themed details in our homes. 
Green home decor offers a beautifully versatile spectrum of shades that are well suited for any aesthetic. Will you choose olive greens that are nearly considered neutrals, or vibrant lime greens that stand out in any space? Green also looks great in a variety of materials, from painted wood to lush, textural velvet. Plus, in colour theory, green is said to promote creativity while also, of course, evoking nature to create a calm, peaceful state. 
With the right green home decor, it's easy being green — read on for some of our green favourites to bring botanical beauty to your space.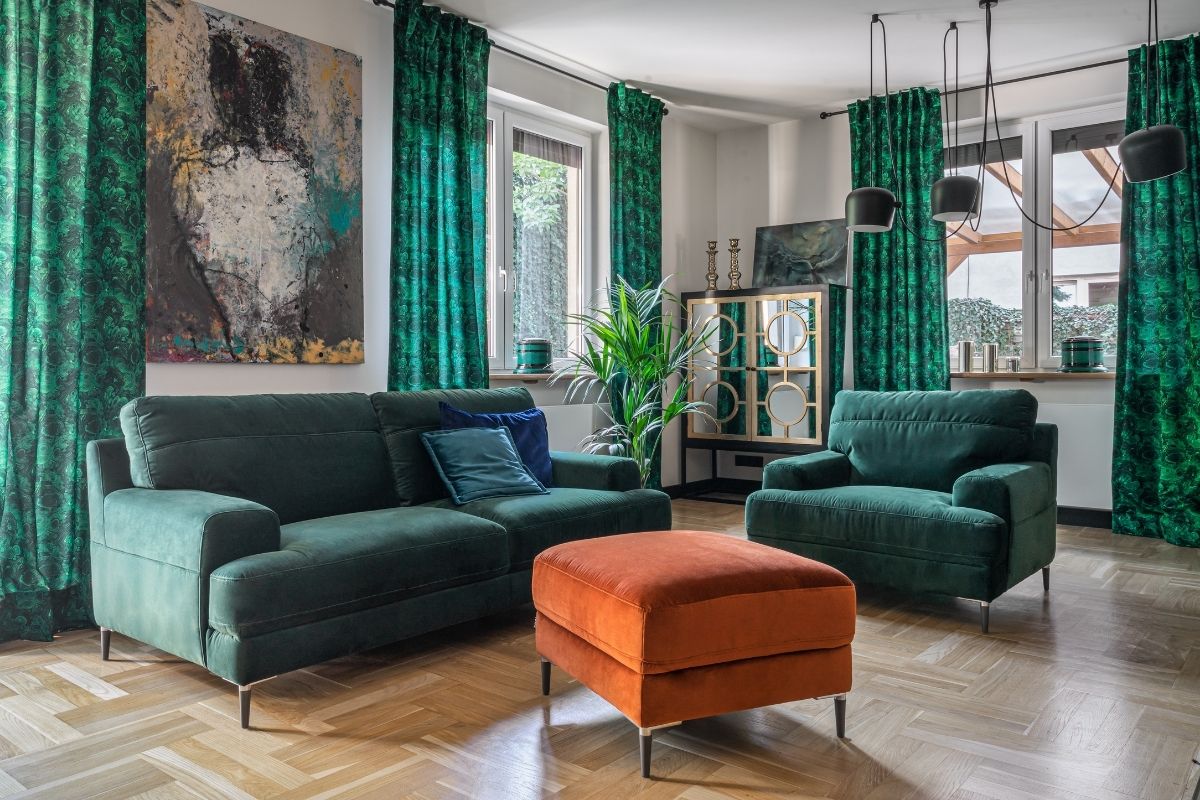 Green furniture
There are a variety of fun and surprising ways to add green home decor to your space with green furniture for every room. Because green furniture pieces tend to come in more vibrant hues, green furniture is a great statement-maker or centrepiece around which you can design the entire room. 
In the living room, a green sofa offers the ultimate in on-trend luxury. Opt for a jewel tone velvet sofa to bring a touch of vintage-inspired glamour that still maintains contemporary appeal. Velvet seating can also be great for accent chairs if you don't want to go green as your main seating option, or if you want to add an armchair or accent chair to another room like the entryway or the bedroom. 
The dining area is another fabulous place to add green home decor. Because green looks great with a variety of other furniture materials, green dining chairs will complement almost any sort of dining table. For a more luxurious look, you can again opt for velvet, but for a more casual aesthetic a fabric or faux leather chair in green can also be an excellent pick. 
Green accessories
Maybe green furniture is a bit too bold for your personal decorating style, or maybe you like to change up the colour palette of your home often and would prefer a neutral sofa or primary furniture pieces to build around. You can still enjoy green home decor and this lovely, natural trend with green accessories. 
Obviously, house plants — real or faux — are a classic and always wonderful way to add a touch of greenery to your space. Particularly in areas that might otherwise be somewhat cold and lacking personality, like the bathroom, a realistic faux plant is a great low-maintenance way to brighten up a room. 
A rug is another appealing option for green home decor if you're looking to add a pop of colour and a touch of trend-right style to anywhere in your house. Not only will an area rug enhance a room with colour, texture, and possibly pattern, but it also helps give a room a lived-in, layered look that is another one of the year's most popular home trends. 
Green paint
Green is a great colour for walls, kitchen cabinets, and more. Whether you choose to paint your entire room a light, natural green or use a more vivid shade of green as an accent colour, green pairs great with wood, metal, and fabric furnishings and helps to create a welcoming, creative-minded space. 
Muted greens like sage and light olive imbued within are perfect for any room in the house because they can complement almost any furniture and home decor style. Even if you prefer a more neutral colour palette for your walls, a shade of grey or cream with a hint of green can help evoke the feeling of nature in your interiors. 
Finally, there are blue-greens, which are one of the most popular options for interior designers when it comes to green home decor and paint shades. Great for everything from front doors to crown moulding, aqua tones especially complement wood for an earthy aesthetic with stylish appeal. 
Gorgeous green home decor for every room in your home
Green home decor is a trend that you can add to every interior design aesthetic, pair with any colour palette, and use to add nature-inspired style to each room of your home. From olive to avocado, green velvet sofas to plush green shag rugs, there are so many options to choose from when it comes to shopping for green furniture, accessories, and more for your space. 
And at Corcoran's, we have a full spectrum of gorgeous green elements to add to your dream green home. Shop now online or in-store to find green favourites across all departments from furniture to flooring, and turn your home into an oasis of botanical-inspired beauty. 
Looking for advice on how to incorporate your favourite green tones into your space? Our interiors experts can help you choose the perfect hues of emerald, sage, or pistachio. Get in touch and find dream greens for your decor.