5 Tips for Choosing the Right Sofa for a Small Living Room
A sofa is the main centrepiece of your living room, regardless of the size of the space you are working with. In compact living spaces, a sofa becomes a defining anchor, maximising both function and aesthetics.
It is considered one of the most important pieces of furniture that you can invest in, providing the ultimate perch for lounging, socialising, snoozing, and binge-watching Netflix.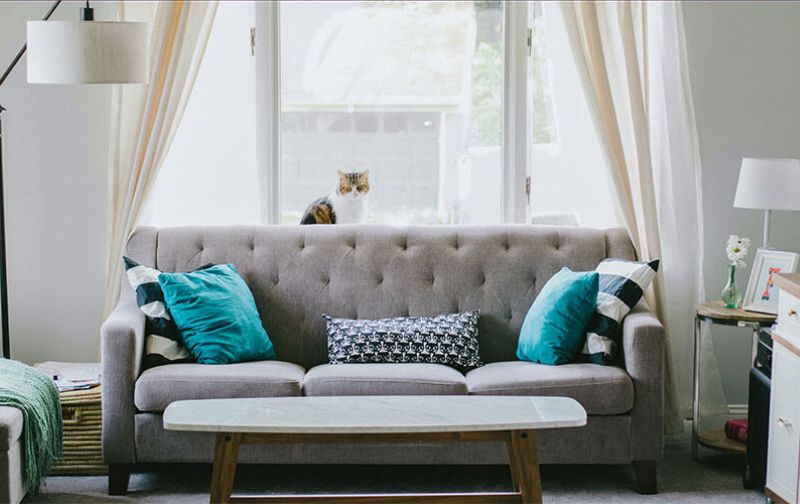 The most important (and obvious!) thing to keep in mind when picking a sofa for a smaller living area is the size of the room and how many people will be sitting on the sofa regularly.
A sofa that is too large will overwhelm the room and make it look even smaller, whereas one that is too small may get lost in the space. Similarily, there's no point in picking a loveseat when three is a crowd.
You might find it a little daunting trying to make the most of the space available to you, and it can be somewhat challenging trying to find a compact sofa that works well with your room's dimensions. However, rest assured, we are here to help!
Join us as we explore the 5 top tips for choosing the right sofa for a small living room, enabling you to find the perfect one for your home.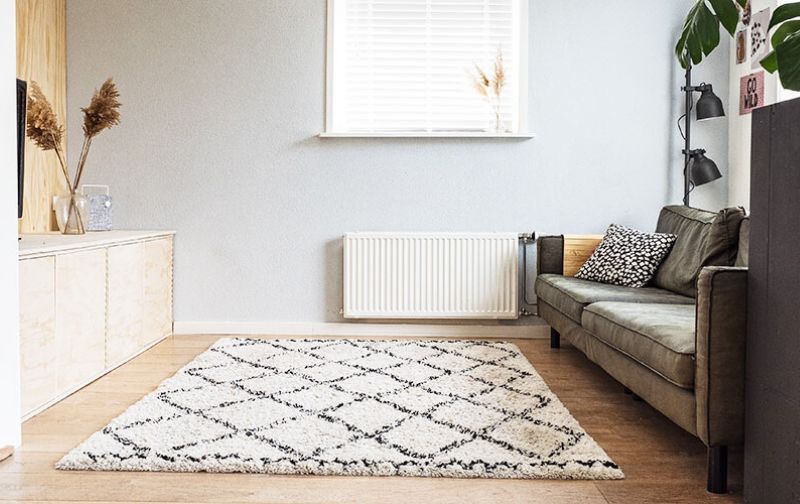 1. Size and placement in your small living room
Below are some key considerations when choosing a petite perch for your small living room:
Measure your space
Before starting your small sofa shopping journey, make sure to measure the entire space.
Measure the length, breadth, width, and height of the room and the doors in your house. This will ensure that your new sofa choice will fit in the door upon arrival.
Also factor in the other furniture pieces in the room, so that you'll be able to easily walk throughout the space once your sofa is in place.
Proportion matters
Consider the overall proportions of the room and how your new sofa will look in the space. A lower sofa will make the ceilings feel higher, and a sofa with legs will also create a sense of light and air.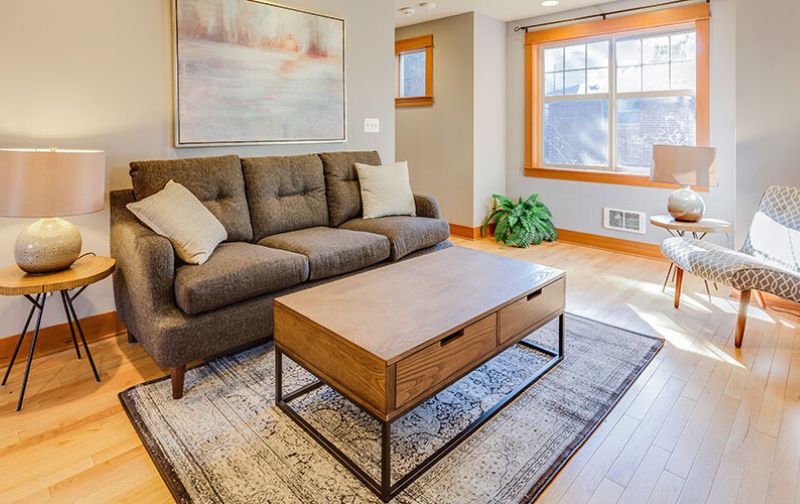 Placement of your sofa
The placement of your sofa will either hinder or enhance the overall ambience of your small room.
A great way to determine what look will work best is to map out the size of the sofa and the other furniture in the room with tape. This will give you an overview of how to best place your furniture options.
Flexibility options
Small corner sofas and modular sofas can be a great choice for your living room. They allow for flexibility, and you can adapt the layout to suit your needs.
2. Opt for multifunctionality
When you have a tight space to work with, multifunctional furniture is a great option. In smaller spaces, every inch counts, so furniture that serves several purposes is of great benefit.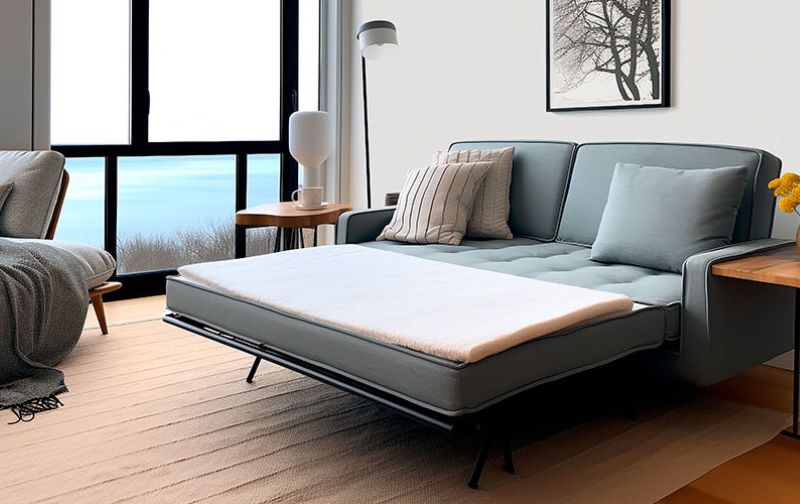 Sofa beds: Use sofa beds to make the most of your space and versatility. They perfectly blend design and practicality, transforming any living space into an appealing overnight haven for sleepovers or unexpected visitors. They are ideal for small apartments, studios, or households with occasional guests.
Storage sofas: Another great multifunctional furniture option for a smaller living room is to go for a sofa with built-in storage. There are several options with storage compartments so you can keep your room clutter-free, concealing your everyday items such as blankets, sheets, throws, and even your stash of interior magazines!
3. Embrace light and neutral colours in your small living room
The colour of a sofa can have a dramatic impact on the room. A darker sofa choice will absorb light and make the room appear smaller, so bear this in mind if you are particularly tight on space. By choosing a lighter colour, you can really open the space and give the illusion of a larger area.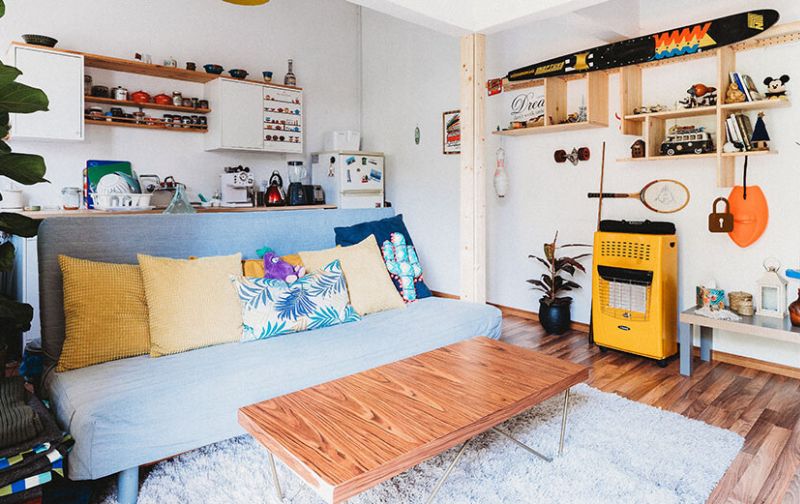 Neutral colours such as cream, ivory, beige, off-white, and light greys and pastel colours give an airy, fresh feeling to any room. They also have the ability to reflect more light. This makes the room feel brighter, more open, and, as a result, larger than it is.
As neutral shades act as a blank canvas, you can always introduce accent colours, patterns, or textures through your choice of throws, cushions, and accessories without the room feeling overwhelmed or chaotic.
Placing a mirror opposite your sofa is another handy hack to help open the room and make it appear larger. Light reflects off the mirror and around the room, giving the illusion of a larger room while simultaneously enhancing the ambience of the space.
4. Consider shape and design elements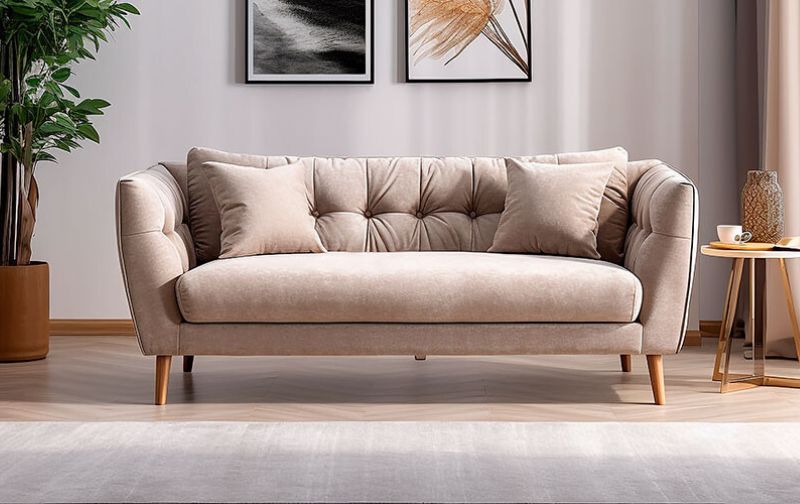 The shape of the small sofa you choose has a pronounced impact on a small living room.
Choose a sofa with legs on display, as legs raised off the ground create a sense of light and energy. Giving a glimpse of the floor space underneath a couch instantly creates the illusion of more room.
Don't fall into the trap of selecting bulky armrests, overly ornate designs, or loud colour patterns, as these all create the sense of a congested space, particularly in a smaller room.
Where possible, opt for more modern, minimalist accessories, as these complement a smaller living area.
Sleek, tight-backed sofas, without separate cushions, help to make the space feel less cluttered and more open.
Slimmer sofas are a great option for small living rooms, so make sure to check out the depth and width of sofas when you are shopping around for inspiration.
Consider armless or low-arm sofa styles, as these visually open any room in the home. However, if you are a fan of armrests, make sure to go for slender and streamlined arm options.
5. Don't neglect traffic flow and accessibility
The placement of your small sofa should work well with the existing furniture in the living room, and it should allow for easy movement and accessibility.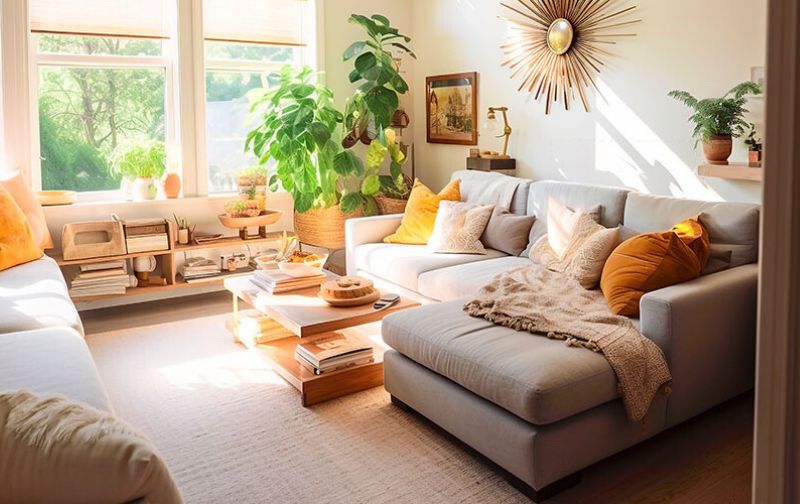 Floating sofas in small living rooms
By leaving a little space between the wall and a sofa, you can create depth and the illusion of more space. This position is known as a floating sofa.
You want to avoid placing a sofa directly against a wall in a small living room. This also helps when it comes to circulating air around the room, whether it is to cool down the room in the summer or whether you want heating to flow throughout the space in the wintertime.
Facing the focal point in a compact space
You can emphasise the main focal point in the room by placing a sofa opposite it. For example, place a sofa opposite a fireplace or a piece of art that you adore, or even opposite a TV or a window.
Remember, the strategic placement of your sofa not only makes a room appear larger, it also enhances the room's comfort and consistently elevates its overall ambiance.
Make the most of awkward spaces
If you have a small room with awkward angles, you could consider a chaise lounge or a loveseat. Not only do they maximise the use of limited space, but the right design can become a focal point, enhancing the room's overall appeal.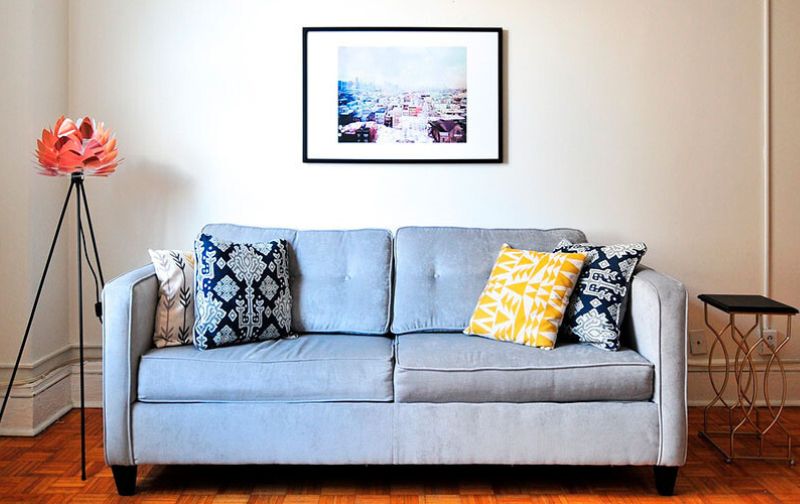 When choosing the dream sofa for your small living room, remember to take size, multifunctionality, colour, design, and placement into consideration.
And don't forget about comfort: choose a sofa that is comfortable and inviting so that you can look forward to lounging in style no matter what your day entails.
Enjoy creating your very own stylish haven with the type of sofa that you choose for your small space, and in no time you will be sitting pretty on your perfect petite perch.
Looking for advice on decking out your entire living room when you're dealing with a small space? Get stuck into our post on small living room ideas. Got a tiny house, not just a small living room? We've got you covered, too. Dive into our guide on furniture and style tips for small rooms in general.