Top 10 Tips When Buying Beds and Bed Frames
One of the most important pieces of furniture in your home is the bed. Beds and bed frames, paired with the right mattress, provide comfort and support while you sleep, and just as importantly they are the standout stylistic element of your bedroom.
When you're buying a bed, there are a lot of things to consider, and we've got a full guide to every element of bed shopping, but here are the top 10 things you need to know when buying beds and bed frames:
1. Choose the biggest bed that fits the room
Your bed is the main component of your bedroom, so it's well worth selecting the largest bed size you can. In an ideal world, you'd have space for a Super King bed and every piece of furniture you want but in rooms where space as at a premium this may not be possible. But even in a compact room we still recommend opting for the biggest bed you can fit, even if it means sacrificing other furniture. Because you spend up to a third of your life in bed, you want the space to be comfortable and relaxed.
There are some exceptions to this, of course. If you are furnishing a guest bedroom that will also serve as a home office then a smaller bed or a sofa bed will suffice in order to leave space for essential furniture to suit the room's primary purpose. But for a bed that sees daily use, bigger is definitely better.
2. Don't forget height when measuring
The size of your bed is important, but one measurement that is often ignored when you're choosing the right beds and bed frames is the height of the bed.
In particular, if you are opting for a bed with a headboard, you'll need to consider what wall ornaments you have that might interfere with the position of your headboard. If you have a wallpaper border with moulding, or if you have wall art hanging low on the wall, these are things to keep in mind when choosing the right bed height.
3.Decide on your storage needs
Because you're prioritising bed size over other furniture in your bedroom, you may be eschewing some traditional bedroom furniture types like a chest of drawers or a spacious wardrobe. If that's the case, you may need to think about where you can make up for these missing storage options.
A divan bed with drawers is a convenient choice if you want underbed storage for everything from spare bedding to seasonal clothes. Alternatively, a gas-lift bed offers even more underbed storage space that can be easily accessed to reach anything you place there.
4. Pick the right style for your room
If you're choosing beds and bed frames as your bedroom starting point, then the bed style you select will inform the design choices you make for the rest of your space. If you're after a minimalist look, then a simple bed with no headboard or a timeless wood option could be ideal.
On the other hand, if you love the sumptuous, regal look of an upholstered bed, then a more glamorous decor aesthetic could be a good choice throughout your bedroom.
5. Opt for the ideal materials
Along with the overall style, choosing your bed also means deciding on the right materials. Wood is a traditional pick for beds, but still offers plenty of options for versatile style as it can be stained or painted a variety of hues. When it comes to upholstered beds, there's everything from elegant and on-trend velvet to light and airy linen to choose from.
There are different constructions you can also think about for buying bed frames, such as whether you want to opt for a bed that is made of solid wood (heavier and more expensive, but sturdier) or MDF (more budget-friendly and lightweight). Plus, details such as metal for the feet or trim.
6. Think about your perfect headboard
Some beds, such as divan beds, do not come with a headboard, and you can purchase one separately if you want or forgo a headboard altogether. However, most bed styles have a headboard and many have a footboard, and here you have plenty of options as well.
An upholstered headboard not only adds style but also provides a comfortable, cushioned place to rest your back if you're sitting up in bed. Or choose a wooden headboard for a clean and simple look. For something extra sumptuous, a wingback headboard adds stately style to a room.
There are even beds which offer special features in the head or footboard, such as the Beverly Hills. This unique bed features a TV stand embedded in the footboard, which rises at the touch of a button so you can watch television while comfortably ensconced in bed.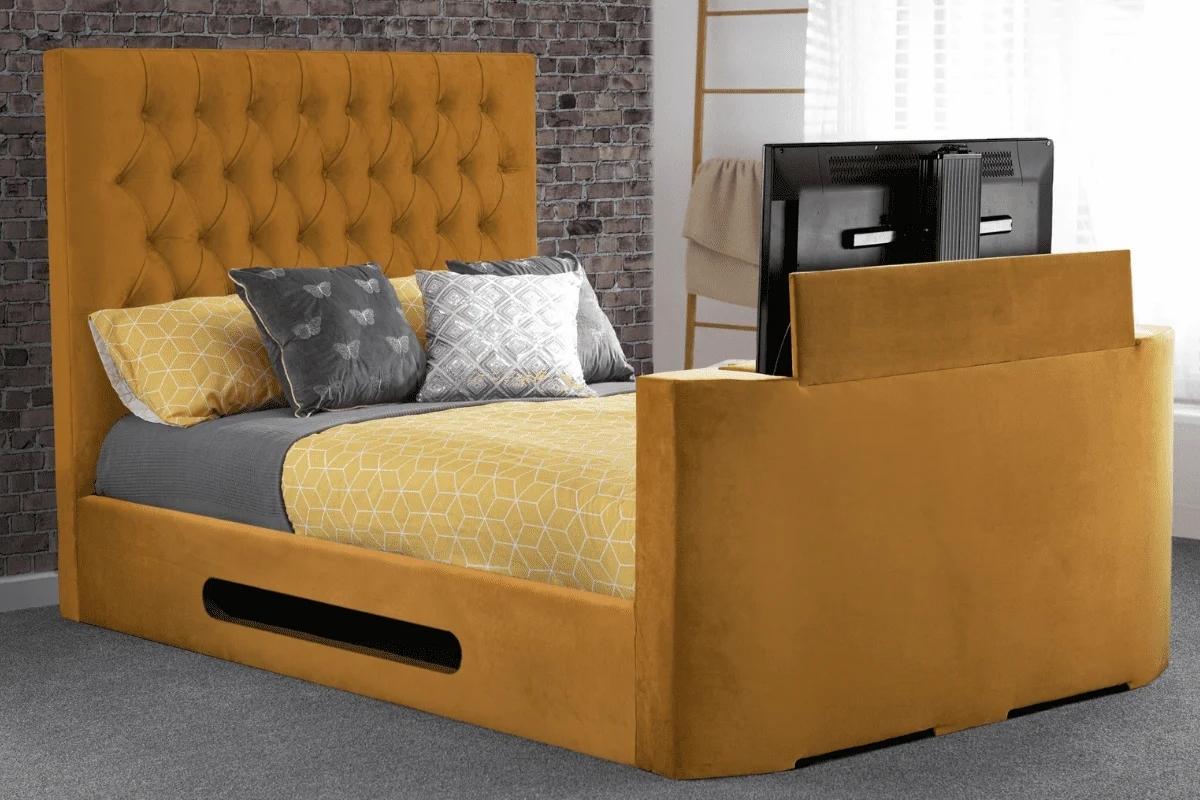 7. Consider other bedroom furniture
Your bed is the main piece of furniture you need for your bedroom, but there are other furniture considerations to take into account as well. Nightstands, dressers, wardrobes, and vanity tables — these are all pieces you might choose to incorporate into your bedroom setup.
If you love an eclectic look, you may want to source all of these pieces separately, but if you want a coordinated blend across your bedroom, you might consider shopping from a single range to make sure everything matches in colour, detail, and style. For example, our readers have been head over heels for the gorgeous Mika and Clifford ranges.
8. Select the colour palette that suits
We've written a lot about colour theory and the best colours for your bedroom to help ensure a good night sleep, and while your colour palette choices may be mainly focused on your walls, carpet, and bedding, you can incorporate these shades into your bed choices as well.
A fabric upholstered or painted wood bed can come in a huge variety of hues that can match any design aesthetic and evoke a certain emotion or atmosphere in your bedroom. You might also choose a more neutral bed colour and let it simply complement your chosen colour palette and create a serene and synchronised look across your sleep space.
9. Pair it with the model mattress
As we said earlier, there's no piece of bedroom furniture more important than beds and bed frames — except for your mattress. It doesn't matter how stylish or chic the bed you buy is; you won't get a good night's sleep if you don't have a good mattress. So when you're buying a new bed, your mattress needs to be part of the equation.
You may not be needing to replace your bed and your mattress at the same time, but if you're in the market for a new bed it's definitely a good time to consider whether it might be time to upgrade your mattress as well. And you might also look at adding a mattress protector to extend the lifespan of a current or new mattress.
Beds and bed frames for sale at Corcoran's
Whatever type of beds and bed frames you decide are perfect for your home, you can find them here at Corcoran's.
With a huge range and variety of fabulous bedroom furniture to suit all styles and budgets, kitting out a master bedroom, a guest room, or even a kid's bedroom is simple and appealing when you shop with us online or in-store.
And if you have any questions, you can always reach us via our contact form, where our expert team is waiting to help you create your dream bedroom.